Lagging Vaccination Rates, Rising Delta Strain: How Gulf States Are Handling Latest COVID Concerns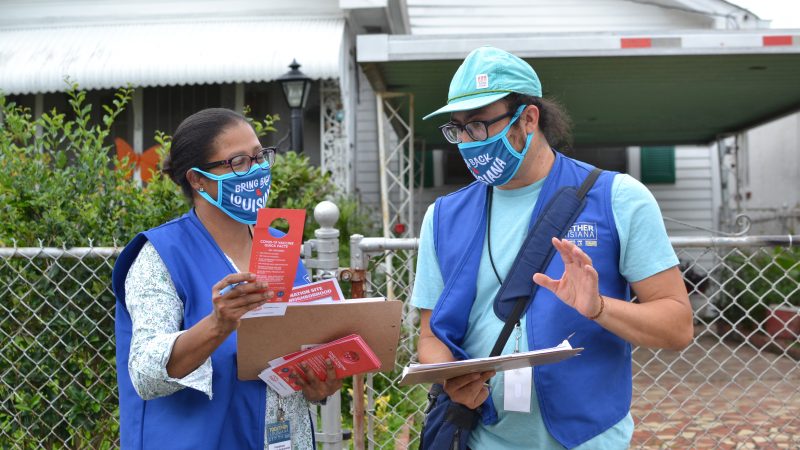 On a blistering hot day last week, two volunteers put on their bright blue jackets, gathered up a pack of red informational flyers and trudged through a New Orleans neighborhood. They are part of a community-run campaign called Together Louisiana. For the last few weeks, they have been knocking on doors to spread the word about the COVID-19 vaccine in hopes of nudging up the state's low vaccination rate. 
Hugo Martinez has been doing this work for weeks because he wants to keep the community safe. While many in this neighborhood have already gotten vaccinated, some are holding out — a threat that's even greater as variants start to spread through the country. 
Martinez has some incentives that might change their minds. 
He offered one resident, Daryll Woods, a free fish fry dinner in exchange for the shot. But Woods declined, saying even though his father died from COVID-19, he still thinks the vaccine is riskier than getting sick. 
Woods said he's skeptical of how fast the vaccines for COVID-19 were developed because there are other diseases that don't have cures or vaccines yet. 
"How they have it so fast? Why they don't have nothing for ebola, have nothing for SARS," Woods asked.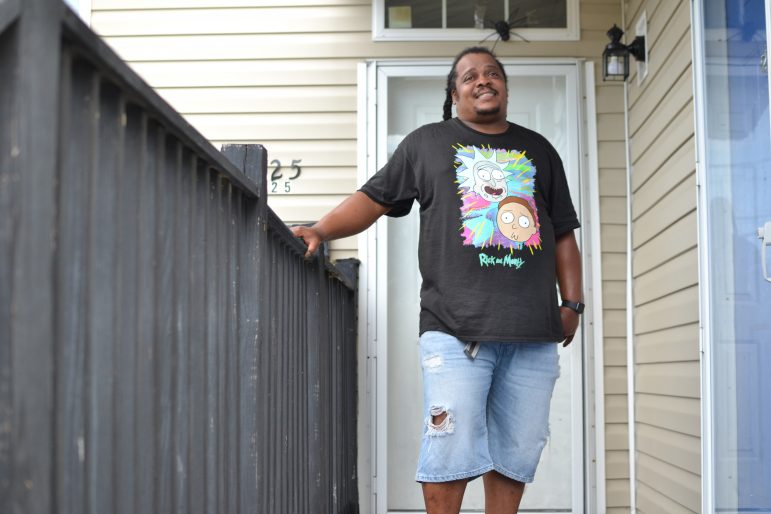 While it is true this is the first time a vaccine with this mRNA technology has been authorized, scientists have been studying this for years which sped up the process for developing the shots.
"It's a mixed feeling. There's this objective for us to keep moving and spread the word as much as we can," Martinez said. "But, you can't really spend much time discussing something like this where the arguments are pretty complex and elaborate." 
Martinez says he tries to explain the science behind how these vaccines were made to people. But, he still hears a lot of conspiracy theories and hesitation.
"It's a pretty scary situation," Martinez said. "I think it's important for people to get the vaccine in order to reduce the potential mutations of this virus." 
Health officials are worried about that too. The Delta variant, which caused a massive surge of cases and deaths in India, is highly transmissible and is spreading quickly in the U.S. now. This dangerous variant of the coronavirus is likely to become the dominant strain within weeks, reports NPR. 
At a White House briefing this week, Dr. Anthony Fauci, director of the National Institute of Allergy and Infectious Diseases, said around a fifth of new cases are tied to the Delta variant. He said it is the greatest threat to eliminating COVID-19.
Louisiana, Mississippi and Alabama have the lowest vaccination rates in the country at less than 40% — meaning huge swaths of the population are at risk. Data from the New York Times suggest it could take Louisiana around seven months to get 70% of its residents vaccinated, and it could be a year until Mississippi and Alabama reach that goal. 
As of June 23, there are 29 cases of the Delta variant in Mississippi, 20 in Alabama and 10 in Louisiana. That's double the number of cases from a week ago. 
Though hospitalizations have been relatively flat  across the region, officials say almost all of the new severe cases are among the unvaccinated. A slow vaccine rollout is a major concern as the Delta variant spreads, said Mississippi state epidemiologist Paul Byers during a June 23 press conference. 
"We're starting to see a bit of an increased proportion of cases and deaths among our younger population," Byers said. 
"We are still seeing deaths in our older, vulnerable population who have not been fully vaccinated. And a lot of that occurs from the transmission that we're seeing in younger folks. We still are seeing some lags." 
In Mississippi, there's still a quarter of people aged 65 and older who have not gotten a vaccine. Officials say this is a troubling statistic, especially as the Delta variant circulates. 
A Slow And Steady Race
In Louisiana, regional medical director Shantel Hébert-Magee says the health department and other groups have already done a lot to get people vaccinated — like hyperlocal events in shopping malls. Louisiana even announced a million dollar lottery last week for any residents who got the vaccine by the end of July. 
"We've expanded our efforts to places where there is a high amount of foot traffic, really wanting to make it truly accessible and convenient," Hébert-Magee said. "We're just really trying to reach individuals where they are."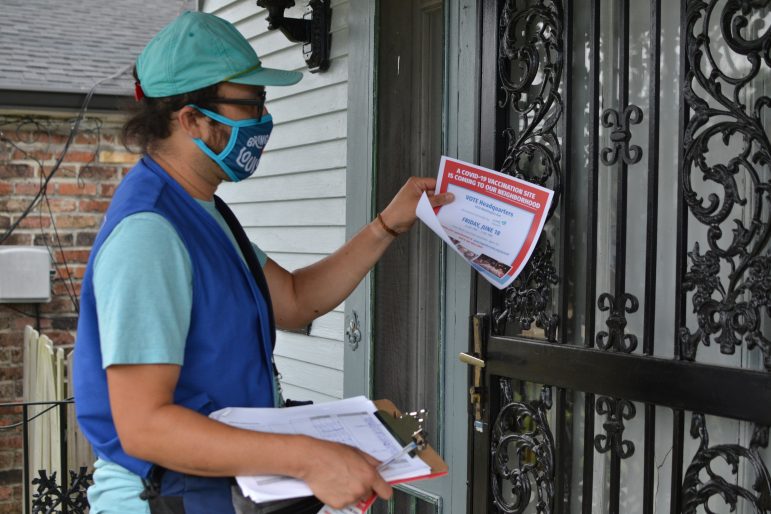 Some of these initiatives are what the Biden administration suggested just this month, but the approaches have not worked as well in the South. Hébert-Magee says it is not fair to compare the Gulf South to other parts of the country. 
"I don't want us to victim blame and say, 'Why aren't these people getting vaccinated yet?', Hébert-Magee said.  
She said health care infrastructure in the South is still lacking. There are challenges like rurality, underfunded public health, lack of safety net healthcare providers, and cultural trust issues with the medical system. 
Federal restrictions on how money can be distributed by government departments vary across the region. Alabama and Mississippi health officials say they have more restrictions on the types of incentives they can offer. 
"The vaccine lottery is absolutely not allowed," said Alabama state health officer Scott Harris. "We've had many discussions with our state attorney general about that."  
Harris said the state can offer incentives like gift cards, but they cannot offer prizes to people who get the shot. 
And, Harris said, decisions on how the health department can distribute money from The American Rescue Plan must go through the legislature. 
Ultimately, Hébert-Magee says vaccinations are just going to take time in the South.
"I do think there is a Southern culture and we typically like to take things a little bit slower," she said. 
Variants Create A Time Crunch
Looking ahead to the fall, health officials are worried about how outbreaks will impact schools being able to reopen, especially as the state now struggles to vaccinate individuals younger than 16. In Mississippi, just 4% of people aged 12-17 were fully vaccinated. 
"For us to get back to a more normal school next year, it is so important that the children that are 12 and over right now go ahead and take advantage of getting vaccinated,"Byers said. 
Louisiana state epidemiologist Theresa Sokol said the state will have to rely on quarantining, promoting masks and contact tracing. 
"I watch what's happening in the U.K. and that concerns me because not only are they seeing increases in cases, but they're seeing increases in hospitalizations as well," Sokol said. " And, of course, deaths usually are a lagging indicator. I'm sort of monitoring to see what happens there. It's a concern." 
In Alabama, Harris is concerned about outbreaks that could start locally and spread nationally. 
"If you have a cluster anywhere, I mean, the whole system breaks down," Harris said. "If we have large numbers of unvaccinated people, we're going to have outbreaks. That's what's going to happen."
"We hope that our ability to isolate people will allow us to try to handle it the way we handle other types of outbreaks, but it's going to be difficult." 
But, Harris, like other health officials, said he isn't giving up.
"We actually are encouraged by the fact that we do see a way out of it. We just don't have buy-in from everybody yet," Harris said. "So we've just got to keep trying."
This story was produced by the Gulf States Newsroom, a collaboration between Mississippi Public Broadcasting, WBHM in Birmingham, Ala., WWNO in New Orleans and NPR.