Health Official Warns About The Danger Of Being In Crowds As High School Football Fully Kicks Off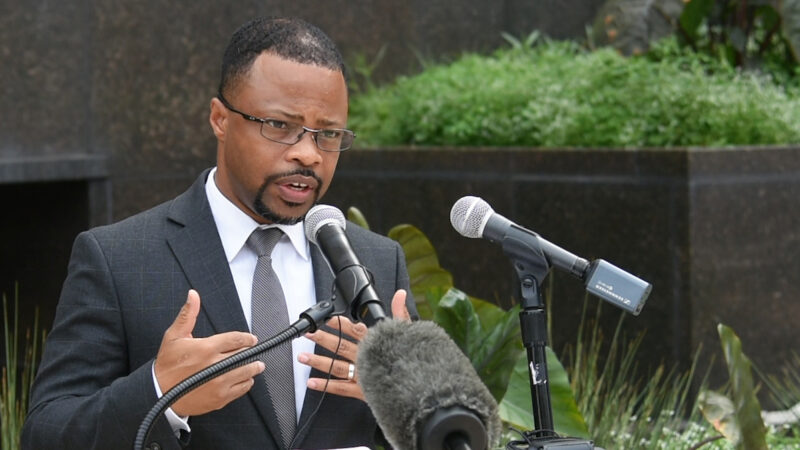 Dr. David Hicks didn't say fans of high school football should steer clear of Friday night lights when he spoke at Birmingham City Hall this morning.
But the deputy health officer of Jefferson County said high school football games — which kick off fully this week — and similarly populated events have an obvious risk of spreading COVID-19, especially the Delta variant.
"Any outdoor event where you're having the people congregating, packed in together, is certainly high risk for spreading," Hicks said during a press conference with Birmingham City Council President William Parker. "We are not suggesting that people don't enjoy outdoor activities, but we know you have to assume the risk. If you are a high-risk person, you have an immune-compromised situation [or] you're older age, I would not suggest going out into any outdoor crowded events at all."
Hicks said persons who choose to attend such outdoor events should try to social distance as much as possible.
"You do the best you can do," he said, "but it certainly is increased risk when you go to those situations."
Hicks was asked about the possibility of health officials again shutting down society as was done in 2020. He said it's hard to compare last year to this year because there were more requirements of decreased capacity in certain facilities. There also were no vaccines last year, and there was no Delta variant.
"It's a different mix. I think when you see a dramatic community spread and increased hospitalizations [and] kids on ventilators, at some point, I think we all have to figure out when is enough, enough," he said. "Our health care providers — our nurses, our doctors that are taking care of people on the front lines — are saying we need help, community. We need relief. We've asked for it. We don't know what else to do.
"At some point, someone's going to have to make the call on what else needs to be done," the deputy health officer said. "I think a reasonable approach is at least all of our businesses, if you're indoors, make sure that everyone is masking in your establishment."
Hicks said health care officials were "setting off alarms" because of an increased spread of COVID. Jefferson County is averaging 425 new cases a day, compared to an average of 13 six to eight weeks ago, he said. Thirty-eight percent of residents in the county are fully vaccinated, and 49% have had at least one dose of the two-dose vaccine.
Hicks strongly recommended that people wear masks when they are indoors even if they have been fully vaccinated.
The Jefferson County Health Department is administering vaccines at all three of its locations from 8:20 a.m. to 4 p.m., in addition to the many drugstores and health care providers that are giving the free vaccines.