Democrats Gearing Up for Effort to Oust Mo Brooks in 2022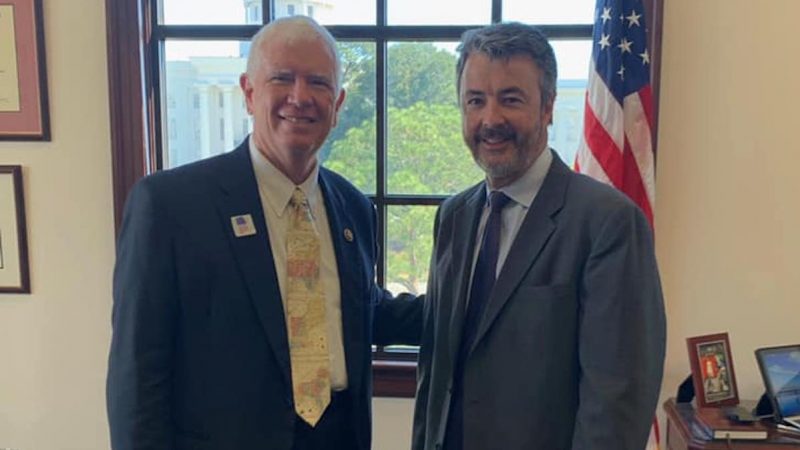 Alabama Democrats are targeting U.S. Rep. Mo Brooks, a five-term GOP incumbent once thought safe in his heavily Republican 5th Congressional District, for defeat in 2022.
"I plan to use whatever small influence I have to see that Mo is defeated,'' said former Alabama Chief Justice Sue Bell Cobb. "We don't need an ideologue representing Alabama.''
Brooks is at the center of Democratic outrage over fiery comments he made last Wednesday at a rowdy Washington rally of President Donald Trump's supporters who cheered his false accusations that the November election had been rigged to elect Democrat Joe Biden.
"Today is the day American patriots start taking down names and kicking ass!'' Brooks shouted.
A short time later, some in the crowd invaded the Capitol, staging a riot that left at least five dead — including a Capitol police officer — and terrified lawmakers who were locked in the Senate chamber and secure rooms as the marauding crowd rifled offices and destroyed congressional property.
Two Democratic members of Congress, including the former head of the National Democratic Party, introduced a resolution Monday to censure Brooks in the House, alleging that he "encouraged and incited violence against his fellow members of Congress …"
Brooks, whose district stretches across the Tennessee Valley in north Alabama, and the other five GOP members representing Alabama in the House voted Wednesday to challenge Congress' normally ceremonial role of approving the states' reporting of their Electoral College votes for president.
Only Democratic Rep. Terri Sewell of the state's 7th District voted to uphold those results.
Joining that Republican challenge in the Senate was Sen. Tommy Tuberville. Sen. Richard Shelby R-Tuscaloosa, voted against the challenge.
The state Democratic Party has made little effort to recruit and finance candidates to run against Brooks the last few election cycles. He ran unopposed last November.
Efforts to reach Brooks for comment today were unsuccessful.
But Brooks told al.com last week he would ''make no apologies'' for his comments.
The state party has begun raising money via two online solicitations to field a candidate to run against against Brooks next year.
"We cannot allow Mo Brooks to win re-election and continue embarrassing the state of Alabama,'' said one, titled "The No Mo Bull**** Fund.''
"These funds will be used to hold Mo accountable (and) recruit and support the next congressperson from the 5th Congressional District — a Democrat.''
Persistence PAC, a Democratic political action committee based in Huntsville — Brooks' hometown — is also raising money online for a Brooks challenge.
The PAC notes several controversial comments Brooks has made while in Congress, including that falling rocks, not climate change, explains rising sea levels.
"But this past week his words quickly turned from embarrassing to seditious,'' the solicitation reads. "If you, too, believe that #MosGotToGo, DONATE NOW!''
Both online posts are paid for by ActBlue, an organization that raises money for Democratic candidates and causes nationwide.
The group reported raising more than $4 billion during the 2020 election cycle, including $3.8 million for former Alabama Sen. Doug Jones, who lost his re-electon bid to Tuberville. Republicans have a similar group, WinRed.
The 5th District branch of the Alabama Democratic Conference, the state party's Black wing, has demanded in "an open letter to all Alabamians'' that Brooks resign.
"Congressman Brooks has embarrassed all of Alabama and all the world,'' the group's online post said. "Take responsibility, Congressman Brooks, RESIGN.''
The 5th District chapter of Invisible Alabama, a non-partisan progressive group that lobbies for programs helping the poor, is urging 5th District residents to contact House Speaker Nancy Pelosi and the House Ethics Committee to sanction Brooks.
"Demand that Mo Brooks be held accountable for his role in Wednesday's insurrection by censuring him … and stripping him of his committee assignments.''
Cobb, the Democratic Party's last statewide officeholder, said other commitments and the fact she's not a resident of Brooks' district will keep her from leading the Democratic effort to oust him in 2022. But she said she will donate money to oust Brooks and lobby potential Democratic challengers to run in 2022.
"I will do anything in my power to help a qualified, electable candidate win,'' she said.