COVID Vaccinations Begin For People 75+ Years Old
Jerry Drummonds' only mistake in his Monday trip to the Jefferson County Department of Health was his fashion choice.
The long-sleeved blue checkered shirt he wore just didn't match the COVID-19 vaccine he was getting.
"I had to take off my shirt because we couldn't roll it up high enough to get to the meaty part of my shoulder," the 83-year-old said. "And I don't have that much meat."
The Vestavia Hills resident was among hundreds of persons – mostly seniors – who came to a pair of health department venues to get vaccinated for the virus. The vaccine also was administered at Gardendale High School.
Monday was the first day of Stage 1b for vaccine distribution, which allows anyone 75 and older to get the shot. Stage 1a also still is in progress. It allows frontline workers, first responders and persons living in congregate settings, including homeless shelters and group homes, to be vaccinated.
The Jefferson County Department of Health is administering vaccines at its location on Southside and at other varying locations for people who are 75 and older, as well as those who fell into Stage 1a.
You can register online at the Jefferson County Emergency Management Agency. Click on the green Vaccine Info Registration button. You also may call the local call center to register. The center is closed Wednesday but reopens Thursday. The number is 205-858-2221. Outside of Jefferson County, call the state's hotline at 855-566-5333.
All of the county's current clinics are booked for Wednesday, Thursday and Friday.
Health department officials stress that persons cannot simply show up; they must have an appointment. After registration, those in the system will be notified when an appointment is available.
Some non-governmental health care providers are giving vaccinations separately, under rules set out by the state, or they hope to begin soon. UAB, for instance, has begun contacting its patients age 75 and older and asking them to register for vaccines. Then representatives will contact them to set up appointments. UAB has established a drive thru vaccination location in its Highlands parking deck and is ready to open two more vaccination sites soon.
Some of the other health care providers, such as Brookwood Baptist Health and Walgreens, also are giving vaccines but, at this point, only to those in Stage 1a. Those will move later to people in state 1b. Check with the hospital you use to determine whether you can get a vaccine through that route.
Tiana Davis, assistant director of clinical services for the county health department, said during Monday's vaccine event, "It's just been amazing, everybody working together to get it done." She said 500 appointments had been scheduled for the day. "So that's our hope," she said, "that all 500 of them will show up."
Although the line for vaccinations was long, the wait was fairly brief. Persons who had the vaccine said it took about an hour to go through the line and get their shots. Each of them had to wait half an hour after getting vaccinated to make sure they didn't experience an adverse reaction.
"I haven't had anything but positive responses from the people who are here," Davis said. "They're all very excited to be here to be able to get the vaccine. We spent a lot of time planning and working together from the different areas to organize and do the logistics, to be able to move through the clinic and keep everybody safely spaced and things."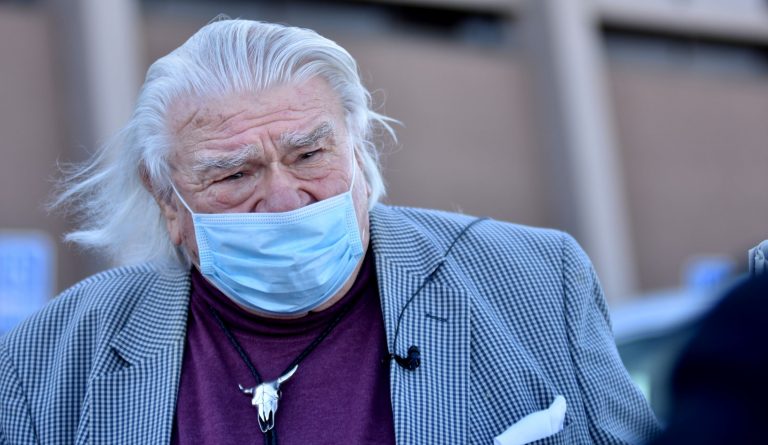 Chriss Doss, a former legislator and Jefferson County commissioner, and his wife were among the first to get vaccinated. The 85-year-old said getting the vaccine is very important.
"It protects me, it protects my family and my friends," Doss said. "Actually, it protects the community generally because this is an epidemic and it doesn't cull anyone. Everyone is subject to its attack, which is terrible."
Dr. Harriet Amos Doss said the virus has touched their family.
"Our eldest son, his wife and their son who is about 20 have all had coronavirus," she said. "It took them quite a while to get well. We want to avoid getting the virus."