COVID Policies Vary By School District, Causing Confusion For Parents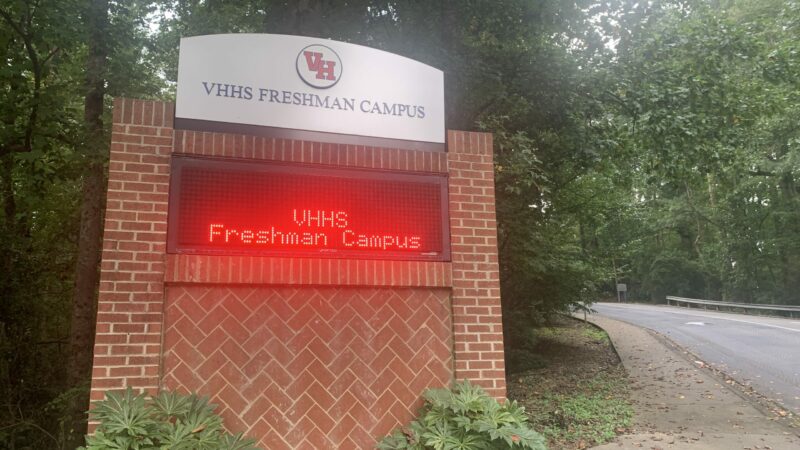 At the start of the school year, Karl Julian planned on sending his three children back to Vestavia Hills City Schools. But when the district didn't announce a mask mandate before the first day of class, he pulled his two younger kids from their elementary school. His oldest, who's in ninth grade and vaccinated, is still attending class.
But for his younger kids, Julian said he didn't trust the district to do the right thing.
"It's just politics and it's at the expense of public health and my kids' health. So it's really disappointing and frustrating," Julian said.
Vestavia Hills City Schools changed its mask policy this month. Students are now required to wear masks — after the district reported over 200 students absent due to positive COVID-19 cases in August. Julian said it hasn't changed his family's decision. His younger children are in private school now, and he plans on keeping them there.
Mask requirements are one of several COVID protocols the state of Alabama has left up to individual school districts. That wide leeway has caused a lot of tension for families because protocols vary widely, often school by school.
In a statement to WBHM, the Alabama Department of Public Health said they've provided school guidance that is consistent with CDC and expert bodies on its website and that schools should follow that guidance regarding notifying families about exposure and close contacts.
"COVID 19 is a notifiable disease. Schools should follow the 'School Guidance; as written regarding exposure notification of persons in close contact as defined by the 'School Guidance,'" the department wrote in an email.
Still, a month after back-to-school, many parents are confused about COVID safety measures at their children's schools.
Mask Confusion
Every school district in Jefferson County has some form of mask requirement, for now, as the hyper-contagious delta variant continues to spread COVID-19 in the region. But local authorities can change mask policies as the school year progresses. In Hoover City Schools, for example, the mask requirement is scheduled to end on Sept. 21, unless the school board extends it.
Overall in Birmingham area schools, there were 1,300 COVID-19 cases reported to the Alabama Department of Public Health this week.
"How many children have to be hurt before they make the decision to say 'Okay, no more. Now we'll take precautions, which absolutely will be too little too late," said Michelle Nalls, whose children attend Hoover City Schools. "One child is too many, and it certainly won't be mine."
Nalls kept her youngest child out of their public school in Hoover. The district has a temporary mask mandate, and her son is too young for the vaccine. Her other two children are older and vaccinated and are still attending class.
Close Contact
Another point of contention between parents and local schools is what happens if a child has close contact with someone with COVID-19 at school.
The Alabama Department of Public Health recommends that schools inform parents as soon as possible if a child has been in close contact with a positive COVID-19 case. It also suggests those students self-quarantine if they are unvaccinated or were not wearing a mask. But neither is a requirement.
"It makes everyone anxious. Whether or not they want their children to be masked at school, whether or not they want to deal with testing and quarantining," said Kate Davis.
She hasn't gotten a close contact notification for her son, who's in first grade at Hoover City Schools. But she says it feels like a waiting game.
"No one really knows what to expect," she said. "It's kind of unnecessary anxiety for all of us as parents."
Davis said that she doesn't know exactly how her son's school determines when to send a student home or when a class needs to go virtual.
"We're just kind of backwards engineering this, you know, to figure out what are the criteria to send the class virtual. We don't know. Somebody knows, but they're not telling us," Davis said. "We're just guessing and that's now it just turns into more speculation.
Hoover City Schools has no set criteria that determines when a classroom switches to virtual learning and it's up to the superintendent and principal of a school on a case-by-case basis. "Hoover City School's decision to require an entire classroom (or cohort) to temporarily move to virtual learning is based on several factors including, but not limited to, the number of positive cases among the students, the type of activity in the classroom, and the age of the students in the classroom," the district said in an email to WBHM.
In Trussville City Schools, several parents told WBHM that the district has not been properly contacting parents, and they're concerned their families are at risk.
One mom, who declined to speak on the record for fear of repercussions against her children, said the school didn't notify other families when her daughter tested positive and had contact with other kids.
Trussville City Schools told WBHM they aren't aware of this happening.
Hard Decisions
All the confusion has led to an erosion of trust between parents and schools, including Hoover City Schools.
When Hoover announced a 30-day mask mandate just before the first day of class, Joshua Flores took his second-grade son to a school board meeting to personally thank them. When they arrived, Flores said he was shocked to know that his support of the mask mandate was an unpopular opinion.
"I remember the glares as I was just leading him through the crowd of people that were outside because it was so packed inside. People were watching in the lobby of the school board building, and they were just glaring at me," Flores said.
Then, in the first week of school, his family received a close contact notification. Flores decided to quarantine his son just in case, even though the district didn't require it.
"They're leaving it up to the parents, and I feel like that's fine, but it's a clear lack of leadership," Flores said. "I'd love to have some guidance on it, and I'd love to know if there's a positive case within the classroom most of all. So then I can make those decisions."
Now he's getting stressed out again because Hoover's 30-day mask mandate is scheduled to end this month.
"So when the mask mandate's over and they don't extend it for whatever reason, because of whatever pressure, then our decision is to unenroll," Flores said.
Flores said he thinks without stricter COVID protocols, Hoover and other school districts might return to virtual learning. So far, some classrooms in Hoover have gone virtual temporarily, but no entire campus.
As more data about the delta variant and children comes out, school districts in Birmingham will likely have to make more adjustments.
Kyra Miles is a Report for America Corps Member reporting on education for WBHM.