Birmingham Mayor, Council Pushing Two Separate Wish Lists In Legislature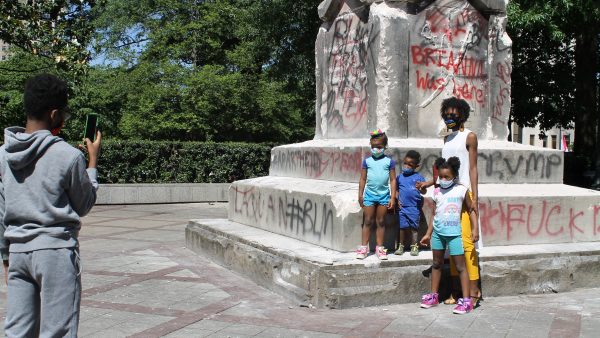 This year, the city of Birmingham is sending two sets of lobbyists to Montgomery — one from Mayor Randall Woodfin's office and one from the City Council.
Councilors made that decision last month, claiming they'd been excluded from planning the city's legislative agenda, and on Tuesday they approved a legislative agenda of their own — one that only slightly overlaps with Woodfin's priorities.
The primary area of agreement between the two agendas is about bolstering city revenue through fines. Both the mayor and council are pushing legislation that would increase penalties for littering, dumping and weed abatement. Both also want to tie parking tickets to car tag renewal, providing a built-in enforcement mechanism for a ticketing system that currently lacks one.
Woodfin and the council also are both pushing for an increase in the maximum number of entertainment districts allowed in a municipality. Birmingham has four such areas — Pepper Place, Uptown, Five Points South and Avondale — where people are allowed to drink alcohol outside, though they must have purchased that alcohol from a restaurant, bar or venue in that district. State law caps the number of entertainment districts a city can have at five. Woodfin and the council both hope to raise that number to 15.
The similarities mostly end there.
Woodfin's primary focus is reforming the city's pension fund, which had been underfunded for years before he took office, leaving a pension liability of $750 million. Woodfin has repeatedly expressed concern that this could lead to a downgrade in the city's credit rating and, potentially, a financial crisis for the city. The bill has not yet been pre-filed in the Legislature, but Woodfin's priority list indicates a change in both employee and employer contribution rates "in a method that ensures the long-term viability of the fund."
He's also focused on blight, proposing to reduce land bank eligibility from five to three years, which would mean a shorter waiting period before abandoned properties are eligible for acquisition by the Birmingham Land Bank Authority. He is also pushing for administrative warrants to support code enforcement, which would allow city inspectors entry into properties suspected of code violations.
Other legislative priorities for Woodfin include adding exceptions for computer programs, software applications and automotive parts to the state's competitive bid law and renewing the Alabama Historic Rehabilitation Tax Credit for another seven years.
The council, meanwhile, is seeking "additional economic relief funding for COVID-19 vaccinations and small businesses," according to Council President William Parker, who has told councilors that COVID would "dominate" the council's legislative priorities.
The council also is throwing its support behind efforts to legalize gambling in the state, which would require an amendment to the state constitution. That bill, still under development, promises to be one of the most controversial of the legislative session.
There's also council support behind efforts to repeal the Alabama Memorial Preservation Act, the law prohibiting the removal or renaming of historically significant buildings or monuments without state permission.
That law became the focus of controversy last year when protests, and later a riot, broke out in downtown Birmingham over the continued presence of a Confederate monument in Linn Park. In response, Woodfin removed the monument, accepting a still-pending $25,000 fine from the state. The city had to pay another $25,000 to the state for earlier covering the base of the statue with plywood, which Attorney General Steve Marshall said violated the law.
Current efforts to repeal the AMPA in the legislature are being led by Rep. Juandalynn Givan, D-Birmingham.
Other legislative priorities for the council listed during Tuesday's meeting include implementing automated traffic enforcement systems, legalizing alcohol sales by mobile vendors and activating the Jefferson County cemetery board, which was established in 2017 but still has not received legislative approval to meet.
Alabama's 2021 legislative session started Feb. 2 and is anticipated to end May 30.