Birmingham delays ICE agreement, wants to assure it won't lead to police involvement in deportations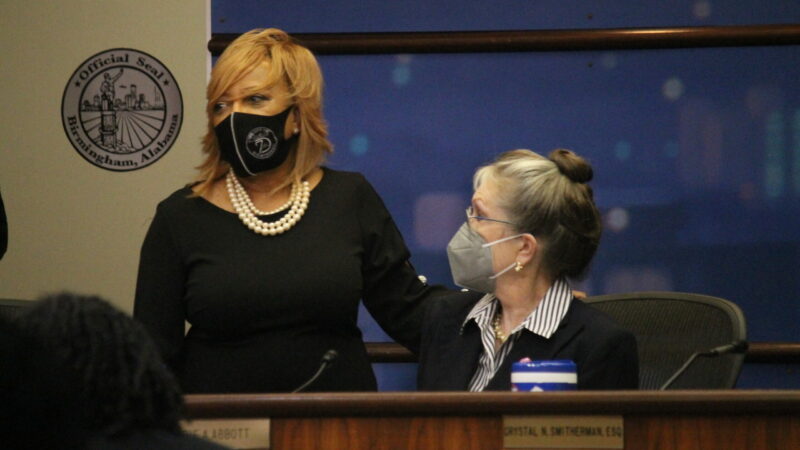 The Birmingham City Council has delayed approval of an agreement with U.S. Immigrations and Customs Enforcement that would appoint several city police officers as customs officers for ICE's Homeland Security Investigations jurisdiction.
The 3-year deal would provide for the continuation of a previously established task force that District 2 Councilor Hunter Williams said is focused on "combating both human trafficking and large-scale narcotics operations in the city of Birmingham."
Mayor Randall Woodfin asserted that the agreement would not result in deportations or administrative removal of any undocumented Birmingham residents.
"I have stated on a pretty consistent basis that the city of Birmingham does not have any interest in doing the federal government's job, but there's something more powerful than words, and that's, like, your actions," Woodfin said. "We're not here to do the job of deportation."
But the association with ICE — and the unclear wording of the ordinance — left both advocates and councilors dubious of the proposal.
Ana Delia Espino, executive director of the Alabama Coalition of Immigrant Justice, warned that the deal would be "a slap in the face" to the city's immigrant community.
"Though there is some messaging that tells us that there is limited participation, it still doesn't take away the fact of the repercussions, where police relationships with immigrant communities are not strong," she said. "This is really a breakdown of the trust and the hard work that we have been doing in advocacy for the immigrant community … There is no need for our police to be trained as ICE officers in any way, shape or form because it opens the door to deepening more hurt and distrust to our relationships."
Carlos Alemán, CEO of the Hispanic Interest Coalition of Alabama and a Homewood city councilor, argued that the language of the agreement was "problematic."
"I think it is not clear, as to the extent of the cooperation between the city of Birmingham and HSI or ICE," he said. "What happens once a (Birmingham officer) is an HSI agent, and when the enforcement arm of ICE calls and asks for information? What is the extent of the cooperation between the two parties?"
"If it's specifically about human trafficking or narcotics, then it should explicitly state that," Alemán said. "Otherwise, it could be interpreted too broadly."
Williams attempted to amend the ordinance to include the specific language Alemán suggested, but other councilors argued that they'd be more comfortable referring the item to the council's public safety committee. The motion to delay passed unanimously.
The proposal will next appear before a public safety committee chaired by newly elected councilor LaTonya Tate, thanks to a new slate of council committee assignments approved Tuesday. Those assignments are:
Administration
Wardine Alexander, chair
Valerie Abbott
Carol Clarke
Budget and Finance
Crystal Smitherman, chair
Valerie Abbott
Wardine Alexander
Economic Development
Hunter Williams, chair
J.T. Moore
Darrell O'Quinn
Education
J.T. Moore, chair
Darrell O'Quinn
Clinton Woods
Governmental Affairs/Public Information
Clinton Woods, chair
Valerie Abbott
Carol Clarke
Parks and Recreation/Cultural Arts/Tourism
Carol Clarke, chair
Crystal Smitherman
LaTonya Tate
Planning and Zoning
Valerie Abbott, chair
LaTonya Tate
Clinton Woods
Public Improvements and Beautification
Crystal Smitherman, chair
J.T. Moore
Clinton Woods
Public Safety
LaTonya Tate, chair
Crystal Smitherman
Hunter Williams
Transportation
Darrell O'Quinn, chair
LaTonya Tate
Clinton Woods
Utilities/Technology
Wardine Alexander, chair
Darrell O'Quinn
Hunter Williams