Alabama Would Lose Seven Metropolitan Statistical Areas Under Federal Proposal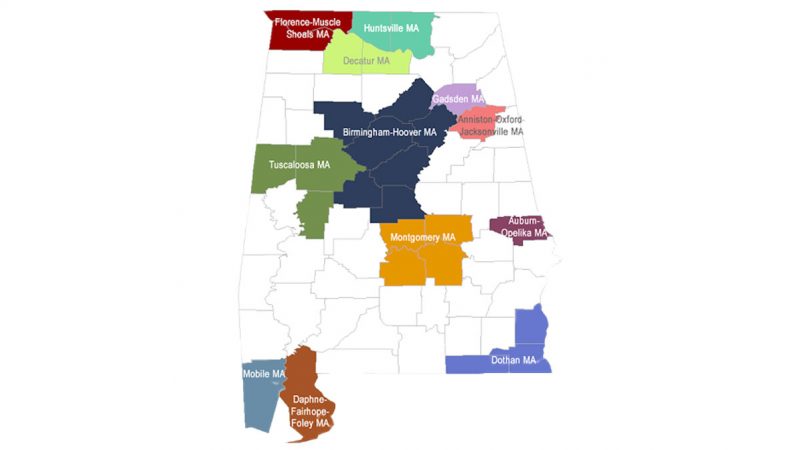 A proposal before the federal Office of Management and Budget would reduce the number of Metropolitan Statistical Areas in Alabama from 12 to five, a move that is not welcomed by officials of the cities losing the MSA status.
A committee of federal statistical agencies has made the proposal to OMB that would leave intact MSAs with 100,000 populations in their core cities. In Alabama, that's Birmingham, Mobile, Montgomery, Huntsville and Tuscaloosa.
The remaining seven MSAs statewide would be reclassified as "micropolitan" statistical areas with core populations of 50,000 to 99,999. Those are Decatur, Dothan, Baldwin County, Auburn-Opelika, Florence-Muscle Shoals, Anniston-Oxford and Gadsden.
A March 2020 bulletin from the OMB said the change is "solely for statistical purposes." But some Alabama local officials whose areas stand to lose the MSA designation say that's not so.
"MSA is a marketing tool," said Morgan County Economic Development President Jeremy Nails. "It gives a level of population and growth. A lot of projects will only locate in certain populations."
Nails said he does not understand how the new designations cannot change federal funding formulas: "All federal formulas are based on income levels, wages, ethnicity and other demographics."
Florence Mayor Andy Betterton said the designation change "would eliminate important benefits to citizens" and have a negative effect on funding and planning for community development, transportation and economic development for the city of Florence and the entire Shoals area.
In a letter to the federal budget office, the mayor of Opelika urged the proposal be dropped, according to the Associated Press.
"The risk to vital services within our community, our state and the millions of impacted Americans across this country far outweigh any limited statistical value that might be gained from this proposal," wrote Mayor Gary Fuller.
Nails said those affected by the change need to do research and negotiate the impacts of the proposed designations.
"There will be a unified response of local officials," he added.
Both the Opelika and Decatur MSAs received national recognition recently. The two were cited by Site Selection magazine for their industrial projects.
The new standards would be applied in 2023, according to the OMB, which is seeking public comment on the proposal through March 19, according to a Federal Register notice.
The current MSA designations have been in effect since 1950 when about half of U.S. residents lived in metro areas; now, 86% do, according to the AP.
There are 939 MSAs in the U.S. and Puerto Rico.