Alabama Tornado Outbreak Rips Off Roofs, Snaps Trees As State Braces For More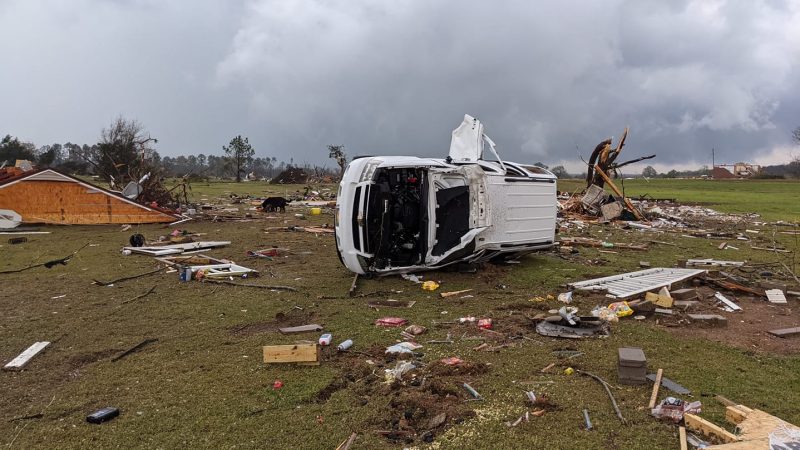 This story was updated at 10:37 p.m.
For more than six hours, the tornado warnings came one after another across much of Alabama. At one point Wednesday afternoon, weather officials reported multiple tornadoes on the ground in the central portion of the state. Homes and hunting camps were damaged and trees fell and blocked the roads.
In Dallas County, a boat was wrapped around the upper part of a tree. There was significant damage to homes, barns, and farm equipment in Chilton County, but as of Wednesday night, no injuries or deaths were reported statewide. About 8,500 were without power. The National Weather Service in Birmingham was compiling damage reports Wednesday night. It estimated it will investigate more than a dozen areas of damage over the coming days.
In Hale County in western Alabama, the storm ripped off the roofs of several homes late in the afternoon. In Moundville, 20 to 30 homes were damaged; five of them no longer have roofs, according to Russell Weeden, director of the Hale County Emergency Management Agency.
Weeden said a tornado was likely the cause, though it hasn't been confirmed.
"Right now we're just trying to clean up the street," Weeden said, "and helping people clean up their homes and trying to get some of these roofs tarped before the next storm."
There were no reported injuries.
In Autauga County near Billingsley, the storm destroyed a hunting camp, damaged one home and left several downed trees. County EMA Director Ernie Baggett said officials responded quickly and no one was injured.
"Our engineering department has gotten out, gotten all the trees off the roadways, so our roads are back passable right now," he said. "And the individuals that were in the home that was occupied, we have them connected with the Red Cross and they've got a place to stay tonight."
In Tuscaloosa, which was ravaged by a tornado almost 10 years ago, two apparent tornadoes touched down. Mayor Walt Maddox tweeted cautious relief.
Most of central Alabama remains under a tornado watch until 3 a.m., Thursday, March 18. Tornadoes, hail and winds up to 80 mph remain possible overnight, according to the National Weather Service in Birmingham.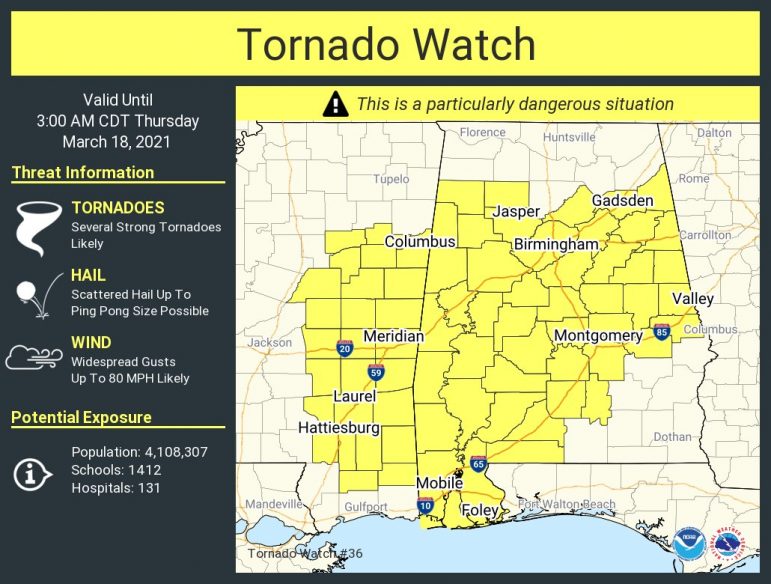 Stephan Bisaha and Mary Scott Hodgin contributed reporting.