Alabama Man Faces Federal Charges Following Riots At The U.S. Capitol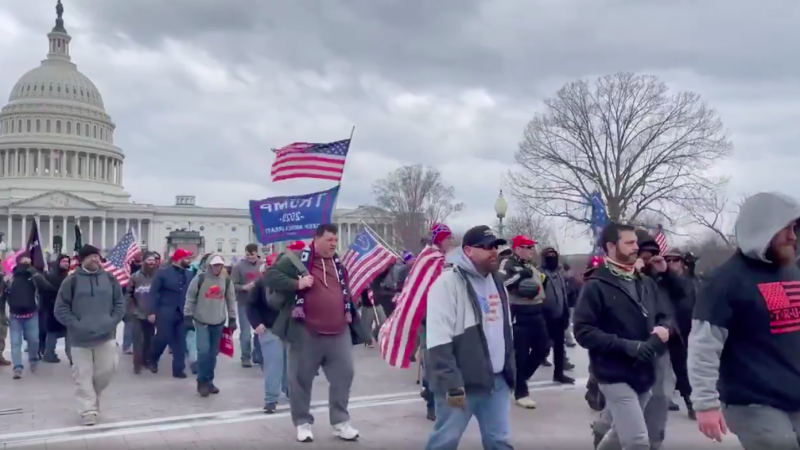 Lonnie Leroy Coffman, a 70-year-old from Falkville, Alabama, faces federal charges after being arrested this week during riots at the U.S. Capitol.
Coffman is charged with possession of an unregistered firearm and carrying a pistol without a license. He had 11 Molotov cocktails and firearms in his car, according to the U.S. Department of Justice.
The United States Capitol Police bomb squad made the discovery as authorities responded to two reports of explosive devices – one near the National Republican Club and the other near the Democratic National Committee Headquarters. Officers were securing the area and conducting a canine search when they saw the handle of what appeared to be a firearm on the front passenger seat of a red GMC pickup truck with an Alabama license plate, according to an affidavit by the DOJ.
Officers used a vehicle registration database to connect the vehicle to Coffman. They also recovered one handgun, an assault rifle along with ammunition, 11 mason jars containing an unknown liquid with a golf tee in the top of each jar, cloth rags and lighters — items typically used to make Molotov cocktails.
At 6:30 p.m. Wednesday, Coffman and a female driver arrived in a blue sedan. They approached law enforcement officers saying they were trying to get to Coffman's pickup truck. Coffman asked if officers had located "the bombs," later saying that he was referring to the reported bombs officers protected the area from.
Officers arrested Coffman and found a 9mm Smith & Wesson handgun, a 22 caliber derringer style handgun. None of the firearms in Coffman's possession were registered to him, according to authorities.
Coffman said the mason jars contained "melted Styrofoam and gasoline." An explosive enforcement officer said, "the melted Styrofoam and gasoline are an explosive mixture that has the effect of napalm insofar as it causes the flammable liquid to better stick to objects that it hits upon detonation."
Coffman's detention hearing is scheduled for January 12. Coffman is one of 13 people facing federal charges.
"We are resolute in our commitment to holding accountable anyone responsible for these disgraceful criminal acts, and to anyone who might be considering engaging in or inciting violence in the coming weeks – know this: you will be prosecuted to the fullest extent of the law," said Acting U.S. Attorney Michael Sherwin.
"To be clear, what took place that day was not First Amendment-protected activity, but rather an affront on our democracy," said FBI Director Christopher Wray. "The FBI, along with our local, state and federal partners, is committed to ensuring that justice is served. We will continue to aggressively investigate each and every individual who chose to ignore the law and instead incite violence, destroy property, and injure others. "