Alabama Expands COVID Vaccine Eligibility To Those 16 And Older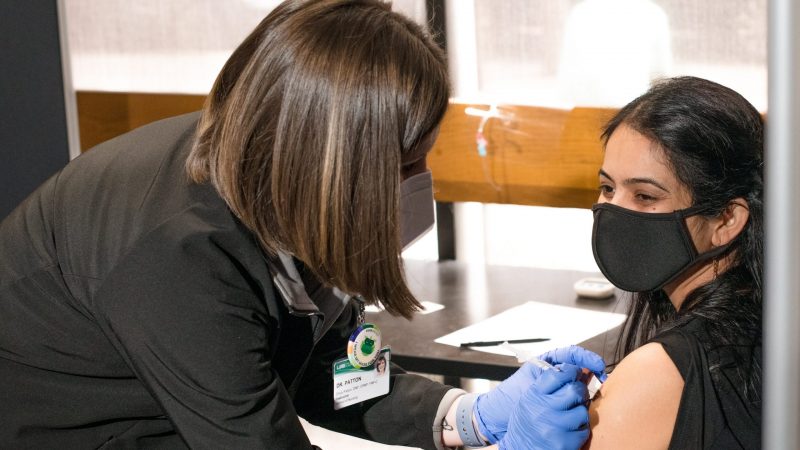 Staring Monday, all Alabamians 16 years and older will be able to receive a COVID-19 vaccine. That means roughly four million people in the state will be eligible.
"We believe that everyone ought to receive this vaccine. It's the way that Alabama gets back to normal. It's the way that we put all of this behind us," State Health Officer Dr. Scott Harris said.
Federal regulators have given emergency authorization for three vaccines. Shots from Pfizer are available to those age 16 and up. Vaccines from Moderna and Johnson & Jonson can be given to people 18 and older.
Appointments at some vaccine clinics have gone unfilled in recent days. Harris said it is not known how much of that is due to vaccine hesitancy or people unable to access clinics, for instance, because of a lack of transportation. He said the state has enough supply to meet the demand from this latest eligibility expansion.
"Tell your friends. Grab a neighbor," Gov. Kay Ivey said at a mobile vaccine clinic in Wilcox County Friday morning. "Reach out to your loved ones and encourage them to join you in getting your COVID-19 vaccination."
Alabama is among the last states to announce when it would expand eligibility to all 16 and older. Alabama remains near the bottom for vaccinations on a per capita basis, according to the Centers for Disease Control and Prevention. State health officials acknowledged Alabama was slow to roll out shots in December but said they are pleased with how efforts have gone since then.
On Thursday, the Alabama Department of Corrections announced it would begin voluntary vaccination of inmates on April 12. Previously, only prison system employees were eligible. Vaccines were given to inmates in one prison, Bullock Correctional Facility, on Wednesday after state health leaders offered the department doses that would have gone to waste if not used. They were left over from community clinics that saw fewer people last week due to severe weather.
As of Friday, state figures showed 1,765,351 shots given. Of that, 1,130,994 people — about 23% of Alabamians — have received one dose. About 13.5% of the population is fully vaccinated.