5 Things To Know About Alabama's Back-To-School COVID Toolkit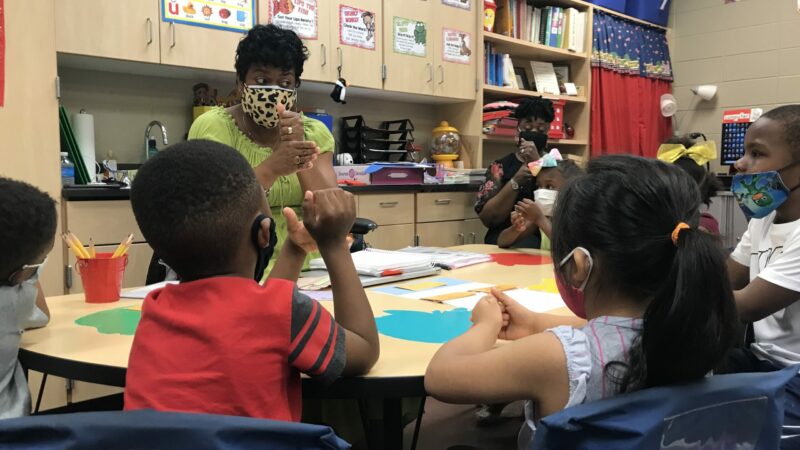 Over the last several weeks, the hyper-contagious delta variant and surge in COVID-19 cases have pushed school districts to make last-minute changes to their plans for back to school.
Many health officials and school administrators said they were waiting for the Alabama Department of Public Health to release its back-to-school guidance in order to make decisions about masking, social distancing and vaccinations for K-12 schools.
Now, that 2021-2022 toolkit is here, and it has prompted some schools in Jefferson County to quickly update their COVID-19 protocols. The state guidance provides schools and guardians with checklists, testing guides and information on how to best protect students and teachers throughout the school year.
Here's what the state's latest guidance means for back-to-school:
Masks
The Alabama State Department of Public Health has adopted recommendations from the Centers for Disease Control and Prevention to prevent COVID-19 in schools. This means that they recommend universal masking as a requirement to open schools safely.
If masks are worn consistently and correctly—well-fitted and covering the nose and mouth—then a student or staff member does not have to quarantine, if they are exposed to a positive case and remain asymptomatic.
So, if a school requires masks, then they could avoid sending a whole class home if someone tests positive.
Regardless of a school's masking policy, masks must be worn on school buses. The CDC requires masks on all public transportation.
Social Distancing
State health officials recommend students stay at least three feet apart in the classroom if they are masked. If they are not masked and are outside of the classroom, students and teachers should try to remain six feet apart.
Vaccinations
The state toolkit recommends COVID vaccinations for all teachers and students age 12 and older. State health officials have determined this is the best way to protect younger children who are not eligible for the vaccine yet. Additionally, a vaccinated individual does not need to quarantine if they come into close contact with a positive COVID case, as long as they remain asymptomatic.
Screening and Contact Tracing
Schools are required to report both suspected and diagnosed cases of COVID-19 to local health officials under Alabama law. Schools must fill out a COVID-19 report card for all suspected cases and should adopt screening protocols for COVID-19.
Alabama's Department of Health, Department of Education and the University of Alabama at Birmingham are currently collaborating to provide COVID-19 testing for all 1,637 K-12 schools in the state.
Schools should also inform those who have been in close contact with the suspected or positive case. The state toolkit defines close contact as being within six feet of the individual for a total of 15 minutes over a 24-hour period.
If someone has close contact to a positive case, and they are unvaccinated and have not followed school health guidelines, they must be sent home to quarantine. Students who are masked correctly, socially distanced and/or vaccinated do not need to be quarantined. But they should monitor their health, according to the toolkit.
If a student tests positive for COVID-19, they must stay home for 10 days and be fever free for at least 24 hours before returning to school. The students' household is advised to quarantine as well.
Other Prevention Strategies
State health officials are encouraging schools to find ways to improve ventilation in classrooms and on school buses. This can be done by opening windows and doors to let in fresh air or using air filtration systems.
Students and staff should wash their hands for more than 20 seconds frequently and/or use hand-sanitizer with at least 60% alcohol content.
Everyone should practice good respiratory etiquette, like covering coughs and sneezes, to slow the spread of infectious illnesses.
Kyra Miles is a Report for America Corps Member reporting on education for WBHM.