UAB To Open New Coronavirus Facility For Elderly Patients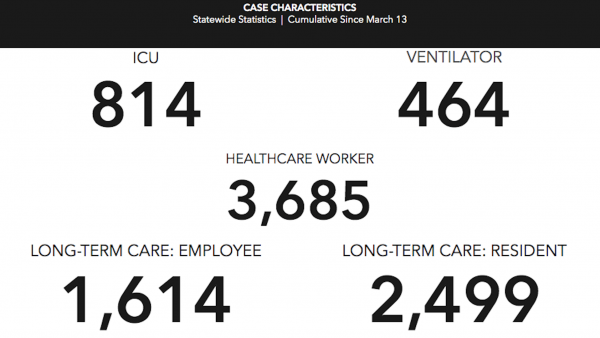 The University of Alabama at Birmingham announced Wednesday it is creating a specialized skilled nursing facility for some COVID-19 patients in Jefferson County.
The 25 bed unit will be in a wing of the Aspire Physical Recovery Center in Hoover, off Interstate 65 and Highway 31. It will care for elderly patients who have tested positive for the virus.
"Either they started in the hospital and are now ready to transition to receive rehabilitation or, perhaps, their COVID-19 symptoms never required hospital-level care, but they do require a place where they can be isolated and receive care on this designated unit," said Dr. Kellie Flood, an associate professor with UAB's Division of Gerontology, Geriatrics, and Palliative Care.
The goal of the new facility is to free up hospital beds by moving non-critical elderly patients to the facility. They also hope to alleviate pressure on nursing homes, which have seen an influx of coronavirus cases since the pandemic began in late March.
"A lot of the hospital systems and skilled nursing facilities have all been in a very reactive mode," said Nick Beckham, with NHS Management, which operates Aspire. "This unit allows us to decant our hospital beds so that the most critical are able to be seen in the appropriate places."
Beckham says the specialized facility is the first in the nation and that they plan to use it as a model for possible expansion in other areas of the state.  To be eligible, patients must be referred by one of UAB's hospital partners. The facility will be funded by a portion of the funds Jefferson County received from the CARES Act, a federal coronavirus relief measure.
Currently, patients older than 65 make up 18% of all coronavirus cases in Alabama.  Nearly 2,500 residents in long-term care facilities across the state have tested positive for the virus. But Dr. Rachael Lee, an epidemiologist at UAB, said everyone, regardless of age, is at risk of contracting the virus.
As of Wednesday morning, UAB was caring for 84 COVID-19 patients, the highest number since the pandemic began. This is an increase of 20 patients since last Wednesday. Lee said these patients are in the intensive care and acute care units.
"We continue to hourly monitor our patient flow to make sure that we can accommodate these patients, in addition to accommodating the other patients that we care for on a daily basis," said Lee.
Lee said Children's of Alabama has also seen an increase in the number of infants to teenagers hospitalized with COVID-19. In the last month, cases among 5 to 24-year-olds have doubled. She says face masks and social distancing remain the best methods to prevent spreading the disease.
Editor's Note: UAB holds WBHM's broadcast license, but our news and business departments operate independently.