Two More Weeks Of Face Coverings Required, Birmingham Council Says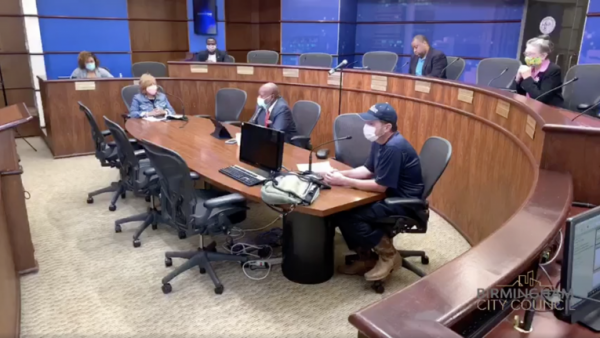 By Sam Prickett, BirminghamWatch
The Birmingham City Council has extended the city's face covering ordinance for two more weeks. The updated order, now effective through June 12, also relaxes the original law's controversial penalties for violation, which had drawn criticism from state and local leaders.
The council's decision came after Mayor Randall Woodfin's announcement earlier this week that he would allow the ordinance to expire on Friday. Woodfin had faced criticism from Alabama Attorney General Steve Marshall, who wrote a letter to Woodfin asking him to "reconsider" the ordinance's "excessive" penalties, which were originally a fine of up to $500 and/or up to 30 days in jail.
In his letter, Marshall speculated that these penalties could spawn "unnecessary litigation." Woodfin maintained that he had ordered the city's police department to focus on educating, rather than punishing, violators.
The council's extended ordinance eliminates the jail sentence entirely and provides an incremental fine structure: $25 for first offenses, $100 for second offenses and $250 for third offenses. "We don't think it will get to that point," said Council President William Parker.
The extension was passed unanimously. District 8 Councilor Steven Hoyt was absent from the meeting, as was District 2 Councilor Hunter Williams, who had vocally criticized what he called the original ordinance's "overzealous, punitive measures."
Woodfin was not present at Friday morning's special-called council meeting and his office has not responded to requests for comment about the extension.
"What we're doing is going to save lives," District 9 Councilor John Hilliard said just before the extension was passed. "Just a sneeze on someone could kill them. Isn't that incredible? And when we think about that, it's our duty to try to protect and educate … It's so important that we take every opportunity to warn people."