Slated For A Mega Prison, Brierfield Residents Demand Answers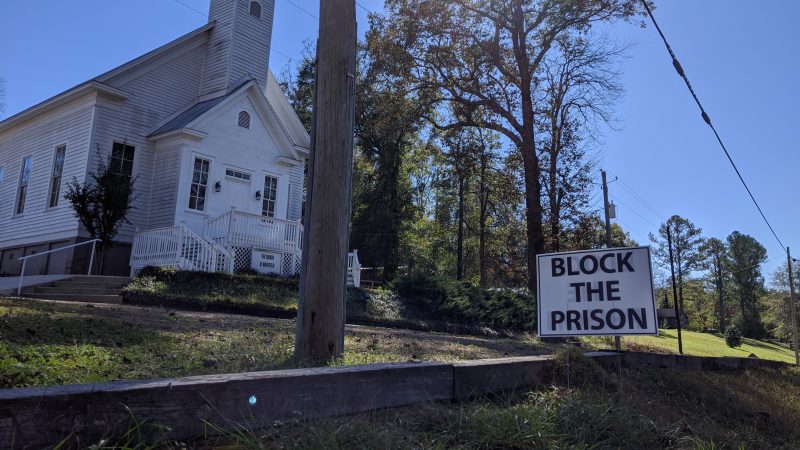 Down a two-lane road in Bibb County, about 10 miles from Montevallo, the unincorporated community of Brierfield has one restaurant, a post office, and a small convenience store that takes cash only. About 1500 people live in the area.
The state wants to build a 3,000-person prison here, one that will be larger than any existing facility.
Brierfield is one of three locations slated for these new mega prisons. Gov. Kay Ivey announced the sites in September, as part of a plan to address chronic overcrowding and violence in the state prison system.
Brierfield residents are pushing back.
'It's Crickets'
Jackson McNeely has lived in Brierfield for almost 20 years and is leading an effort to block the project.
"Bringing in a prison of this size, with 3,100 inmates, is going to totally evaporate the quality of life that we have come to build for our families," McNeely said
She thinks developers are planning to build the prison in a wooded area about a mile from her house.
McNeely and her neighbors have a lot of questions.
They want to know how developers plan to build a prison in an area with such limited resources. Where will they get the water from? What about the strain on local emergency providers and the impact on property values? 
McNeely said no one has come to town to talk about it.
"As far as the state goes, there has been nothing," she said. "It's crickets. We can't get any answers."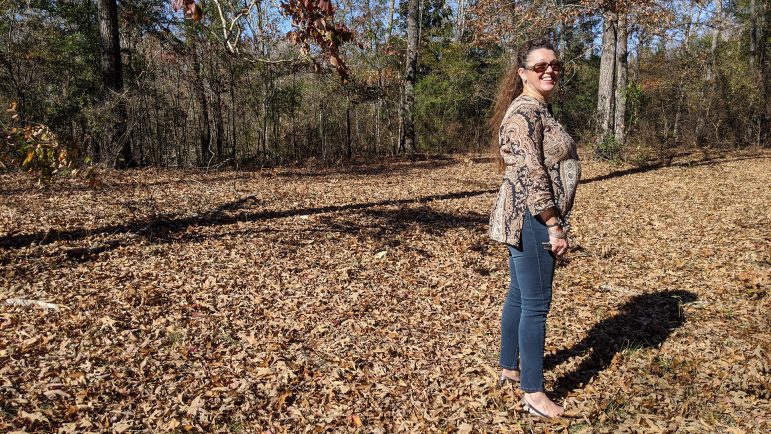 Private-Public Partnership
Gov. Ivey and the state's Department of Corrections Commissioner Jeff Dunn are leading the prison construction project, which does not require legislative approval because it is a build-lease plan.
Private companies will build, own, and maintain the prisons, and the state will lease them on a 30-year contract and operate them.
Ivey and prison officials say negotiations will remain private until these contracts are signed, which could be early next year.
Former state senator Cam Ward, who recently took over as director of Alabama's Bureau of Pardons and Paroles, used to represent Brierfield. He's long advocated reforming the state's prison system and supports building new prisons, but he said the Department of Corrections (DOC) needs to be more transparent.
"Since this is something the legislature didn't vote for or approve, it's been pretty much internalized at DOC," Ward said, "so I'd really like DOC and some of their representatives up there in the community, trying to answer some of the questions these folks are having."
Prison officials declined to be interviewed for this story. In a statement, they said they haven't met with residents because private companies are building the prisons. They said they "look forward to reaching the point" when they can provide more information.
What We Do Know
The prison in Brierfield will be built by Alabama Prison Transformation Partners, a developer group that includes Birmingham-based construction company BL Harbert International.
National private prison company CoreCivic will build the two other mega prisons in Elmore and Escambia counties, where residents have also voiced concerns about the project.
Alabama prison officials said current facilities are falling apart and are too expensive to maintain.
It has not been disclosed how much it will cost to lease the new prisons, but the governor's office previously cited a limit of $88 million a year.
The Alabama Department of Corrections has said it will pay for the lease via cost savings generated from moving into the new buildings, including reduced staffing levels and reduced overtime spending. Staffing has been an issue for the department for years, and it is currently under court order to hire more correctional officers.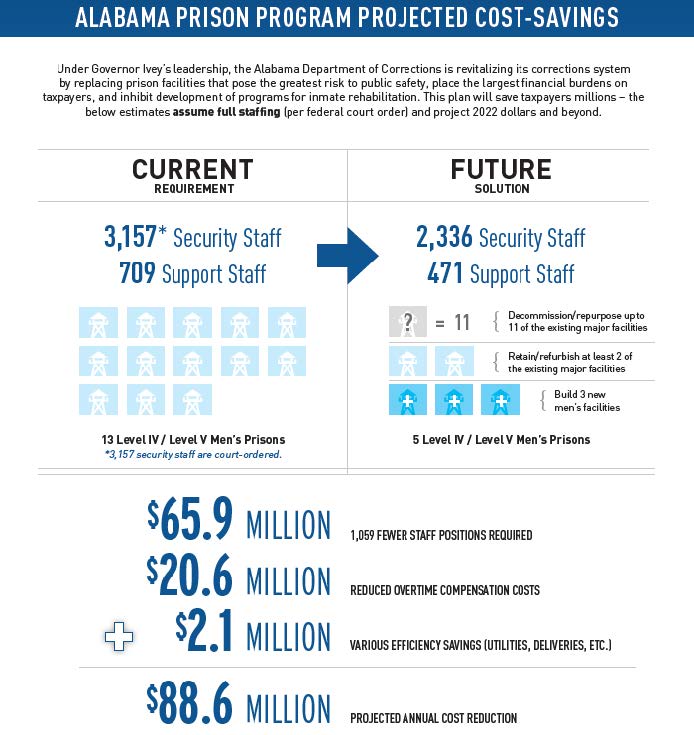 Once the new prisons open, up to 11 existing inmate facilities will close, which worries people in communities that stand to lose a prison and the accompanying economic benefits.
'Let's Try To Stop This'
The experience has led many people to start paying attention to prison reform.
David Kline, a Brierfield resident who works in law enforcement, said before all this, he knew state prisons were violent and overcrowded, but he didn't pay much attention to what the Department of Corrections was doing about it.
"I knew that DOC had some issues, but I didn't know how they were going to combat those issues," Kline said. "I didn't know they were going to build a prison in my backyard to try and combat those issues either."
In recent months, Kline and other Brierfield residents have been working with advocacy groups who oppose these new prisons, including Alabama Appleseed and the American Civil Liberties Union of Alabama.
They hired a lawyer, who mailed a letter to Gov. Ivey last week requesting a meeting with residents and responses to several questions.
Residents have also hosted regular meetings to rally support. Dozens of people showed up to the last one in November. County Sheriff Jody Wade told the crowd that there is still hope to change the state's plan.
"These leases have not been signed," Wade said. "The paperwork is not finalized, so it is not a done deal. So let's not give up the fight. Let's try to stop this."
DOC officials said there is no plan to change the location.
The prison in Brierfield will be the second for Bibb County, which is already home to the Bibb County Correctional Facility, about 20 miles away in Brent. That prison, which opened in 1997 and is the state's newest facility, was built on a swamp and will likely be one of the facilities to close after the new prisons open.