Shoppers Emerge From Quarantine As State Eases COVID-19 Emergency Order
By Tom Gordon
Across Alabama, because of closure orders issued to counter the growing threat of the coronavirus, the retail hearts of cities and towns have been on life support. In the Birmingham area, the 18th Street shopping district in Homewood was a prime example.
But on a bright blue Friday morning, you could detect a heartbeat in Homewood, one that retailers hope will get stronger in the weeks and months to come.
As of 5 p.m. Thursday, the closure orders were lifted in large part for many retail businesses. Those orders had been part of a state-issued stay-at-home directive. A new directive, Safer at Home, is now in place and will be until May 15. As a result, shops that sell clothing, home furnishings, gifts and other items in downtown Homewood opened their doors Friday to walk-in traffic for the first time since late March, or even earlier. And while the walk-in traffic was not overwhelming, it was steady – and encouraging.
"All things considered, it's been a great day," said Beth Staula, one of the owners of Alabama Goods, a store that sells Alabama-made products ranging from barbecue sauce and pancake mixes to skin creams and pottery, "BHM" T-shirts and sugar cookies in the shape of the state. Lately, online, the store has even been selling reversible face masks made in the Tuscaloosa County community of Cottondale.
Staula and the two employees who were in the store Friday were wearing masks, and a welcome sign outside encouraged customers to do so. Behind Staula's mask was the smile of someone hopeful that Friday's opening was the first small step toward a return to the normal, sometimes noisy business days, but aware that customer volume will not immediately return to its previous levels.
"Some people are still a little bit intimidated and they're probably still at home hunkered down and less likely to go out shopping," Staula said near the end of a 10 a.m. to 6 p.m. business day. "But for the people who are less intimidated, they don't seem to be too worried about it and … everyone seems to be glad to start seeing some normalcy back in their lives."
Normalcy was certainly on the minds of Diane Lunsford, 71, and her 89-year-old boyfriend, Herman Suddeth. The two were so keen to do some shopping that, masks and all, they were outside the door of Bearden Design et Boutique 15 minutes before its 11 a.m. opening. After about an hour inside the high-end ladies' clothing store, Lunsford had picked out a black pants suit, a pair of blue trousers and a pair of shoes. Suddeth had picked up the tab, saying it had been two months since the two of them had been able to get out of their Hoover apartment complex and do something like this.
"Cooped up in an apartment," said Suddeth. "Can't go nowhere, can't do nothing, nothing's open."
Outside, near a display of shoes being sold at a discount, store owner Debbie Bearden Mouyal said the COVID-19 closure had brought a "giant, damaging impact" on her business, which she had relocated to Homewood from Mountain Brook in January because she wanted more foot traffic. But she said business started slowing in early February "because people were hearing on the news all this crazy stuff that was happening was potentially coming here and they started tightening their belts … and it was not the flow of traffic that we were used to."
Mouyal said she did not expect business to resume with a roar on Friday and had even shortened the store's operating hours in anticipation of that. After it was all over, she said, "It was a decent day. It wasn't groundbreaking or anything. People, I think, were cautious through the day, but you know, it was OK."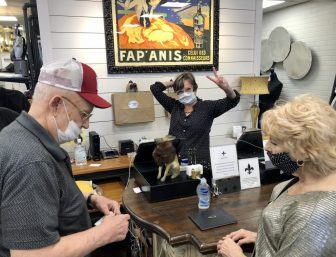 Mouyal said the store had sponsored a promotion in which the first 20 customers who made a purchase could draw for a discount on what they had bought and, ultimately, the day did bring in more buyers than just Diane Lunsford and Herman Suddeth.
As the two were leaving with their purchases, other shoppers were visible on the downtown streets, vehicle traffic was steady enough that pedestrians had to look both ways before crossing 18th Street, and those pulling their cars from parking spaces had to do so with care. Down the street from Bearden at Cookie Fix, patrons keeping social distances from each other were waiting to pick up orders of sweets or to place them. Others waited in their vehicles.
Mouyal said Cookie Fix, which had been doing curbside pickup and shipping orders during the time of the closure, seemed to be "rolling" during the closure period.
But most of downtown "was like a Stephen King movie," she said. "Nobody."
"There are a lot more people today," she added. "But it's not anywhere near capacity." Pointing southeast, toward the slanting parking lot in front of At Home, Alabama Goods and other stores, Mouyal said, "By noon … there's never a parking space, ever." At lunchtime on Friday, however, that lot had more than a few car-less spaces.
'The Demand Is Still There'
Like many retailers, including Bearden, the Trak Shak store at the old Curve in Homewood was delivering purchased shoes and accessories curbside and delivering them or shipping them to customers' homes. Scott Strand, a partner in the store, said sometimes employees would open the store door and hand shoes to customers who felt they had to try the shoes on before they bought them, or use FaceTime to help them get the right fit.
"The demand is still there," Strand said as customers, some of them masked, entered the shop, squirted their hands with cleaner from a bottle on a stool at the door, and sat at chairs spaced 10 or so feet apart to try on footware. "So how do you meet that demand? You just have to adapt to a changing environment."
It was early in the afternoon, about 1:30. The store had opened at 10 a.m. So far, Strand said, it had seen "pretty steady traffic." The numbers of customers in the store had not yet hit the level – 10 – at which additional customers would have to wait outside. Under the Safer at Home directive, retail stores can have no more than 50 percent occupancy.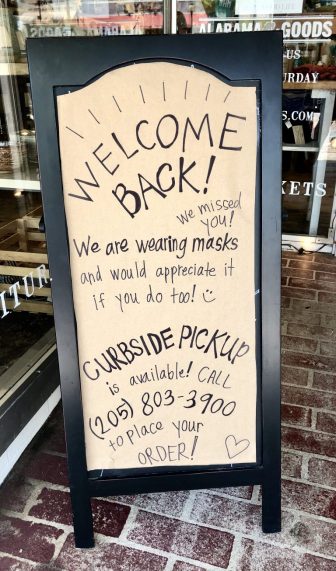 Strand said about a dozen people, including five full-timers like himself, depend on the store for their livelihood and pay had been cut to offset the lower cash flow. Meanwhile, he said the store had just been approved for the Small Business Administration's Paycheck Protection Program.
At Alabama Goods, there normally are 12 employees, most of them paid by the hour. Some of the hourly employees had 35-hour weeks, some worked less. But when the COVID-19 closure order came in March, the store could not keep them on.
That hard reality pains Staula, but she does not resent the closure order that caused it.
"We wanted to protect the health and safety of our employees who have become our friends and ensure … a safe environment for our customers," she said in a Friday night text message.
At Bearden, where she is starting back with fewer employees, Mouyal echoed her sentiments.
"We all had to do our part to slow spread of this virus," she said. "It's real."
Shopping wasn't the only activity OK'd as of Friday. The state's new order also allowed businesses to reopen if they can ensure social distancing among workers. Elective medical procedures also may resume. The state's beaches also are open, but gatherings of 10 people or more are still prohibited, and people still must stay 6 feet away from each other.