Severe Weather Threatens Most of Alabama on Saturday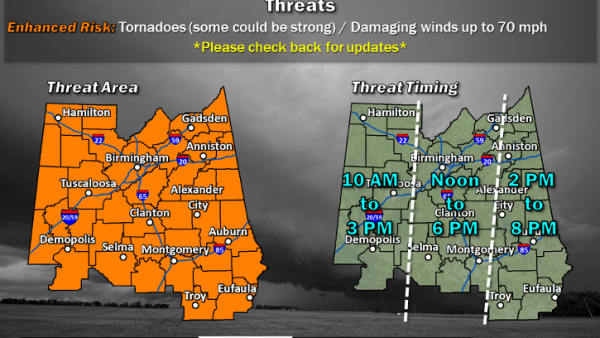 The National Weather Service expects severe weather to drench the South with heavy rains on Saturday.
John De Block of the National Weather Service in Birmingham says the storms, which are expected to be at their worst from 10 a.m. to 8 p.m., threaten to spin off tornadoes.  
"One of our big concerns about this event is the fact that there's so much wind energy with the storm," he says. "Any thunderstorm that forms in Alabama tomorrow will be capable of producing winds up to 70 mph."
De Block says tornadoes in January in Alabama are not uncommon and residents should take this warning seriously. The NWS is asking everyone in the warning area to stay inside.
We are prepared and ready for the potential severe weather tomorrow in our state. Our crews are on standby and ready to respond if needed. Learn more here to help you and your family prepare before the storm. Stay safe! https://t.co/9xMb5umuJ2 pic.twitter.com/eqTmSkQOFc

— Alabama Power (@alabamapower) January 10, 2020
Melissa Sizemore is with the Jefferson County Emergency Management Agency. She says the agency is prepared for whatever the storms bring. 
"What we've really been doing is making sure all of our systems are operational, that all hands are on deck in the instance that something could happen and we're ready to respond if in fact something does happen," she says.
The agency is working closely with neighboring counties. Hub Harvey, director of the Shelby County Emergency Management Agency, says residents of Shelby County can stay alerted through Everbridge notifications.
Officials say residents should have multiple ways to receive weather warnings and should not depend solely on outdoor warning sirens.