Senator And State Health Officer Tackle Complex Slate Of Coronavirus Questions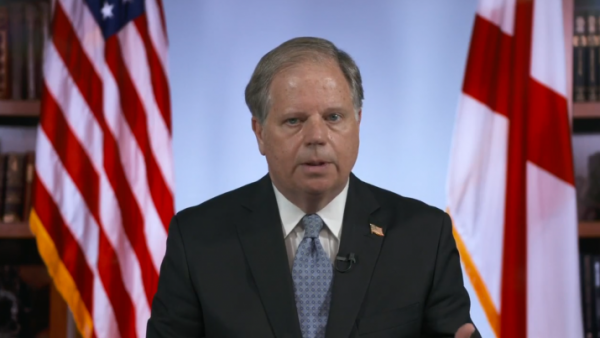 By Nick Patterson, BirminghamWatch
U.S. Sen. Doug Jones and Alabama State Health Officer Dr. Scott Harris continued to sound the alarm today about the continuing rise in COVID-19 cases in the state.
In a Facebook Live appearance on Jones' feed, the freshman Democrat and the Republican-appointed health officer said people needed to see beyond politics and commit to social distancing and wearing masks if the state's infection rate is going to drop.
Harris, pointing to coronavirus outbreaks in several parts of the state, said some were spikes traced to particular businesses or health facilities — in Walker and Tuscaloosa Counties, for instance. Other increases, like the high rate of new infections in Montgomery, were not a result of a single location, but clear examples of community spread.
Thus far, Alabama has lost nearly 600 people to coronavirus, with more than 16,500 confirmed cases of the disease. While neither Jones nor Harris called for a return to the stay-at-home order that recently was lifted, both said what happens next depends on how people in the state exercise personal responsibility to slow the spread of the virus.
"Alabama is still seeing a significant number of cases. We have begun to open up … I think, carefully, and wisely, following the science," Jones said. "And I think the governor has done a very good job of trying to get two messages out. 'Yes we want to open up. We want to get the economy rolling again. But at the same time, we've got to do it safely.'
"And it's that latter message that I'm not sure folks are hearing as much. You only have to see the pictures from the beaches and other places in Alabama and around the country to see that folks are not quite getting the message that this virus is still out there. It is still dangerous; it's still deadly."
Harris said that this week the state had two record days for diagnosis of coronavirus cases. "We had over 600 cases reported in a single day for the first time. And we certainly understand that some of that can reflect increases in numbers of tests that are being performed, but I certainly don't think that that accounts for all of it. I think we do continue to have disease transmission at a community level throughout many parts of the state. In addition to some hotspots."
Harris said that, as Alabama reopens, people need to be more careful than ever.
"Now we do have people back out in public. We do have the economy opening up again," Harris said. "We need to remember that the people who are most at risk for serious disease are our senior citizens or those people who have chronic health problems and, unfortunately, Alabama's not a healthy state, overall on average."
Harris urged people, even if they aren't worried about getting coronavirus themselves, to take precautions to protect others. "We need you to do that for your family, for your community, for your loved ones, those people that you're going to be around who are affected by your own decision of whether to wear a mask or not, or whether to gather or not. … It's important that we all do this together if we're going to get through this," Harris said.
More than 5,400 of Alabama's confirmed COVID-19 cases have happened in the past two weeks, which is almost a third of the state's total. "That shows that this virus is still in our community. It's community spread," Jones said.
"The other thing I want people to remember, too, is this is not just a senior citizens' virus. It affects everybody," he said.
"Quite frankly it's somewhat galling, I think, the cavalier attitude that I see with regard to some of our younger folks and some public officials with regard to the health of our senior citizens."
More Testing Needed
Jones said that Congress is putting money into funding the development of more COVID-19 tests, faster tests and cheaper tests to make sure more people can be tested on an ongoing basis.
Harris agreed that more and better tests were needed, adding that the next hurdle is to make testing more accessible. "We need to have testing available at the place people go to get their health care routinely," he said.
"Right now there are definitely barriers, particularly in some of our more rural communities, where if you maybe don't have good access to health care or if you have access at a clinic and then perhaps you get referred for a COVID test, then you have to find a ride to get to another location where the testing's going on," he said. "And the testing may not even be available every day of the week … . Clearly those are barriers and hamper our ability to get people tested.
He said there is a need for more rapid result point-of-care tests, so that people can be tested immediately on their first trip to a doctor or clinic and learn the results within 15 minutes or so.
Harris said another goal is to screen the population in general — not just those who have symptoms.
"Just the huge scale of that testing is something logistically we haven't figured out yet. But that's really our goal," he said.
Second Wave and Balance
Harris said that while it's difficult to predict the timing or shape of a second wave of infections, previous respiratory pandemics offer some guidance. But, he said, this is called a "novel coronavirus" because it has never been seen before.
The biggest need to prevent that second wave is to change people's behavior so they respect social distancing guidelines, Harris said.
"If we could wave a wand and everybody literally stayed home for a month and nobody had any interaction, we would all be through with this in a month," Harris said. "But clearly that's not realistic because people do have to get out for certain things, but also because some people just haven't taken it quite seriously enough yet."
Harris said there is no magic number that would trigger a reversal of the reopening efforts. "Clearly, numbers are very concerning to us as we see deaths, as we see clusters of infections or hotspots," he said. "There are a whole lot of factors that have to be considered."
Harris said the governor has to balance concerns.
"Protecting the health and safety of people is what we do, and I know the governor respects that," Harris said. "At the same time, she does have other factors that have to be considered, and so trying to balance all those public health interests with economic interests and other interests is a very difficult thing for her to do and we just try to support her in the best way we can with the information we have."
Government Response
While Jones criticized early efforts at dealing with coronavirus — laying some blame at the feet of China, the WHO and the Trump administration —he said that government is working to alleviate suffering caused by the pandemic.
Jones said Congress is working on how to aid American workers who have lost their jobs in the pandemic. The latest $3 trillion coronavirus relief package was passed by the House two weeks ago but is not likely to get approval in the Senate.
"It is not a perfect bill … . I do think it is a starting point that we need to be talking about as soon as we get back to Washington next week," he said.
He cited the Paycheck Security Act he introduced, which he said may get into the next package the Senate considers.
"That bill, if passed in one form or another, would give … businesses the opportunity to keep people on their payrolls, provide them benefits. It would use the IRS payroll structure … to get tax credits, refundable tax credits almost immediately to help with their liquidity, and it would really provide that cushion that is necessary for businesses to keep people on the payroll but bring them back to work in a phased-in way that they can do it safely for both the business, their employees and their customers. The whole goal in that is to save lives but also save livelihoods and to save these businesses."
Jones also said that unemployment benefits need to be modified in light of evidence that some unemployed workers have been making more on unemployment than they did on the job. The federal government has been paying an extra $600 toward weekly unemployment payments. That provision is set to expire at the end of July if it is not renewed.
"We don't want to give people the incentives to stay on the unemployment rolls," he said.
Jones also noted that there is another potential unemployment problem looming "if we don't do something for city and county governments. Right now, these city and county governments are just hanging on by a thread. They are losing revenue and at some point, it's going to catch up to them and they're going to have to start laying off essential workers like firemen, police officers," he said.
Jones said he hoped the next relief package gives "some robust funding for city and county governments to be able to use this in an appropriate way."
Jones also said he hopes to see Congress get money to hospitals and health care specialists to prevent pay cuts and layoffs and to the U.S. Postal Service.
Upcoming Elections
He said government does have to take the lead role in the upcoming elections.
He said that Alabama ought to consider ways of making absentee balloting easier. Alabama has instituted rules for the July 14 party runoffs that added coronavirus to the list of valid reasons a person could vote absentee. But no decision has been made about whether to extend that to the November election, and several groups have mounted legal challenges claiming that the requirements for absentee voting create major obstacles for thousands of Alabamians.
One of the reasons cited for avoiding mail-in voting is the possibility of voter fraud. But Jones played down those concerns, saying that there has been little to substantiate fears of wide-scale voter fraud on a statewide level for many years.
He said that, with technology, Alabama could institute safe and secure absentee balloting and even put measures in place for early voting at limited polling places where social distancing is observed. He said that whether the government will abdicate its responsibility in that matter remains to be seen.