Secretary of State Intervenes As Frustration Mounts Among Jefferson County Voters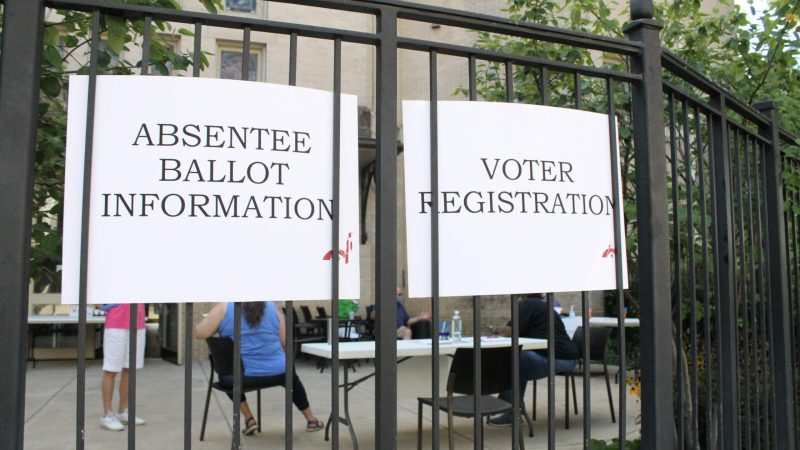 Alabama Secretary of State John Merrill on Thursday said he is taking steps to make Jefferson County's absentee voting process more efficient as voter frustration and anxiety intensifies.
This comes after numerous complaints by voters about long lines at the county courthouse in downtown Birmingham and delays in the processing of absentee ballot applications.
Lines at times spilled outside of the downtown Birmingham courthouse as voters reported waiting hours to have applications and ballots processed. Merrill said absentee ballots were first issued to counties across the state on Sept. 9. Since then, his office has received several complaints about voting issues in Jefferson County.
"So we kind of let it go for a little bit, hoping they'd be able to work it out," Merrill said. "Yesterday, I had a great conversation with several of the key leaders in Jefferson County and we worked out a plan."
Merrill wouldn't go into the specifics of the plan and deferred to Jefferson County's local election manager, Jacqueline Anderson-Smith. She could not be reached for comment. But Merrill added that this is Anderson-Smith's first major election as the local election manager.
"She's trying to follow all the protocols. She's trying to establish some best practices for her office," Merrill said. "And she's continuing to accept recommendations from people who have ideas about how things can be done right and well or better … some of those changes are being implemented as early as today."
So What's Changing?
Merrill said the new plan will help address understaffing and long wait times for voters.
At Thursday's Jefferson County Commission meeting, county officials said 24 temporary workers are set to start work by Monday to help with in-person absentee voters and ease the backlog of mailed-in absentee ballots.
Aadia Rana, of Homewood, visited the courthouse on Wednesday. She requested an absentee ballot a month ago by mail but hadn't heard back. Rana wasn't able to check the status of her application online, so she went to inquire in person.
"It took almost three and a half hours for me to get to the point of submitting another request for an application," she said.
Rana said the process seemed unorganized and voters of all ages were left standing for hours. That changed on Thursday when election officials added seating in the 'Jury Assembly' room on the second floor and dozens of chairs to hallways on neighboring floors.
But wait times still remain anywhere from two to three hours. Marjorie Long, a local voter casting her ballot on Thursday, said the long lines and wait times don't bother her.
"I think it's more that I'm just very determined to vote and make my vote count," Long said. "And [I'm] not bothered by waiting because of the importance of this election."
Merrill said as of Thursday, more than 25,000 absentee ballots have been requested in Jefferson County, but only 10,000 of those have been cast.
"There's about three weeks left for all of that to be processed correctly," Merrill said. "But the longer that you wait, the more difficult it's going to be to make sure that those are adhered to."