Protesters Ask Birmingham Council To 'Defund The Police'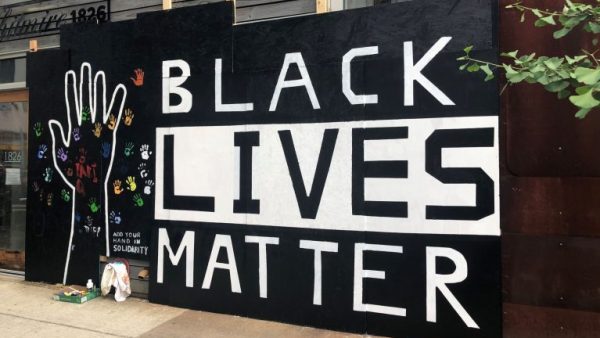 By Sam Prickett, BirminghamWatch
Approximately 50 protesters gathered outside Birmingham City Hall during Tuesday morning's City Council meeting, but most weren't allowed inside due to concerns over social distancing during the COVID-19 pandemic.
Instead, their voices, sometimes amplified through bullhorns, could be faintly heard throughout the meeting from outside, even as Mayor Randall Woodfin promised to "soon share a closer look at the processes and procedures at the Birmingham Police Department, including training and disciplinary actions for officers, adjustments within Internal Affairs and more."
The voices outside were calling for a much larger step to be taken: for the City Council to "defund the police."
Not entirely, the three demonstrators allowed to speak at the meeting assured the council. Birmingham Peacemakers representative Onoyemi Williams and UAB medical students Robert Rosencrans and Justin Bailey each demanded something much more specific: that money be taken from the Birmingham Police Department's $150,000 ammunition budget — a fragment of the department's $92.78 million total budget — and be reallocated toward social services.
"A bullet can only do one thing," Rosencrans told the council. "I don't want to pay for bullets anymore. I don't want to pay for homeless people to be caged. I want to pay for health, robust health, which is derivative of systemic justice … Take a small fragment of [the police department's] enormous budget and do something for the health of our communities right now."
Response from the council was tepid. Council President William Parker repeatedly attempted to delay the conversation, promising that the council would "figure out how to have a meeting" with demonstrators later in the week.
"Listen, we get it," he said. "This is going to be an ongoing conversation."
District 8 Councilor Steven Hoyt suggested that the funding demonstrators seek could be found "just in the overall budget."
"I don't believe we should defund the police department, but as you say, I don't think we should spend $150 [thousand] on ammunition," he said. "But then, I don't want them to be out of ammunition on the streets fighting crime. But then, there are other ways."
District 9 Councilor John Hilliard focused largely on praising Bailey's status as a black male medical student but appeared largely resistant to Bailey's proposed budget changes, suggesting that corporations should help pay for social services.
"I know what you want because it's a national thing to 'defund the police,'" Hilliard told Bailey, adding that the 2016 changes to the Mayor-Council Act prevented the City Council from abolishing the Police Department. "We don't have the power on this council to get rid of any department. I want you to understand what we can do."
Protesters knew that, Bailey replied. "We're not asking for complete abolishment of any department. What we're asking for is funds allocated to ammunition."
Hilliard cut in.
"But you are aware that because of the pandemic the city has lost a tremendous amount of money from businesses? Are you aware of that?" he asked.
Bailey ignored the question. "If you do not take this time now to be a leader in the South and in America, to show that we are going to start funding our social services in our poorest communities and [for] our people of color, then we're just going to hit the same demographic freefall as we have for years and years. There's a tremendous opportunity now," she said.
Soon afterward, Parker wrapped up the conversation.
"We hear you, we're good," he told the demonstrators. "We will see you all again."