Officials Urge Residents to Stay Away As Hurricane Sally Cleanup Begins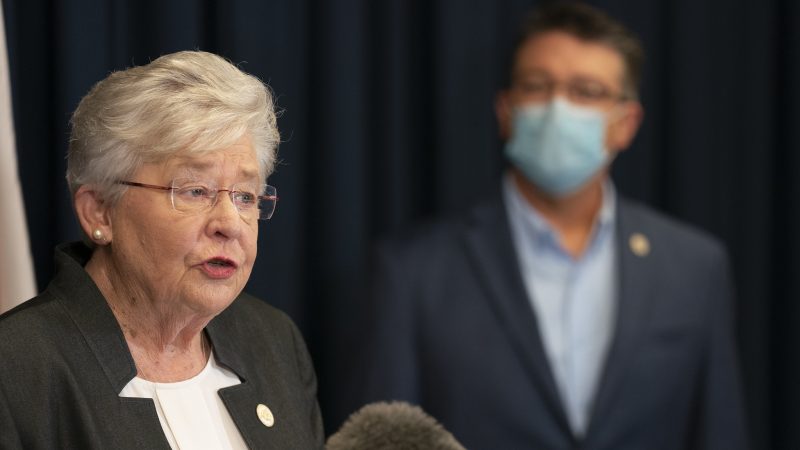 At least one person has died after Hurricane Sally deluged the Alabama coast with rain and wind, knocking down trees, tearing through buildings and leaving tens of thousands without power. In the storm's wake, many roads remain impassible, blocked by trees, debris or standing water.
"The best thing for people right now is to remain at home until we have adequate time to clean up the debris along the roads and restore power," Gov. Kay Ivey said at a Thursday morning press conference. "Patience will truly be a virtue."
Ivey said she will visit to survey damage in person, but only when it won't interfere with rescue and recovery efforts. She urged residents to hold off returning to affected areas if possible.
"Give our first responders the time they need to prioritize the most critical needs," Ivey said.
In addition to the one confirmed death, Orange Beach Mayor Tony Kennon said one person went missing, but offered no further details. Alabama Emergency Management Agency Director Brian Hastings said some deaths in Louisiana from Hurricane Laura happened after the storm when people died of carbon monoxide poisoning from generators.
"During this time of response and recovery please use caution and keep yourself and your family safe," Hastings said. "Please do not create a disaster within a disaster."
Forecasters say many rivers in south Alabama will be at flood stage into the weekend.
The cities of Orange Beach and Gulf Shores have banned visitors through at least Sept. 26 to allow for clean up. Law enforcement officers say property owners who want to check on homes and businesses must provide identification and documentation to be allowed into restricted areas.