New Coronavirus Tracker Hopes To Locate Hotspots In Rural, Underserved Areas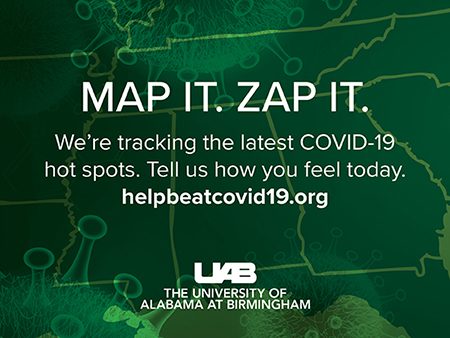 UAB has created a new symptom checker to track the spread of COVID-19. The website hopes to give public health officials insight on virus hotspots, especially in underserved communities.
"We are taking a look at COVID-19 symptoms alongside underlying medical conditions to provide public health officials an in-depth analysis of how rural areas are affected in real time," says Sue Feldman, one of the project's creators and associate professor in the UAB School of Health Professions and UAB School of Medicine.
The website includes a survey that takes three to five minutes to fill out. It asks people to record their symptoms on a daily basis. The website then compiles the survey information into an interactive map to show which areas are affected and what hot spots may be on the rise.
Sarah Parcak, a co-creator of the project and professor in the UAB College of Arts and Sciences, says the app was created to serve people of all backgrounds, demographics and in all locations. Experts say it could be an important tool for rural areas across the deep south, which have faced a number of hospital closures.
"This information will fill a void in coronavirus reporting and be of great value to help lessen the threat to public health in the Southeast," Parcak says. "The new tool could help identify new community outbreaks more effectively taking into account all aspects of lives of the people in that community."
UAB also plans to use the app to track things like neighborhood characteristics and economic factors in an effort to understand disparities in the spread of the virus.
"HelpBeatCOVID19 gives everyone a voice and a chance to contribute to a new way of reporting symptoms that is specifically designed for the rural communities who are often without the resources of those who live closer to urban areas," says Mohanraj Thirumalai, a creator of the symptom tracker and an assistant professor in the UAB School of Health Professions.