NASCAR Fans React To Confederate Flag Ban, Noose Incident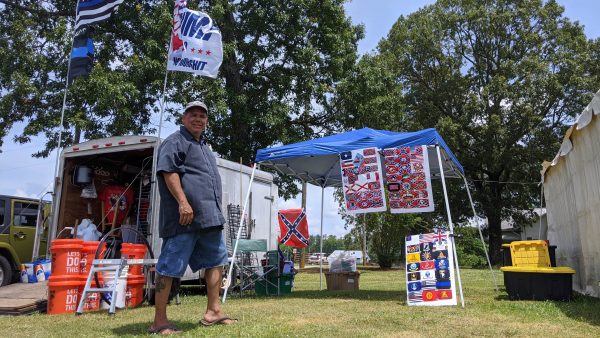 Update: After a day-long investigation, the FBI announced Tuesday that Bubba Wallace was not the target of a hate crime. In a statement, officials said the rope fashioned into a noose had been in the garage stall at the Talladega Superspeedawy since October 2019, months before it was assigned to Wallace.
On Monday afternoon, dozens of NASCAR drivers and crew members escorted Bubba Wallace's car to the head of Pit Lane before the race at Talladega Superspeedway. The moment of solidarity came a day after officials discovered what appeared to be a noose in Wallace's garage.
Wallace, the only Black driver in NASCAR's top circuit, said in a statement that he was "incredibly saddened" by Sunday's act but has been "overwhelmed by the support from people across the NASCAR industry."
Together.#IStandWithBubba pic.twitter.com/achL5H70Ng

— NASCAR (@NASCAR) June 22, 2020
NASCAR banned the Confederate flag at all of its races about two weeks ago after drivers campaigned for the move, led by Wallace. The decision came as a growing number of cities and organizations around the U.S. have removed symbols to the Confederacy, which many say pay homage to the defense of slavery and the narrative of white supremacy.
"The presence of the Confederate flag at NASCAR events runs contrary to our commitment to providing a welcoming and inclusive environment for all fans, our competitors and our industry," NASCAR said in a statement.
Monday's race, which was originally scheduled for Sunday but postponed due to weather, was one of the first events since officials banned the flag. Because of the COVID-19 pandemic, only 5,000 fans were allowed to attend in a stadium with seating capacity for over 100,000 people.
Across the street from the race track, Sean Ramirez was selling a wide selection of Confederate flags at his pop-up shop. He condemned the noose incident, calling it an act of hatred, but he said it doesn't change his perspective on the Confederate flag. He said for him, the flag is a symbol of Southern heritage, not hatred or racism.
Lifelong NASCAR fan Brad Johnson agreed and said the sport is becoming too political.
"I think when you start banning things like that," Johnson said, "it's kind of a slippery slope taking away people's freedom of expression."
Other fans at Monday's event said they were relieved to see change. Jeremy Jones, who has attended NASCAR races since 2016, supports the flag ban and said he was surprised that NASCAR took a stand on the issue.
"I figured that would have been one of the last sports to be with the cause," said Jones, who is Black. "It was pretty exciting, got me more ramped up to come back out here again."
Jones's friend Michael Donahoo said professional athletes have been speaking out about racial injustice for years and he is glad to see an official response.
"I feel that was really brave," Donahoo said. "To step behind the only African American driver in NASCAR and to really get behind and support a driver like that and to show that it's more open to being more open and inclusive, I think it's definitely a step in the right direction."
On Monday, NASCAR officials said they are working with the Federal Bureau of Investigation to determine who is responsible for placing the noose in Bubba Wallace's garage. They said a limited number of people had access to the area and anyone involved with the incident will be banned from NASCAR for life.