Lt. Gov. Ainsworth: 'We've Got To Get This Under Control'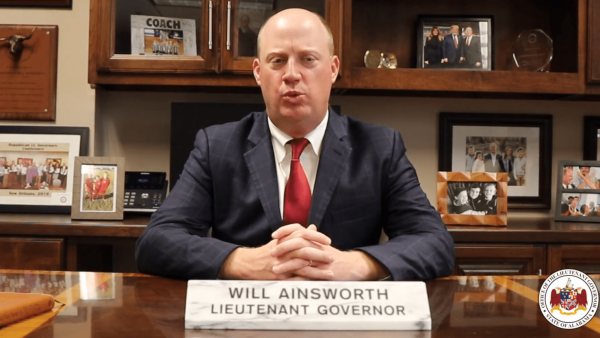 Alabama Lt. Gov. Will Ainsworth has strong words about the coronavirus pandemic. In a tweet Wednesday, he issued a stern warning. "Wake up, Alabama. As I said earlier this is a serious situation and is becoming more and more threatening every day." He goes on to say, "we must slow it down now."
Wake up Alabama. I said it earlier,
This is a serious situation and is becoming more and more threatening everyday. It WILL spread exponentially in the future and we must slow it down now. Everyone MUST follow the orders given and practice social distancing to protect lives. https://t.co/4FfXjuwTzR

— Will Ainsworth (@willainsworthAL) March 25, 2020
His words struck a much more urgent tone than many Republican state leaders, including Gov. Kay Ivey, whom many have criticized for her lukewarm response to the crisis. Ainsworth spoke with WBHM's Gigi Douban.
State Leaders and Residents Haven't Taken This Seriously
Ainsworth says it's unfortunate there's been a lot of community spread of the disease. Earlier this month, Gov. Ivey created a COVID-19 task force made up of elected state officials, medical experts, and business and law enforcement leaders. But Ainsworth says not everyone has recognized the gravity of the situation.
"I think people on the task force have and not [on the task force] have not taken this as seriously as they should have, and therefore there's, you know, a certain percentage of the people in Alabama that are still going on doing some of their normal routine," he says. "The problem with that is community transmission. And we've got to get this under control."
Ainsworth says he's determined to make people understand that COVID-19 presents a serious threat to Alabama. Many have criticized Ivey for not doing more to stop the spread of the disease sooner, but Ainsworth stopped short of blaming her.
"You know, I can't control the governor's actions. I can control mine. And I'm going to do everything I can do to make sure people understand how serious this is," he said, adding he'll use "whatever platform we have to educate people about the facts and the data."
The State Needs More Testing
Ainsworth believes the state isn't testing enough, but he hopes that will change soon.
"We're working on right now some different testing options and trying to get some stuff approved for FDA that could expedite that, similar to a test they use, a take home pregnancy test," he says, citing trials in Germany. "We're working on potentially getting that expedited in the U.S. and also Alabama."
But Ainsworth agrees there's a need for expanded testing. "Right now, we're reserving the testing for the patients that need it, are most at risk," he says, "but we definitely need more testing."
Statewide Shelter-in-Place Up to Health Officials
Birmingham this week issued a shelter-in-place order requiring people to stay at home except for essential trips, such as buying groceries, caring for the elderly or commuting to work. So far, Alabama has been reluctant to issue a similar order statewide. On that, Ainsworth says he defers to State Health Officer Dr. Scott Harris.
"He doesn't think it's necessary and so I respect his decision, opinion on that," he says.  "I'm going to support our professionals, people that are paid to do that daily. I certainly think it makes sense for what they're doing in Jefferson County. And if Dr. Harris thought that was the right decision for Alabama, I would certainly support him."
Have State Leaders Acted Decisively Enough?
Ainsworth says people have not been taking COVID-19 seriously. Officials can implement numerous restrictions, he says, but residents must observe them.
"If people are still, you know, interacting with other people, seeing their friends, letting kids play together, interacting with extended family, you know, that's what we mean by community spread," he says. "And what I want every Alabamian to understand is we can stop this."
Everyone, he says, should behave as if they have the virus. "And if we can do this for an extended period of time, then the virus cannot spread."
Social distancing was a new term weeks ago, but isn't any longer, Ainsworth says. Still, he says, beachgoers over spring break didn't observe guidelines for interacting safely. Ivey didn't move to close state beaches until at least the second week of spring break season.
"I mean, you certainly could have gone to the beach and stood six foot apart, but I don't think that's what we saw," Ainsworth says. "I think people are breaking the recommendations that have been set and the guidelines under social distancing."
Reaction from Other Republican State Leaders
Ainsworth says his strong words have been received well by many state officials regardless of party affiliation. There hasn't been much of a backlash, he says.
"You know, most people in the state that I've talked to are saying 'thank you — thank you for taking the lead, thank you for bringing this issue to light, thank you for protecting the public. This is what needed to be done'."
State Leaders Must Prepare for Exponential Growth in the Number of COVID-19 Cases
As of Thursday evening, there were more than 520 confirmed cases of coronavirus in Alabama and one death, according to the Alabama Department of Public Health's COVID-19 surveillance dashboard. Ainsworth says it's imperative that state leaders ensure hospital capacity is adequate to handle the growing number of cases.
"I think it's the job of government to make sure every citizen has a bed if they need it and get the treatment needed," he says, adding that officials must plan ahead. "You can't do this overnight," he says, "so that's something we're working on."
Officials also must ensure health care workers and others on the frontlines have adequate personal protective equipment (PPE).
"And that's what I'm working on to make sure we get," says Ainsworth.