Jones Expects Competitive Senate Race With Tuberville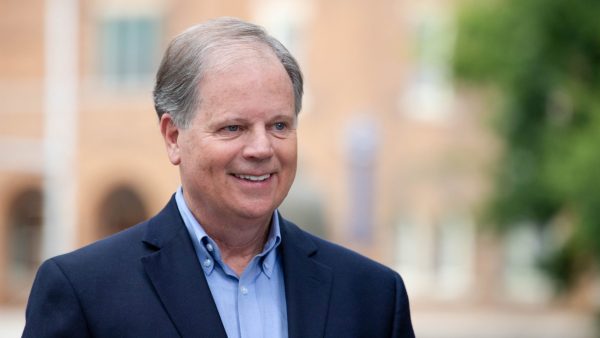 Alabama's primary runoff election is in the books, and all eyes are now on the general election for U.S. Senate in November. Former Auburn University football coach Tommy Tuberville won the Republican nomination for U.S. Senate Tuesday. Tuberville faces Democratic incumbent Sen. Doug Jones, who is considered among the most vulnerable Democrats up for re-election.  Jones maintains he can win, even in deeply red Alabama.
WBHM's Andrew Yeager spoke with Jones about the upcoming race.
Jones' reaction to Tuberville's win:
I want to congratulate Tommy Tuberville for his win. But I also think it was the culmination of a very divisive primary and that's what you're going to be seeing from the Republican candidate going forward. We have done everything we can to unify Alabama. Our campaign theme is "One Alabama." But that doesn't seem to be the situation from Tommy Tuberville. So we're looking for a spirited race, for sure.
How a win is possible despite being seen as an underdog:
I think the political observers are wrong. We've been traveling around the state the last two-and-a-half years. We've been working for the people of Alabama across the state from one end of the state to the other, in every ZIP code. [We're] making sure all Alabamians benefit from what the federal government has to offer, whether it's in health care, whether it's in armed services and our military, you name it. So I think going forward [what] people are going to want to see is leadership. They're going to want to see someone who can get something done, and you cannot do that in a Washington, D.C. by being a hyper partisan, which is what we've seen in the last few months from the Republicans. What you have to have is somebody that is bipartisan, that will reach across the aisle.
Defending his voting record, including votes against the confirmation of Justice Brett Kavanaugh and for conviction in President Trump's impeachment trial:
Those are but two votes out of hundreds and hundreds that I've taken. You base your vote on an entire record, not just two. Folks who want to use that probably would never vote for me anyway. But if you look at the votes that we've done to repeal the military widows' tax, the votes for farmers, the votes for educators, the voice that we've been for rural health care and broadband across Alabama, the strong voice for national defense, modernizing our military, you've got to look at the whole approach. I've had 17 bipartisan bills that have been enacted into law [and] signed by President Trump. That's a good record and I'm very proud of that. We're not going to worry about just one or two votes. We want everybody to look at the entire voting record and when they do, they'll see that I've been there for the people of Alabama.
This interview has been condensed and edited for clarity.
WBHM has invited Tommy Tuberville for an interview. His campaign has not yet responded.