Jones Calls For Bipartisanship In Farewell To Senate, Does Not Address Talk Biden Favors Him For AG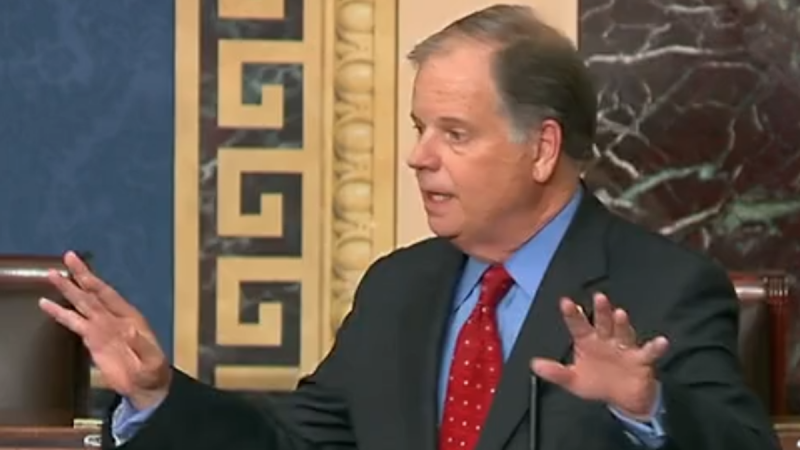 Outgoing U.S. Sen. Doug Jones bid farewell to his colleagues during a speech on the Senate floor Wednesday afternoon, urging them to set aside partisan politics and restore the American people's faith in government.
Jones was elected to the Senate in a surprise upset in 2017, becoming the first Alabama Democrat elected to the Senate in 25 years. He was beaten handily in last month's election by former Auburn football head coach Tommy Tuberville.
During his speech Wednesday afternoon, Jones said he'd expected not to be re-elected. "I remember right after I was elected, I was talking to a friend of mine. … We talked about the possibility that we could work on a bill as important as the Civil Rights Act of 1964 or the Voting Rights Act of 1965," Jones said. "I knew, though, such opportunities were not likely, especially in what I knew to be a three-year window and not knowing what the future would hold — although, I've got to be honest, I had a pretty doggone good idea when I got here. If there's one thing my mama always taught me, it was to be realistic about things."
Some reports Wednesday put Jones as President-elect Joe Biden's top pick for attorney general, while others said he was in the top two contenders. Jones did not mention those reports during his speech Wednesday, but he did promise to continue "working toward those same goals too, even after I leave this place."
"There's a sadness at what I'm going to leave behind, but there's also optimism," he said. "Leading together, we'll continue to build a better future for the American people."
During his speech, Jones spotlighted several of his accomplishments in office, including his co-sponsored bill eliminating the military widows' tax, as well as his focus on "so-called third rail issues," that had often been considered political taboo.
"I believe that right now there is no time for caution," he said. "My first speech on the Senate floor was about gun violence. No one could believe that a senator from Alabama talked about how we could stop gun violence in a way that made some sense — not from an extreme view on the right or an extreme view on the left, but right there in ways that made sense. It was a topic that I knew could have easily been twisted into a negative campaign ad — which, by the way, it was."
Jones called on his colleagues remaining in the Senate to "get out of partisan corners," citing his partnerships with Republican senators such as Ted Cruz and Susan Collins.
"I am not the first and I certainly will not be the last to talk about the importance of bringing people together who have opposing views and working toward what is possible and palatable," he said. "I've looked at a lot of farewell speeches in the last month, they all say a lot of the same things, and everybody I'm sure nods. We've got to do better. You have to do better."
"It's possible — and this is going to be a challenge — to restore the American people's faith in government," he added. "We know right now that this faith has been shaken for many, many reasons, but it's possible to restore it … to see things from others' point of view, to find that common ground. It's possible for us to realize that progress is not a zero-sum game, that a rising tide lifts all boats. These things are not easy. They take dedication and they're hard choices, but they're worthy goals," he said.