Alabama Orders Nonessential Businesses Closed Due To Coronavirus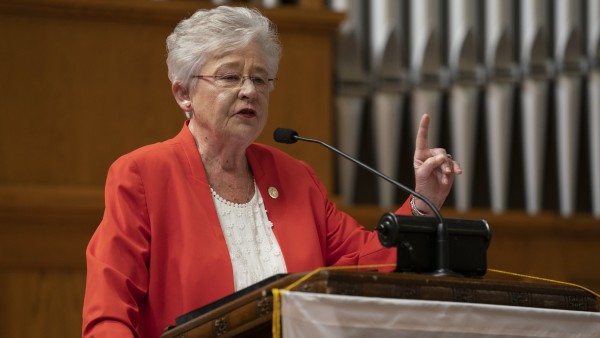 Businesses in Alabama that are deemed nonessential or require close contact between people — places such as entertainment venues, gyms, nail salons and barber shops — will be closed to the public under an order issued Friday by the state health officer. It's the latest effort at the state level to curb the spread of the coronavirus. The order takes effect Saturday evening and lasts through April 17.
"This decision has not been made lightly, but has been made with a tremendous amount of concern and discussion,"  Gov. Kay Ivey says. "This is incredibly disappointing news to deliver, but this is a matter of life and death."
The announcement at a press conference Friday morning comes as the Alabama Department of Public Health has confirmed more than 580 cases of COVID-19 and three deaths statewide. The Mobile County Health Department says another person who tested positive for the disease has died, but that has not been confirmed by state authorities.
Ivey maintained her stance that a statewide "stay-at-home" order is not needed "at this time and hopefully not ever." Such orders typically mean people can only leave home for food, medical needs and essential work or exercise. At least 23 states have issued such restrictions.
"If people want to do more individually by imposing your own shelter-in-place, you don't need my permission to do so," Ivey says.
The governor says mayors can enact their own policies related to the coronavirus if they feel the situation in their communities warrant it. She says hers is a balanced approach, taking into account residents' health and the economy.
"Government can choke businesses. We do it every day with regulation and bureaucracy," Ivey says. "If we kill businesses, we can't print enough money in Washington, D.C. to bring a dead business back to life."
Some communities have enacted stricter policies. The Birmingham City Council Tuesday approved a shelter-in-place order. On Thursday, Tuscaloosa Mayor Walt Maddox issued a 24-hour curfew, effectively a "stay-at-home" order.
Ivey has faced calls for a stronger response. Fellow Republican, Lt. Governor Will Ainsworth, while not specifically speaking about Ivey, has said some on the governor's coronavirus task force, of which Ainsworth is a member, are not taking the disease seriously enough.
When asked about Ainsworth's comments, Ivey says she invited Ainsworth to be part of the task force because he wanted to help.
"What is not helpful is raising challenges and criticisms and issues that we're already aware of but offering no solution and showing no willingness to work with the task force, the team that's trying to fix it," Ivey says.
The statewide order also tightens restrictions on gatherings. Non-work gatherings of 10 or more which cannot maintain at least six feet of distance between people are banned. Previously, the limit was 25 people. The order also supersedes health orders that had been issued in Jefferson and Mobile counties.
The order lists specific business categories that are to be closed. A spokeswoman for the governor says if a business isn't listed, it won't close.
Amended Statewide Social Di… by WBHM News on Scribd