Ivey Extends COVID-19 Health Order Through July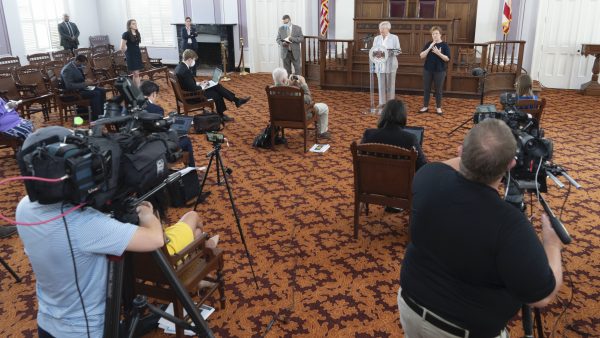 Gov. Kay Ivey extended a public health order Tuesday, which allows businesses, entertainment venues and beaches to operate provided they follow social distancing, sanitation and other guidelines, until July 31. The order would have expired Friday and comes as new coronavirus cases have risen sharply through the month of June.
"While we are not overwhelmed yet, we should not think that because our summer feels more normal than our spring that we are back to normal," Ivey said at a press conference Tuesday morning. "The fact is, folks we are still in the thick of this virus, disease and it is deadly."
As of Tuesday, Alabama had 37,536 confirmed COVID-19 cases, more than a quarter of them coming in the last two weeks. The state had 926 deaths from the disease. Ivey downplayed the notion of mandating wearing face masks in public, as some local governments have done, saying such a mandate would be unenforceable. Ivey stressed personal responsibility in following recommendations set out by public health officials.
Public health leaders recommend individuals practice social distancing by maintaining at least six feet of distance between people who are not members of the same household, wash hand frequently and wear face masks. State Health Officer Dr. Scott Harris echoed the need for people to take the disease seriously.
"Each one of us with our own individual behavior has the ability to prevent the spread of this disease," Harris said.
Harris said the Alabama Department of Public Health will unveil a new color-coded map on its coronavirus dashboard Tuesday. He said it will offer people a quick overview of each county's status regarding coronavirus infections. It based on the rate of new coronavirus cases in the previous two week.
Ivey has been relatively quiet compared to some governors in publicly discussing the pandemic. Tuesday's press conference was the first she's given since May 21 when she announced the order that's now been extended. The governor's office also released a series of public service announcements featuring Alabama celebrities, including Charles Barkley and Bo Jackson, encouraging residents to wear face masks.
The Alabama Hospital Association, the Medical Association of the State of Alabama, and the Alabama Nursing Home Association praised the governor's action in a joint statement Tuesday. The groups also urged local officials in areas where cases are rising to consider mandatory mask ordinances.
"While all of us are suffering from quarantine and mask fatigue, now is not the time to let up," the statement said. Alabama added almost 6,000 new coronavirus cases over the past week, the highest 7-day total during the course of the pandemic. "The number of hospitalizations are increasing, and the state has now had more than 900 deaths attributed to COVID-19. Things are not getting better. They are getting worse."
David Gunn, who lives in Jefferson County, which now has the highest number of cases in the state, said he's not surprised to see what he considers the governor's lack of leadership during the crisis.
"I think Governor Ivey's press conference today reveals an utter lack of any overarching strategy for how to respond to the pandemic at a statewide level," he said.
Leslie Hughes of Hartselle said the governor started strong in her response to the pandemic and quickly buckled under pressure.
"Mask mandates should be in place," Hughes said, "and she should draw a line in the sand: if we can't get transmission rates down to a specified number, we'll need to restrict non-essentials again."