Inside Alabama's Prisons, Fear Of A Coronavirus Outbreak
Coronavirus is spreading inside Alabama's prisons, and inmates and staff fear the situation could get much worse. As of Wednesday afternoon, at least four prisoners and eight employees have tested positive for COVID-19. 
At Limestone Correctional Facility near Huntsville, where one staff member has tested positive, Hasani Jennings says it is likely just a matter of time before inmates get sick. Alabama's prisons are extremely overcrowded, with many facilities operating at least 160% above capacity. Jennings, who is incarcerated at Limestone, says no one bothers to mention social distancing.
"It's like non-existent," he says, "because the beds in here, in the areas that the beds aren't even supposed to be in, they're like three feet apart, if that. When you're sleeping, you're breathing on the person next to you."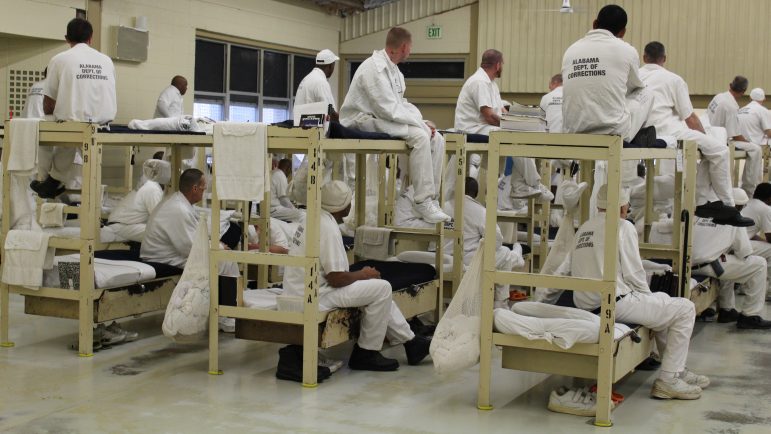 Initial Confirmation
The Alabama Department of Corrections (ADOC) announced the first confirmed cases among the inmate population in a statement last Friday. One man at Bullock Correctional Facility in Union Springs and two others at St. Clair Correctional Facility in Springville tested positive for COVID-19. Officials said one of the men, Dave Thomas, was terminally ill and died at a hospital less than 24 hours after testing positive for the virus. 
"The ADOC has been aggressively preparing for this day, which was an inevitability based on what we are seeing across the country and world," prisons commissioner Jeff Dunn said in a statement. "We've planned extensively, we've trained thoroughly, and now we are activating the containment strategies outlined in our Pandemic COOP to slow the spread of this virus and ensure we continue to protect all those who live and work in our facilities to the best of our ability." 
In a statement Wednesday, officials said another inmate tested positive at Elba Community Work Center and was later moved to Easterling Correctional Facility and placed in an isolation cell. 
Officials with ADOC declined an interview for this story but said they are posting all of their preventive measures online. 
The department recently started issuing cloth masks to inmates and staff handmade by people incarcerated at Julia Tutwiler Prison for Women and Holman Correctional Facility. Officials said they are working with outside groups to collect and distribute limited amounts of supplies such as hand sanitizer. And for more than a month, officials have suspended visitation and screened staff for high temperatures.
The #ADOC gratefully accepted a donation of 3,246 bars of antibacterial soap, 439 bottles of shampoo & conditioner, 71 tubes of toothpaste, 49 tissue boxes, and 7 bottles of hand sanitizer. The collection was coordinated by Alabamians for Fair Justice. https://t.co/tE4L1nH1c9 pic.twitter.com/3hxrjnVMWn

— Alabama Department of Corrections (@ALCorrections) April 22, 2020
"They Don't Tell Us Anything" 
But inside Alabama's prisons, several people we spoke with said they do not feel protected from viral spread. 
One man incarcerated at Bullock Correctional Facility says he found out from watching the news that an inmate there had tested positive for COVID-19 last week. He says officials did not communicate that information with the prison population.
"They never came and told us that," he says. "They don't tell us anything." 
The inmate asked us not to use his name for fear of retaliation. We have verified his identity using the ADOC inmate database. 
Online, ADOC officials say they have quarantined some inmates at various facilities who might have been exposed to the virus and have provided "necessary guidance and health education" to those individuals and staff. In a recent statement, the department said prisoners quarantined at Elba Community Work Center will be monitored for symptoms and have their temperatures checked twice daily. 
The department says inmates will only be tested for COVID-19 if they show symptoms and have a physician's order. So far, out of more than 20,000 prisoners, only 62 have been tested. 
The incarcerated man at Bullock, who has not been quarantined, says he worries more inmates could have the coronavirus and it's going undetected.
"They haven't came in to even ask us questions about how we feeling, check our temperature or anything," he says. 
Correctional officers also feel left in the dark. We spoke with one officer who asked to remain anonymous because he fears he could lose his job for speaking to the media. He says he and his co-workers are in close contact with inmates every day and they need to know if someone is suspected or confirmed to have the virus. But he says officials are slow to communicate. 
"They don't relay the information because they're scared of the panic," he says. "But I think if you relay the information, people will be better. They will at least be able to protect themselves and be careful."
Up until this week, ADOC was updating inmate test results twice a week. It says it will now update the numbers daily. They ask, but say they cannot require, employees to self-report any positive results. 
Unprepared For An Outbreak
As more people inside Alabama's prisons test positive for COVID-19, it amplifies existing problems in the system. 
The Department of Corrections is severely understaffed, with one officer often left to oversee upwards of 200 inmates in a dormitory. Now, some employees are out sick or awaiting test results. The officer we spoke with says others may choose to stay home because they are afraid of contracting the virus at work. 
"We have to come home to our wives and our kids," he says, "and you know, it's just crazy." 
He says the prisons are not equipped for a major outbreak and he fears many inmates could die. 
In recent weeks, advocates and legal groups have asked the state to temporarily release or move inmates who are at high risk for COVID-19. Hasani Jennings, who is incarcerated at Limestone, says he knows many elderly men who are concerned about getting sick. 
"Man, let some of these people go," Jenning says. "They're harmless, some of these 70 years old, 80 years old. And you know they're just in here waiting to die anyway. Why expose them to this? Let them go."
In a recent report, the Southern Poverty Law Center said more than 1,000 state prisoners are over the age of 65. More than half of these individuals have been incarcerated for decades and many are classified as "minimum security."
The state has not said whether it will consider releasing at-risk inmates, but victims' advocacy groups have pushed back on the idea. 
Officials with the Alabama Bureau of Pardons and Paroles did recently announce they would re-start parole hearings in May after canceling hundreds of hearings due to COVID-19. 
The Alabama Department of Corrections also announced this week it would begin processing new inmates from county jails, following a 30-day moratorium on new intakes that caused a backlog in local jails. ADOC officials say they will conduct a pilot program with 120 individuals who have not shown symptoms for COVID-19. Before entering an active state prison, the county transfers will be quarantined for 14 days at Draper Correctional Facility, an 81-year-old prison that closed in 2016.