How Inhaled Nitric Oxide Could Treat COVID-19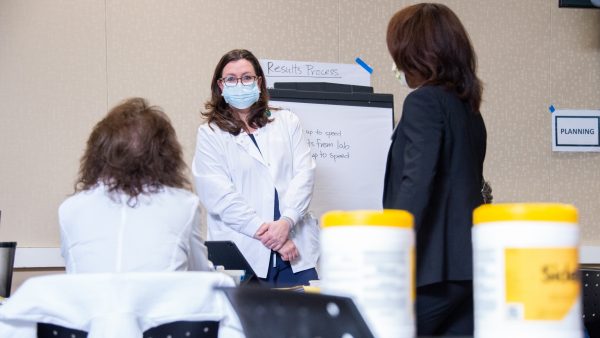 UAB announced this week it will start testing inhaled nitric oxide as a treatment for COVID-19 patients.
The study is open to 200 patients at eight locations internationally, including UAB. To qualify for the study, patients must test positive for the virus, be in the intensive care unit (ICU) and be receiving oxygen through a ventilator.
Dr. Pankaj Arora heads UAB's effort. He says they often use nitric oxide to treat patients with failing lungs. The gas has been shown to improve blood flow to areas of the lungs that are receiving air, which helps boost the amount of oxygen circulating in the bloodstream, according to UAB. The gas also reduces the stress on the right side of the heart, which has to work harder when the lungs are in distress, as they often are in COVID-19 patients. Lung failure is the leading cause of death for patients with the virus.
"Improvement in the lung function and oxygenation along with improvement in the heart functions is anticipated primarily because there's an improvement in the ventilation-perfusion matching in the lungs with the inhaled nitric oxide," Arora says.
Nitric oxide was also used during the 2003 SARS pandemic and showed that it not only helped increase oxygen in patients, but also had anti-viral properties, according to Dr. Vibhu Parcha, a clinical research fellow with UAB's Department of Cardiovascular Disease.
"Since the current strain of the coronavirus is quite similar to the one circulating back then, there's a very high likelihood that this effective treatment strategy might help our sickest of the COVID-19 patients," Parcha says.
Arora says for the first 48 hours of treatment, patients in the study will inhale a gas mixture that's 80 parts per million of nitric oxide, which he calls a high dose. After the first 48 hours, patients will be stepped down to a dose of 40 parts per million for another 24 hours. Arora says they'll then be able to see if the patients' oxygen levels increase.
But Parcha warns there are potential side effects of taking high doses of nitric oxide.
"There's a situation called formation of methemoglobin, which is a protein in your blood which decreases the oxygen-carrying capacity of the blood," Parcha says. "That just underlines the fact that all medical care in these times of unprecedented crisis should be done under the watch of a physician who is trained, who understands what we're doing so that all adverse events that may develop are handled appropriately."
UAB is one of only two centers currently recruiting patients, but Arora says a trial location at Lousiana State University should open soon. He says they expect to fill the 200 spots quickly, but that the trial itself could take anywhere from a few weeks to months.