'History Of Us' Course Introduces Students To Their Ancestors And The Role Of Race In America's History
Eighteen-year-old Delphia McGraw of Tuscaloosa says she loves history. But, growing up, she received little instruction on the history of people who looked like her.
"I went to a private school during my middle school years, and I didn't have any Black history taught to me," McGraw said. She said she knew she wanted in when her teacher at Tuscaloosa's Central High School told her about an elective course at Central the following year.
Its teacher was University of Alabama professor John Giggie, Ph.D. He directs UA's Summersell Center for the Study of the South. He taught a year-long Black history course called History of Us with UA graduate student Margaret Lawson.
History of Us is touted as the first Black history course of its kind taught in the Tuscaloosa public school system. The course asks students to be historians by researching major themes in Black history and framing those themes locally, to Tuscaloosa County. Students are asked to examine how their own voices, their families and their communities fit in the progress of history, Giggie said.
"We chose the name History of Us because we wanted students to think about several things," he said. "First of all, there's always been a tendency in educational circles to separate African-American from American history, and we wanted to show them that, actually, we have to integrate those vigorously to show the ways in which each of them informs the other."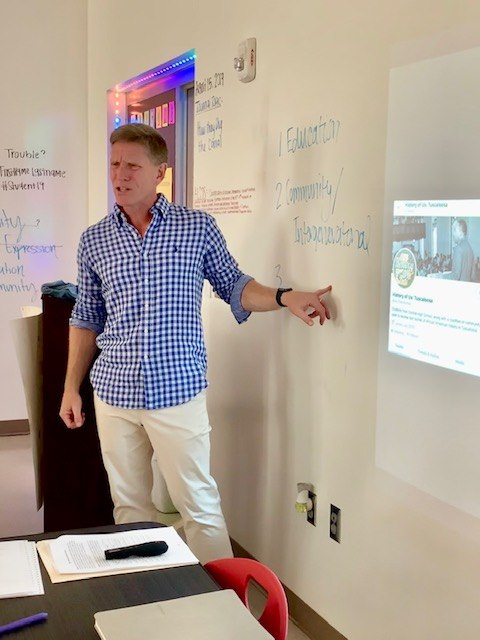 "But more importantly, (we) wanted to demonstrate that the most important themes in Black history are also the most important themes in American history," Giggie said. "And, the History of Us is also meant to be personal. It's about all of us in history trying to find our place, our narratives, our stories."
Giggie said he got the idea for the History of Us class while teaching a local civil rights history course at UA and leading a research project to reconstruct the lives of lynching victims in Alabama. However, many of his students expressed dismay at knowing so little about Black history and the failure of their middle and high schools to teach the subject.
Those conversations led Giggie to talk with local school officials, including the principal at Central High School, which led him to develop the History of Us curriculum. Giggie said that, in developing­ the course, he consulted with the nonprofit Equal Justice Initiative in Montgomery.
History Of Us
History of Us presents units on areas such as slavery, racial violence and lynching, segregation and mass incarceration. But rather than relying on textbooks and lectures, the students spend their class time researching sources including birth certificates, probate records, newspaper clippings, runaway slave ads and even Ancestry.com to learn how events and racist policies have affected Blacks nationally and in Tuscaloosa County.
"We had students looking through newspapers and databases to track down young men and some young women who were enslaved and who had attempted to flee Tuscaloosa," Giggie said. "We spent time puzzling over what the runaway slave ads told us about the nature of slavery in Tuscaloosa, as well as the ways in which these young Black men and women were portrayed to the public in general," said Giggie.
McGraw, now a freshman at Spelman College, said she enjoyed searching through archives. "It was really cool for me to see history, literally, in my hands," McGraw said.
But one of the most difficult aspects of the class that she and her fellow students encountered was searching for archived documents that humanized runaway slaves, she said.
"It was so surprising how hard it was to find records," she said. "We went through newspaper articles, archives and records. We looked at the census for Alabama and Tuscaloosa. We couldn't find much on these people, and when we did find someone in the census, they were listed as a 'slave' or a 'worker' under a white family, so you could never really find their family backgrounds."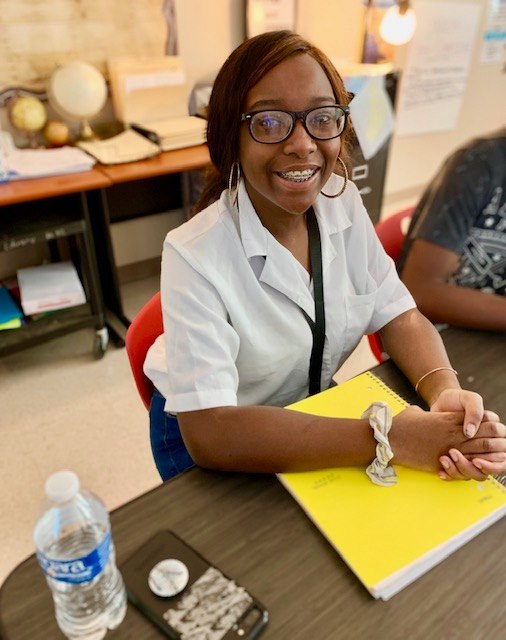 "It was disheartening," McGraw said. "We wanted to be able to say that he was a brother to this person or he was a father, and we weren't able to get that information."
McGraw said the course "has changed how I see America, how I see my family, how I see my family history."
The Central High students also examined the issue of lynching, the act of violence whites used in the period from after the Civil War to the mid-20th century to terrorize Blacks. The students researched 11 lynching victims from the Tuscaloosa area and created a digital memorial honoring the individuals, Giggie said.
One student, senior Brandon Walton, 18, of Tuscaloosa, recalled being especially moved by the story of Cicero Cage in the community of Ralph, in Tuscaloosa County. On March 13, 1919, a white mob kidnapped and lynched Cage. He was 17 years old.
"The first thought that came to my mind was, 'It could have been me,'" said Walton. "If I had been born in the wrong period and caught at the wrong time, I could have been another 17-year-old in the news with a headline saying that I had been lynched."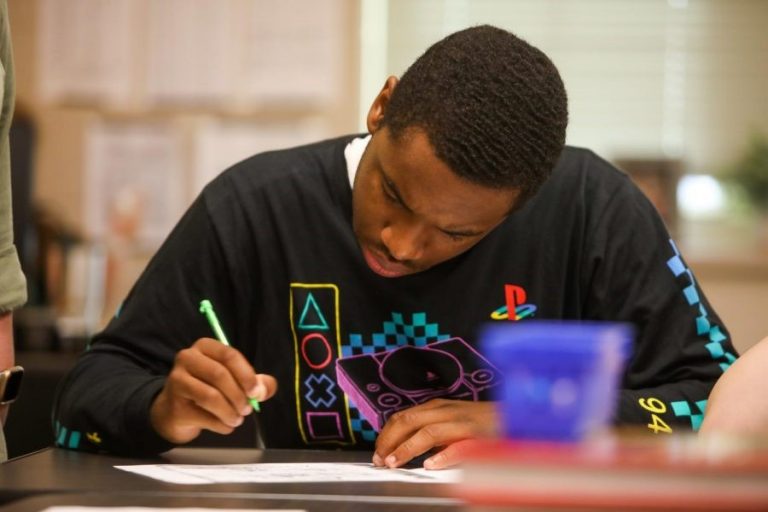 Giggie said, "We talked a lot about what it was like to live during that time period when it was literally a crime to be a Black person and there was no faith in the criminal justice system or that a Black person could expect to be defended vigorously for crimes they were accused of." The students later examined the mass incarceration of Black men in the United States, where people of color often receive heavier sentences for crimes than whites.
In addition to classwork, the students took field trips. One place they went was the National Memorial for Peace and Justice in Montgomery and its memorial dedicated to honoring lynching victims. They also toured Martin Luther King Jr.'s church and parsonage. Back in Tuscaloosa, they made visits to the University of Alabama to look through archives.
The Fight For Black Studies Acceptance
Giggie recalls his first day teaching the History of Us course at Central High School.
"I asked my students to draw the relationship between Black history and American history," he said. He said some drew the ideas pulled apart on a page and joined together violently through chains or through fire.
"What it told me was that these students, at one level, knew that Black history was being ignored or wasn't being fully treated," he said.
Carter G. Woodson understood the struggle to get Americans to recognize Black history. The Black, turn-of-the-20th-century historian and author, often called "the Father of Black History," said, "If a race has no history, if it has no worthwhile tradition, it becomes a negligible factor in the thought of the world, and it stands in danger of being exterminated."
Woodson founded the Association for the Study of Negro Life and History, which today is the Association for the Study of African-American Life and History. He also is credited for starting "Negro History Week," which today is Black History Month.
"The mainstream social studies curriculum, however, largely ignored Black history or misrepresented the subject," wrote LaGarrett King, Ph.D., a professor of Black history at the University of Missouri, in his 2017 paper "The Status of Black History in U.S. Schools and Society" for the journal Teaching and Learning African American History.
"Some of the early textbooks used by white schools portrayed Black people as savage-like or animal like," King told BirminghamWatch. "They dehumanized them in different ways. Many texts portrayed Blacks as happy slaves and slave masters as benevolent and kind toward slaves." King said textbooks, however, began to change in the middle of the 20th century with efforts made to eliminate overtly racist language.
"The 1960s brought an explosion throughout the United States, where you had parents and students having protests about not having Black history in their schools," said King, "and that's when you started to have Black studies courses in many different school systems around the country."
That move continued through the 1980s and 1990s, King said. Today, the activism of the Black Lives Matter movement and national protests over the deaths of Black men and women at the hands of police — Tamir Rice in Cleveland, Eric Garner in New York City, Michael Brown in Ferguson, Missouri, Philando Castile in St. Paul, Minnesota — has sparked a renewed interest in Black studies.
"There has been a push because people are trying to understand what's happening now through history," King said.
The push for more Black history studies also is coming from a number of national organizations such as the nonprofit Diversify Our Narrative, which advocates for the inclusion of diversity and anti-racist texts in schools in the United States. Another organization called Black Lives Matter at School is calling for mandatory Black history instruction in K-12 schools, while other groups, such as Facing History and Ourselves as well as Teaching Tolerance, regularly publish teacher resources for Black history instruction and guides to help teachers address tough topics like racism and prejudice in history.
This past spring, U.S. Rep. Marcia Fudge of Ohio introduced H.R. 6902, the "Black History is American History" Act, to authorize the secretary of education to award grants to carry out educational programs that include the history of peoples of African descent in American life,
A few states, including New York, New Jersey, Florida and Illinois, mandate public schools to teach Black history, King said.
In Kentucky, the Jefferson County Public Schools recently adopted a Black history framework that King created for schools called "Developing Black Historical Consciousness."
Ryan New, Kentucky's lead for the school system's social studies instruction, said adoption of "Developing Black Historical Consciousness" is due in part to the system's racial equity policy, which it adopted three years ago. He said the work toward instituting a new Black history curriculum began long before the Breonna Taylor case in Kentucky captured national headlines this year. The Taylor case started in March when police in Louisville, which is in Jefferson County, shot and killed Taylor, a Black woman, in her home in what some have called a bungled raid.
Most schools, however, integrate broad topics such as the civil rights movement and stories of influential Blacks such as Martin Luther King Jr. and Rosa Parks into American history lessons or provide Black history instruction in February during Black history month.
As a matter of fact, in King's journal article, he cited a 2015 study, "Research Into the State of African-American History and Culture in K-12 Public Schools" by the National Museum of African American History and Culture, that looked at how 525 teachers in 50 states and the District of Columbia implemented Black history curriculum. The study found that, in U.S. history classes, teachers spent about 8% to 9% of class time on Black history instruction. In Alabama, the state Department of Education's K-12 course of study for social studies outlines topics and influential historical figures that teachers can discuss in class and at what grade level.
Nettie Carson-Mullins, a social science education specialist for the Department of Education, said the course of study is the minimum teachers are required to teach, but school districts can go beyond the minimum.
Black Studies Under Fire
Recent moves to offer more Black history and ethnic studies in schools has, however, come under fire. Several news organizations covering a White House event on American history in September reported that President Trump criticized The New York Times' 1619 Project, accusing the paper of distorting "the American story" and rewriting history,
"The problem is that when you start having Black history that challenges the curriculum or the American story, that's when people have issues with how Black history is portrayed," King said. King mentioned the "1619 Project" as an example. "People begin to say it's un-American. It's unpatriotic."
Giggie is not teaching the History of Us class this school year, but he is acting as an adviser to Central High School faculty who are teaching the course. He said he hopes eventually to take the curriculum to other public schools in the county.
"I always tell my students that, 'A good history class will help you to see the world differently, but a great history class will help you to live in the world differently.'"
When he taught the course, he said, he used the second semester to encourage students to share their research with people outside the classroom. As an assignment for Black History Month in February, Giggie asked the students to create Instagram posts about something they learned in the class.
One student posted a poem about a victim of racial violence.
"Others reflected on the runaway slave ads and wrote about the way in which the ads portrayed Blacks in the 1850s and how they bore a resemblance to the way young, African-American men are often described today in the media or in popular culture," Giggie said.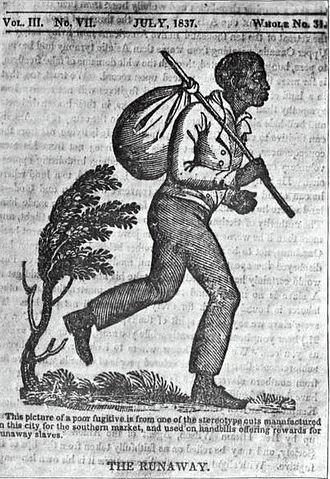 McGraw said she began talking about her research with family members. This past spring, both she and Walton said they participated in Black Lives Matter marches in Tuscaloosa. McGraw said she recruited high school friends to make protest signs.
Looking back, she thinks she would have taken part in the marches even if she had not taken the History of Us class. "But it (the class) has pushed me into being a leader because I know what I'm talking about," she said. "And so, I can help others understand what's happening, and I can be confident in that position."