Gov. Ivey Requires Face Masks In Schools, Extends Statewide Ordinance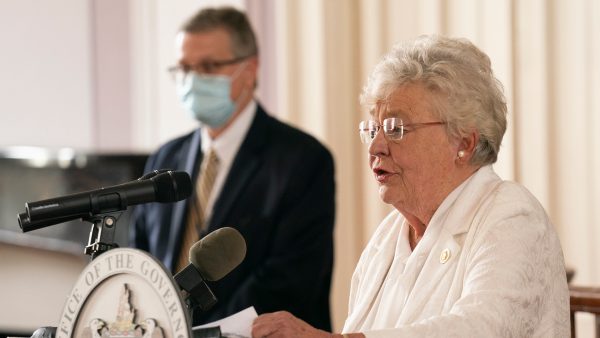 For teachers and students preparing to enter the classroom next month, masks will now be required for anyone in second grade and above. Governor Kay Ivey issued the new mandate Wednesday as an amendment to the statewide mask ordinance and Safer at Home order. The orders, originally set to expire Friday, have been extended through August 31. 
Wednesday's announcement comes as COVID-19 continues to spread throughout Alabama, with state hospital officials recently reporting ICU capacity at its lowest point since the pandemic began.
State health officer Dr. Scott Harris said overall case numbers are not encouraging right now, but face masks are one of the most effective tools to reduce viral transmission.
"If we want our schools to minimize the number of cases they have, and minimize outbreaks and the risk of closing again, we really need people to cooperate with continuing to wear face coverings," Harris said. "It's really more important now than ever."
Many schools have recently announced plans to offer both in-person and remote learning options, with some districts opting for virtual-only instruction during the first nine weeks.
During Wednesday's press conference, Ivey encouraged schools to return to in-person instruction as soon as possible depending on COVID transmission in their communities.
"While I respect those districts that have elected to go to virtual classrooms," Ivey said, "I feel with all my heart that a slide [in educational progress] will come by keeping our kids at home."
The amended order requires face masks be worn "where possible" in schools and colleges, as well as in public when interacting within six feet of people from another household. There are several exceptions, including for anyone with a medical condition or disability that prevents them from wearing a facial covering.
Safer-at-Home-Order-Final-7… by Mary Hodgin on Scribd