First Police Review Finds BPD Is "Doing Pretty Good," Woodfin Says, Ends With Explicit Ban On Chokeholds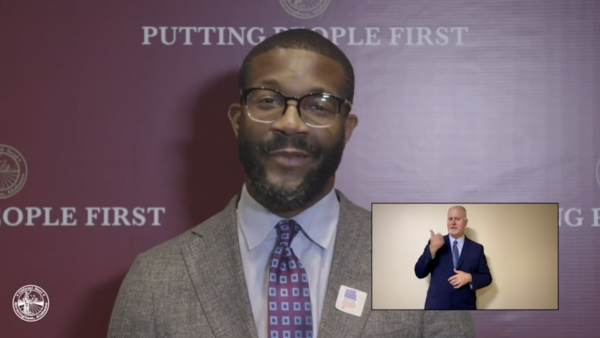 Mayor Randall Woodfin announced Tuesday morning that his office's 30-day internal review of the Birmingham Police Department had been completed. The result?
"While we found that we are doing pretty good, there is still room for improvement," he said.
Woodfin officially announced the review June 10, following sustained nationwide protests over the police killing of Minneapolis man George Floyd. Protestors in Birmingham had repeatedly called for the city to "defund the police" by giving part of the city's $150,000 ammunition budget to social services. Woodfin maintained that the police department, like all community-facing city departments, would have its budget "combed through" during this year's extended budget process, which will stretch through September due to the COVID-19 pandemic.
"Everything is on the table," he said.
In the meantime, the internal review focused primarily on criteria promoted by #8CANTWAIT, a national campaign calling for immediate policy changes — such as banning chokeholds and strangleholds and requiring officers to de-escalate situations wherever possible — to police departments throughout the country. The results, Woodfin said, showed that "in spirit, Birmingham is in alignment with the standards of #8CANTWAIT."
The results of the review are available at PeaceAndPolicy.com, and highlight two "opportunities to strengthen" BPD policy.
First is an explicit ban on chokeholds and strangleholds — which Woodfin said are not authorized by the BPD and not taught as part of the department's training curriculum.
"While that is good, I want to go a step further and implement an outright ban," Woodfin said.
Second, Woodfin said he also would add "direct language" to the BPD's use-of-force policy establishing officers' "duty to intervene" if they see a colleague using excessive force.
The release of the review came just after Tuesday's Birmingham City Council meeting, where the council approved a five-year, $7.5 million lease of BPD body cameras.
"We don't need a lapse or want a lapse in making sure that if there's an issue where an officer is involved, that the information is captured," Woodfin said.
The review of the police department will continue, Woodfin added, with a 90-day study by a newly appointed community safety task force. Woodfin and District 2 Councilor Hunter Williams will co-chair the committee, which will consist of five other members: Jaselle Houghtlin, a recent UAB graduate and co-founder of the advocacy group 'Listen;' Cara McClure, co-founder of Black Lives Matter Birmingham; Victor Revill, an attorney with Revill and Associates; Ed Watkins, a former police detective with the NYPD and BPD; and Joyce Vance, the former U.S. Attorney for the northern district of Alabama.
The task force, will take a "deeper dive" into BPD policy and procedures over the next three months, Woodfin said, "and see what other opportunities emerge." Members of the public are also encouraged to send their ideas for police reform to [email protected]
"With feedback from this task force and you, the public, we will come out of this better than where we began," Woodfin said. "But please remember we won't get there overnight. It will take time as we balance individual civil liberties with the government's duty to ensure public safety."