Drug Overdoses Increase During The Pandemic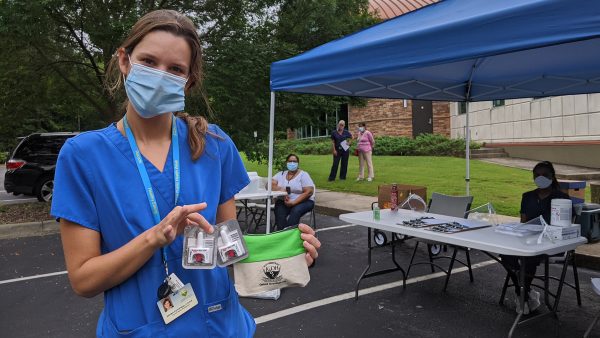 Evan lives in Birmingham and is the manager at a software company. The 32-year old has used drugs off and on since he was 14. He asked us not to use his last name for fear of losing his job.
Earlier this year, Evan ended up in drug court and decided to get sober, but then COVID-19 threw a wrench in that plan. 
"When the pandemic hit," he said, "it was just the perfect mixture of isolation and no accountability."
Evan was working from home, his drug court appointments were canceled, and he was spending a lot of time alone.
"Next thing I know I was doing lots of cocaine," he said, "started using intravenously and more or less locked myself in a bathroom for about two months."
After overdosing in late May, Evan entered a detox program and has been staying at a sober living facility ever since.
"It's a strange time to get sober," he said. 
COVID-19 Interrupts Treatment, Drug Supply
Throughout Alabama, the number of suspected drug overdoses increased significantly in recent months, according to the state Department of Public Health (ADPH). In Jefferson County, deaths due to drug overdose are up by more than 25% so far this year. 
Beth Bachelor, director of the Birmingham-based recovery program Fellowship House, said many people are unemployed and lack their normal support system.
"We have definitely seen an uptick in relapse. We have seen an uptick in overdoses," Bachelor said. 
The COVID-19 pandemic has changed the way the program operates, shifting to smaller group classes, fewer people in and out of the building, and more telehealth options.  
It is the same situation at Aletheia House, another recovery program that offers services statewide. CEO Gloria Howard said many clients have gone from in-person treatment to virtual therapy.
"And that has proven to be very challenging," Howard said. "Some of our clients don't have cell phones. Some of our clients have cell phones where they only have a certain number of minutes."
But there are also benefits. Howard said telehealth allows them to reach people who live farther away, and recovery staff are available to talk at odd hours, such as early in the morning or at night. 
Still, with in-person treatment options limited, many providers say fewer individuals have reached out for help in recent months. And experts worry about another impact of the pandemic:
"What we predict or what we hypothesize is that the reason the overdoses are increasing is because the drug has changed in some way," said Dr. Darlene Traffanstedt, medical director of adult health and family planning at the Jefferson County Department of Health (JCDH).
COVID-19 has interrupted the global supply chain, including the transport of illegal drugs. Traffenstedt said because of that, she is concerned that people are using more synthetic products, specifically synthetic opioids, which more often lead to overdose.
Community Response
In an effort to prevent more deaths, JCDH recently restarted public Naloxone trainings, which prepare people in the community to administer a nasal spray to reverse a potential opioid overdose. 
Sarah Estopinal, chronic disease nurse practitioner with the health department, had been conducting Naloxone trainings for years was doing them on a monthly basis before the pandemic.
"COVID has really ramped those efforts down," Estopinal said. "Now we just realize there's such a need in the community and so we just wanted to get them back going."
Treatment providers throughout Jefferson County are also trying to get the word out about virtual therapy sessions and apps to join support groups. They say the COVID-19 pandemic has changed a lot, but recovery is always an option. 
To connect with a peer support specialist for more information about substance use disorder resources and treatment in Alabama, you can call a 24/7 helpline at 1-844-307-1760. This service is operated by The Recovery Organization of Support Specialists (ROSS) and funded by the Alabama Department of Mental Health. 
You can also text "NAMI" to 741741 or call SAMHSA's Disaster Distress Helpline, 1-800-985-5990, 24/7, which provides immediate crisis counseling for people who are experiencing emotional distress.