Doug Jones: Alabama 'Critically Unprepared' For COVID-19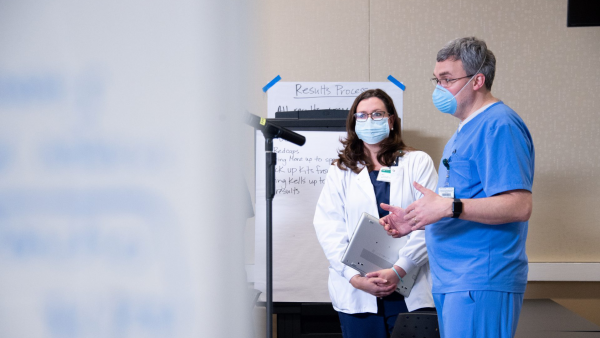 Alabama should implement the "strictest measures possible" to fight the spread of COVID-19, according to Democratic U.S. Sen. Doug Jones. In a press conference Thursday, Jones said minority groups and people in rural parts of the state are especially vulnerable.
"Alabama is critically unprepared and under-resourced to weather the storm that we're in the midst of, and that could get worse," Jones said.
He said the number of confirmed cases of COVID-19 is increasing faster in Alabama than in other states. As of Thursday afternoon, the state has more than 1,200 confirmed cases and 32 reported deaths. Jones said Gov. Kay Ivey should issue a "shelter-in-place" order to send a strong message to residents.
Dr. Jeanne Marrazzo, director of the division of infectious diseases at the University of Alabama at Birmingham (UAB), also spoke at the press conference. She said many people in Alabama are at high risk for developing complications from COVID-19.
"The people who do worse with this virus, who die, are not just older folks," she said, "but people who have diabetes, people who have heart disease, people who have lung disease, including asthma … Those are problems that we have in abundance in Alabama."
Marrazzo said medical providers are doing what they can to prepare for a likely increase in the number of patients requiring hospitalization due to the virus. She said statewide, there is a "dire need" for personal protective equipment (PPE), including masks, gloves and isolation gowns.
Jones said there are additional concerns for people in parts of the state where access to health care can be limited and further under-resourced.
"There's an alarming lack of tests in the underserved and the African-American communities," he said, "and there's not enough information about when and how these communities are going to get tested."
Jones said the state has requested 20,000 testing kits from the federal government, even though it needs millions. He said it has also asked for 200 ventilators, one million N95 masks, and two million surgical masks. Jones said the national response to the coronavirus crisis has been slow and uncoordinated, with states competing against one another for resources. He said Alabama will likely get far fewer medical materials than it has requested.
The state is expected to receive at least $1.25 billion from the recently approved federal stimulus package. Jones said the money will help expand unemployment benefits and provide assistance to hospitals and small businesses. He said Alabama could also use some of the funding to expand Medicaid. He said the COVID-19 pandemic shows why expansion is necessary, especially for a state that is "unhealthy" and "relatively poor."