DOJ Sues Alabama Over Violence In Prisons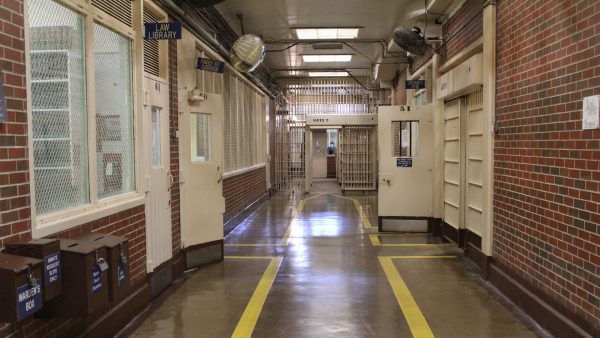 The U.S. Department of Justice sued Alabama and the state Department of Corrections Wednesday over excessive violence in state prisons.
The lawsuit, which is the culmination of a years-long investigation into constitutional violations in Alabama's prison system, also alleges inmates are routinely subject to excessive force at the hands of prison staff and sexual abuse from other inmates.
Assistant Attorney General Eric Dreiband for the Civil Rights Division said the state has an obligation to ensure prisons are safe and humane.
"The Department of Justice conducted a thorough investigation of Alabama's prisons for men and determined that Alabama violated and is continuing to violate the Constitution because its prisons are riddled with prisoner-on-prisoner and guard-on-prisoner violence," Dreiband said. "The violations have led to homicides, rapes, and serious injuries. The Department of Justice looks forward to proving its case in an Alabama federal courtroom."
U.S. Attorney for the Middle District of Alabama Louis Franklin Sr. said the findings of the investigation are "distressing and continue to require real and immediate attention."
The coronavirus pandemic has spread to Alabama's prisons. As of Wednesday night, 43 inmates have died of the coronavirus; there have been two COVID-19-related employee deaths.
Richard Moore, U.S. Attorney for the Southern District of Alabama, said the pandemic has served as a reminder of the need to prioritize safety, and that state officials have not met standards required by law.
"I am disappointed that the efforts of both Alabama officials and Department of Justice officials to find appropriate solutions have not resulted in a mutually agreed upon resolution," Moore said. "Our oath as public officials now requires us to follow the Constitution and to pursue justice in the courts."
The lawsuit seeks injunctive relief from prison conditions revealed by the investigation.
The DOJ has put pressure on Alabama for years to improve its prison conditions. In July, following the release of a damning report outlining abuses inside the state's prisons — the second such summary of abuses within the prison system — Alabama faced a 49-day deadline to address the Justice Department's concerns or face legal action from the U.S. Attorney General.
The state's answer to an overcrowding crisis is to build three regional prisons. The plans face heavy opposition from residents in some areas where the prisons are slated.
In a statement Wednesday evening, the ACLU of Alabama called for state leaders to be held accountable.
JaTaune Bosby, ACLU executive director, said current and formerly incarcerated people have sounded the alarm on prison violence for years. She called on Alabama corrections officials and lawmakers to take decisive action.
"It has been past time for reform, and it is shameful that our state leaders are once again being forced through litigation to do the right thing for the people of Alabama," she said.