Deeply Red Alabama Returns To Form With Tuberville Win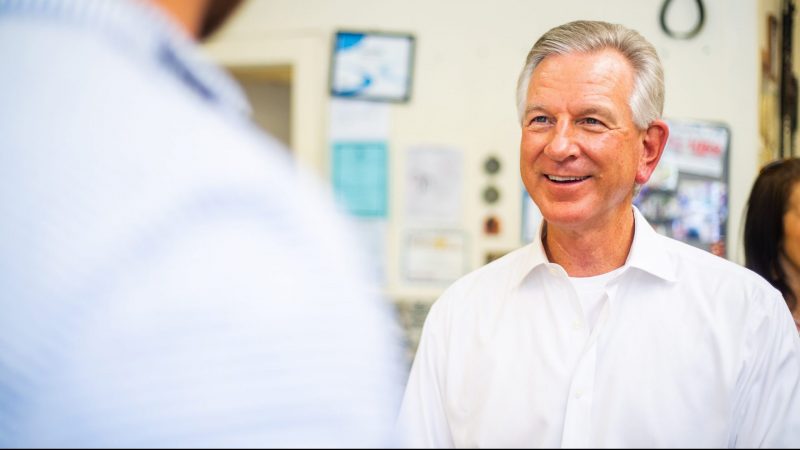 An Alabama Senate seat is firmly back in the Republican column after former Auburn University football coach and Republican Tommy Tuberville defeated Democratic incumbent Sen. Doug Jones in Tuesday's election. Jones far outspent his challenger, but in the end it wasn't a close contest. Unofficial results show Tuberville with 61% of the vote.
Jacksonville State University political science professor Lori Owens has analysis of the results.
Jones narrowly won his seat in a special election in December 2017 against Republican Roy Moore in what was an usual race on a number levels. But Tuesday's result was far different — a strong showing for Tuberville. What made the difference?
"First of all [2020] is a presidential election year and you had a very popular Republican candidate at the top of the ballot. Tuberville could afford to hug Trump all he wanted to and that was going to help him. Trump had tremendous coattails in the state. Tuberville had no political experience and no political baggage. He was deemed as an outsider and that apparently is viewed very positively right now, not just in the state of Alabama.
"And then in the Roy Moore/Doug Jones race (in 2017) you had the last minute allegation about inappropriate behavior with females (against Moore). Overall the turnout was even higher in this presidential election year than in previous years. Tuberville based his campaign on going into communities. He avoided debates. He avoided media interviews. All that worked for him."
Unofficial results show Tuberville winning with 61% of the vote. That's about where most Republican candidates have been the last several statewide contests. Are we at a point where it doesn't matter what a candidate does or doesn't do? We're pretty much locked into a 60 /40 split politically statewide?
"For the the foreseeable future I think that's probably going to be the situation. Now the Alabama Democrats and Jones made a good effort, Jones being a reputable, respected man. The Democratic strategy was to concentrate on that particular race. In the future, they may concentrate on one or two races and try to continue to make some headway, but they've got a long way to go. The truth is the Alabama Democratic Party would have to separate themselves more from the national Democratic Party right now if they want to gain more traction in the state."
What can we expect from a Senator Tuberville?
"I'm not sure we know right now. He didn't talk too much about specific issues. But I expect if it's a Trump White House, he will be in lockstep with President Trump's program. If it ends up being a Biden White House, then he will be part of the opposition against what Biden, Harris and the Democrats want to implement for the country."
This interview has been edited for length and clarity.