Crime Slows As People Shelter From Coronavirus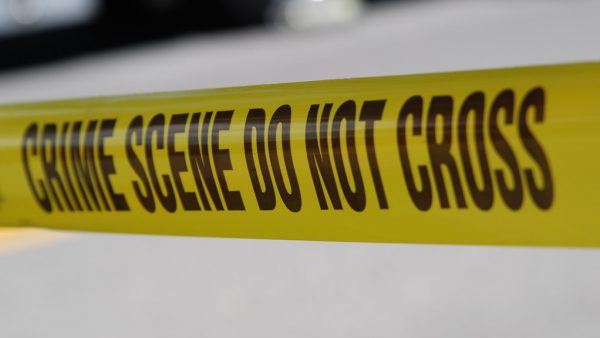 By Scott Morris
Crime isn't taking a coronavirus holiday, but law enforcement statistics show it headed in a positive direction as more people shelter from the pandemic.
In fact, streets in the Birmingham area and around the world are not only safer from crime so far in 2020, but also from automobile accidents. Evidence indicates, however, that domestic disturbance calls in some communities are increasing as people spend more hours together at home.
Jefferson County, for example, saw a 27% increase in domestic violence cases in March 2020 compared to the same month last year, according to Chief Deputy David Agee. In March 2019, the Sheriff's Office investigated 111 cases compared to 141 in March 2020, he said.
The latest statistics from the Birmingham Police Department show violent crime March 16 through April 6 has dropped 11% compared to the same period last year. Property crimes such as theft and vehicle break-ins are down 21%.
The numbers for the year to date were already trending downward, however, before the first stay-at-home order March 24.
"We can't necessarily relate it to the coronavirus or to our crime-fighting efforts," Sgt. Rodarius Mauldin said.
Birmingham Police Department Crime Statistics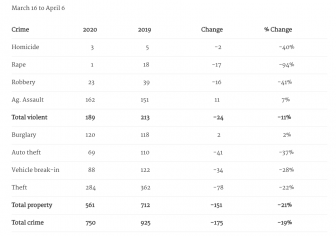 The Shelby County Sheriff's Office reported less than half as many burglaries in March 2020 as in March 2019 and a 25% drop in thefts. Numbers for assault and disorderly conduct were about the same.
"In general, call volume seems to be down," said Capt. Jay Fondren of the Sheriff's Office. "We attribute this to most people staying at home, per the governor's orders."
The number of domestic violence cases for March in Shelby County was about the same number as March 2019.
Fondren was able to compare numbers on April 3, the first Friday after the governor's shutdown, to other Fridays before the stay-at-home order. For example, the Sheriff's Office received 83 calls April 3 compared to 156 calls Feb. 7, which also was a Friday.
Other than domestic violence numbers, Agee was not able to provide crime statistics from Jefferson County for the period since the stay-at-home orders began.
Shelby County Sheriff's Office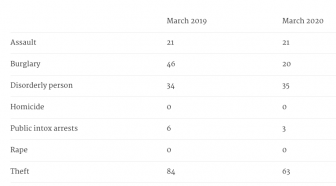 A drop in crime is happening in major cities across the United States and around the world. In Chicago, one of the most violent U.S. cities, drug arrests have fallen 42% since the city shut down compared the same period last year, according to an Associated Press report.
Drug dealers, like legal business operators, are having to wait out the economic slump, according to criminal attorneys.
"The feedback I'm getting is that they aren't able to move, to sell anything anywhere," Chicago criminal lawyer Joseph Lopez said.
Overall, crime has fallen 10% in the Windy City since the pandemic hit. Other major cities are seeing similar trends, including Los Angeles, where crime has decreased 23% since a stay-at-home order began.
New York City is noting further decline following years of decreasing crime rates. A criminal justice instructor there said burglars, who usually target dwellings while the occupants are away, have fewer opportunities because people are staying home. At the same time, fewer people are on the streets, meaning fewer targets to rob.
Latin America is seeing crime levels plummet to levels not seen in decades, officials said.
"Killings are down, and the gangsters aren't harassing so much," Eduardo Perdomo, a construction worker, told the AP. "I think they're afraid of catching the virus, and they aren't going out."
The pandemic-related shutdowns are also making roads less congested and safer, authorities said.
Slight drop in traffic accidents statewide
"The Alabama Law Enforcement Agency has noticed a slight drop in traffic crashes since mid-March," spokeswoman Robyn Bryan said.
The agency could not provide statewide traffic accident statistics from the period since state and local officials began issuing restrictions to the public.
For the year, however, the agency has recorded 7,921 accidents compared to 8,074 in 2019 with 2,664 injuries compared to 2,950 a year ago. The number of fatalities so far in 2020 stands at 142, which is close to the five-year average of 141 for the same time of year.
In Shelby County, dispatchers sent deputies to 208 traffic accidents in March 2020 compared to 258 in March 2019.
Tuscaloosa, a city with more than 38,000 students at the University of Alabama, was among the early leaders in the state to crack down on public gatherings and enforce curfews. The actions appeared to have a corresponding drop in crimes, traffic accidents and calls for service, according to the Police Department.
"The call volume has decreased in the number of incidents reported or requesting officers to make contact," Lt. Teena Richardson said.
She said the department has had only 10 DUI arrests and no public intoxication or disorderly conduct cases during the pandemic.
Although Richardson could not provide statistics, she said police have noted an increase in domestic disturbance calls and calls for discharging firearms in the city limits. At the beginning of the pandemic, police saw thefts of essential items like food, but have not recorded an overall increase in thefts.
"Because there are fewer cars on the roadway, the number of traffic incidents has decreased," Richardson added. "We have had a few private property accidents in parking lots of essential stores."
Nationwide, the decrease in traffic and accidents is leading major insurance companies to offer policyholders $10.5 billion in credits and reduced premiums, according to the Insurance Information Institute.
Education rather than arrests
Law enforcement agencies in Alabama are educating rather than arresting people who violate state and local orders restricting the number of people who can gather in one place.
"For the most part, our citizens and businesses are obeying the guidelines that were set forth by the mayor of Tuscaloosa as well as the governor of the state of Alabama," Richardson said. "Initially, our department established informational checkpoints in areas needed to inform citizens on the guidelines that were set to educate them on the importance of complying with those guidelines and the repercussion for not doing so."
Birmingham police said in a press release they will operate in an "educational phase" before enforcing a city ordinance requiring residents to shelter in place. "Our overall goal is to provide information to gain voluntary compliance during the COVID-19 pandemic," the release said.
Mauldin said that so far, Birmingham police have not arrested anyone for violating the stay-at-home order. The order allows several exceptions for people to work, shop for essential items and take care of certain business outside the home.
"We may ask people to disperse," he added. "So far, all have cooperated."
In Shelby County, Fondren said the Sheriff's Office has received calls about groups of people gathering together.
"The most common call would be in relation to teenagers gathering in large business parking lots," he said. "In all instances, the teenagers have dispersed when asked. We have not made any arrests directly related to the governor's order."
Fondren said deputies will not be pulling cars over to ask if the occupants are handling essential business, but will continue to do their normal duties.
"We actually have more deputies out on patrol than ever before," he added. "This is primarily because we have incorporated our SRO (student resource officer) staff into patrol since school is out."