Birmingham Will Allow Mask Rule To Expire Friday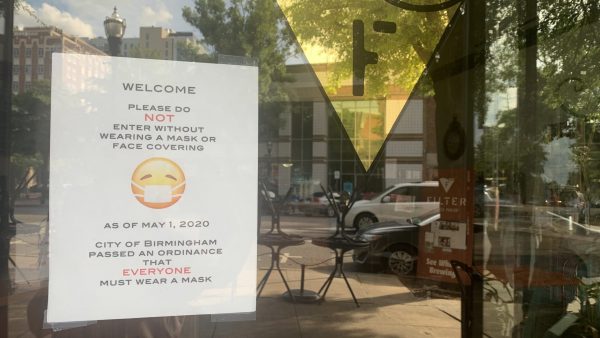 By Sam Prickett, BirminghamWatch
Birmingham will allow its face covering ordinance to expire Friday, Mayor Randall Woodfin confirmed Tuesday. The order, which had been in place since May 1, was intended to slow the spread of COVID-19 by requiring residents to wear face coverings — such as masks, bandanas or other fabrics — while in public.
"The City of Birmingham implemented the mandatory face covering ordinance as an additional level of protection as the state began the phased reopening process," Woodfin said in a press release. "I want to thank the people of Birmingham for following the law. The ordinance raised the level of awareness to the importance of wearing a face covering when in public and within six feet of other people."
Woodfin added that, while the ordinance will expire Friday, Birmingham residents "must not let our guard down."
"Public health leaders say that covering your nose and mouth is a critical tool to help reduce the spread of coronavirus. I urge everyone to keep social distancing, wear face coverings in public, and do what you can to limit the spread."
Representatives for Woodfin did not specifically explain why his administration was choosing to allow the order to expire Friday, but communications director Rick Journey reemphasized that the ordinance "raised the level of awareness" of face coverings' importance. The Birmingham City Council had, at Woodfin's urging, twice extended the order's deadline.
City facilities will continue to require employees and guests to wear face coverings.
Jefferson County Health Officer Dr. Mark Wilson urged people to continue wearing a face covering regardless of whether it's required by law, saying, "It's about caring for others, not just yourself."
"The City of Birmingham did a good job of getting everyone's attention about the importance of wearing a face covering when among other people in public," Wilson said in a statement. "Hopefully, people will continue to understand that this pandemic is far from over and that we all need to protect each other by wearing face coverings, regardless of whether there is an ordinance."