Birmingham Public Library Executive Director Resigns After Three Controversial Years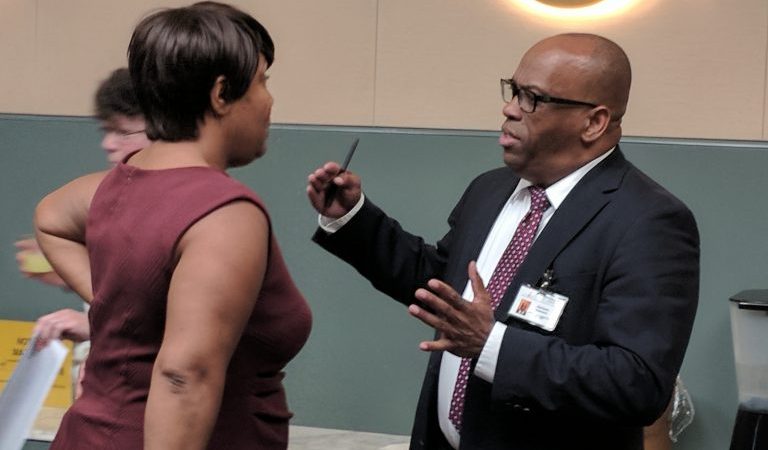 Floyd Council, executive director of the Birmingham Public Library, announced his resignation Tuesday morning after three embattled years on the job.
"After much prayer and consideration, I wanted you all to be the first to know that I will be announcing my resignation this week from my position as Executive Director of the Birmingham Public Library with plans to start the new year with other blessings and use of my gifts and talents to the Glory of God," Council wrote on his Facebook page Tuesday morning. "Health, wellness and peace all come from God, not jobs, big salaries, and people."
Council did not give any motive for his resignation. He had spent parts of October and November suspended without pay by the BPL board of trustees for undisclosed reasons, but had returned to the job last month. The board had been scheduled to evaluate Council's performance during a personnel committee meeting on Dec. 17.
Deputy Director Janine Langston, who stepped in during Council's suspension last month, is expected to once again serve as the BPL's interim director.
Council's time at the BPL was mired in controversy from the beginning; in October 2018, roughly 20 library employees complained to the board that he had created a "hostile" work environment. Several employees, including chief of security Kevin Bernal and Director of Development Olivia Alison, resigned early during Council's tenure.
Council, who had maintained that employee complaints were from "extreme outliers," had drawn the ire of board members in recent months due to his handling of employee furloughs precipitated by the COVID-19 pandemic. In a Sept. 29 board meeting, Council got into a heated exchange with board member Sherri Nielson after she argued he was presenting too optimistic a portraitof the library's reduced resources.
"That's disrespectful, and I've had enough of it," he told her. "If you're not going to respect me, don't expect me to respect you."
Council's resignation is effective at close of business Tuesday. He also announced his resignation from the University of Alabama College of Communication and Information's board of visitors and the Community Kitchens of Birmingham's board of trustees.
In an email Tuesday morning to Mayor Randall Woodfin, the City Council, library staff and others, he added that he had made the decision "in consultation with my doctor, my pastor, and my attorney" and that he would give no further information about his resignation to the media.
"I offer no comments about the culture at the library or strategic future of BPL, but pray that the City and City Council will make viable plans to support the library system for the next 100 years," Council wrote in the email.
In response to Council's resignation, the BPL board has scheduled an emergency meeting for Dec. 16 at noon.