Birmingham Passes "Phantom" Budget, Unchanged From Woodfin's Proposal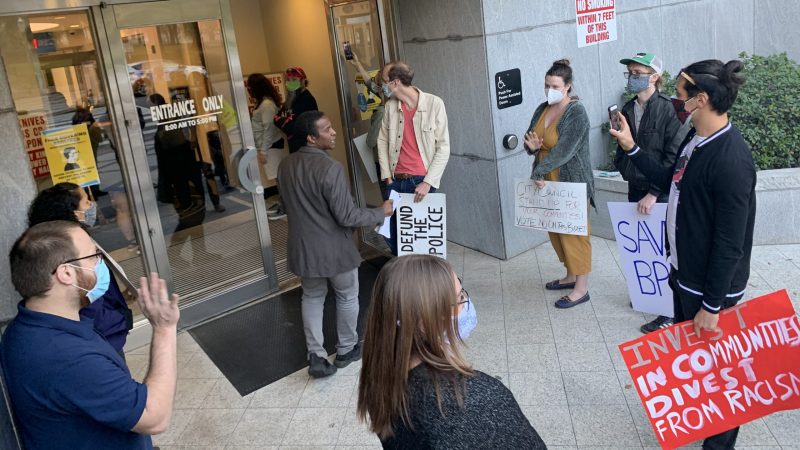 The discussion appeared to be over before Tuesday's Birmingham City Council meeting had even begun. Council members had disinterestedly trickled out of the afternoon's budget workshop until only a voting minority of the nine-member council remained: Councilors Valerie Abbott, Steven Hoyt, Clinton Woods and Crystal Smitherman.
The remainder of the council, led by President William Parker, voted down Smitherman's proposed amendments to the budget. They opted instead to approve it as proposed by Mayor Randall Woodfin, with Abbott joining them in that vote.
The budget has been controversial since Woodfin announced it last month. With the city facing a $63 million shortfall due to the COVID-19 pandemic, Woodfin made several significant cuts to its operating budget. He defended some of his cuts, such as those to the Birmingham school board and the Birmingham-Jefferson County Transit Authority, arguing that those organizations would make up the loss via other funding sources. Other departments, including the library and parks and recreation, were given budget cuts that led to hundreds of full- and part-time city employees being furloughed.
Unchanged, Woodfin told residents, was his administration's commitment to neighborhood revitalization, which had been one of the central promises of his campaign. His proposed budget continued to allocate $10 million for street paving, $1.5 million for dilapidated structure demolition and $1.25 million for weed abatement. His new Birmingham Promise Educational Initiative also continued to receive its $2 million.
There didn't appear to be much room for input from the council during the budgeting process. At times, councilors admitted they weren't sure whether the copy of the budget they had was up-to-date.
"I'm kind of left throwing my hands up in the air and saying, 'What the heck's going on? What are we dealing with here?'" Councilor Darrell O'Quinn told library board members earlier this month. "'Somebody please give me some information that I can make a decision on!'"
Budget Unavailable; Council Can't Change It Without Mayor's Consent
The version of the budget passed Tuesday night is not publicly available. Rick Journey, Woodfin's communications director, noted that the "preparation of the final detailed document will take several weeks," pointing instead to the version of the budget posted on the city's website last month. That version does not include several subsequent changes, such as the significant reduction of the library's budget from the originally proposed $12.8 million to the most recent amount of $6.2 million.
As discussions dragged on, council members seemed increasingly resigned to having no input on the budget. Mentions of the Alabama Legislature's 2016 changes to the Mayor-Council Act grew more frequent. Those changes, promoted by Woodfin's predecessor William Bell, made it impossible for the council to alter the proposed budget without written approval from the mayor.
Abbott lamented the changes' "chilling effect" on budget talks during Tuesday afternoon's workshop, while District 8 Councilor Steven Hoyt took an even stronger tone.
"I don't know why I even came today, or any other day, because this process has been hijacked," he said. "It is a phantom budget."
The budget did slide rather subtly into Tuesday evening's agenda. Parker unilaterally added the budget as a last-minute addendum, sidestepping the rule that an item must either pass its respective committee — the budget had not been approved by the budget and finance committee — or receive unanimous consent from councilors to be considered.
It wouldn't have received unanimous consent, but Parker instead cited another part of city code allowing the council president to unilaterally add addenda to council meeting agendas. Melissa Smiley, an attorney with the city law department, told councilors that this statute, along with the council's inconsistent approach to the committee process in the past, meant it was likely legal to proceed with consideration of the budget.
The only procedural push toward any amendments for Woodfin's budget came from Smitherman, who proposed a slate of changes that would have, among other things: reallocated the council's travel budget to the library board; cut lobbying expenses from $600,000 to $300,000, with the difference going toward making up other budgetary shortfalls; and decreased the city's marketing and promotion budget.
The council voted her proposals down one by one, typically along a 5-4 line with Parker, O'Quinn, Wardine Alexander, John Hilliard and Hunter Williams in the majority. They also voted down Woods' proposal to delay approval of the budget for a week.
The "yes" voters argued that the council would be able to alter only the budget allocated to their offices. That, O'Quinn said, was "the only area where I think there's opportunity for us to have significant discussion."
Hilliard took a more facetious tack. "I don't have any changes except to say that I would probably be willing to oblige those council members who wish to make any changes to our budget," he said. "I will do everything I can to help them give away their portion of what they have."
Hoyt, who had long been the council's most vocal opponent of Woodfin's proposal, declared that he had "never seen such an irresponsible approach to municipal budgeting in my life… . It's not fair to the citizens that we have not changed one item in this budget."
"We don't have to rush this," Woods urged his colleagues. "This is a heavy decision, and I know it weighs on everybody else (but) we have options … . I think we are cutting deeper than we have to when it comes to furloughs, and I'm basing that off the information I have … . I think we can do better, and that's why I can't support it at this time as-is."
"None of our decisions were taken lightly," Woodfin said in a press release after the budget's passage. "I want to thank the council for working with me to maintain critical, essential services for our residents with the revenue available to the city. The economic impact of COVID-19 has put every city in a similar position. Together, we will work through this crisis to revitalize our neighborhoods."