Birmingham Mayor Undecided On When To Reopen City Economy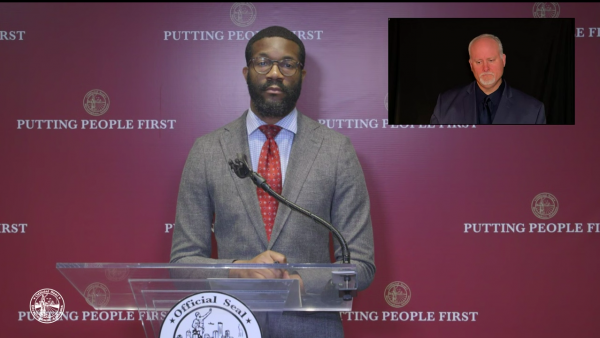 The city of Birmingham is working closely with Alabama health officials to determine when the city's economy will reopen. At a press conference Tuesday, Birmingham Mayor Randall Woodfin offered updates on the city's fight against the coronavirus. Woodfin said it's important for residents to continue following the stay-at-home order as local and state officials take the next steps to address the economic crisis created by the COVID-19 pandemic.
Woodfin was joined by Wesley Willeford, medical director of disease control with the Jefferson County Department of Health. Willeford said the number of new coronavirus cases is decreasing each day. He said that's due to social distancing efforts and the work of the community, as residents limit interaction with each other.
"The best tool at our disposal is to starve the virus of an opportunity to cause infection," Willeford says.
Woodfin touted the efforts of health care workers battling the coronavirus on the front lines. He also thanked grocery store employees, police officers, fire and rescue teams and public works employees.
The mayor also mentioned a dark side during the crisis. Woodfin said since the shelter-in-place ordinance took effect, the YWCA has seen a 50 percent increase in domestic violence calls.
"The shelter-in-place order does not mean you stay in your home and endure domestic abuse," Woodfin said.
He urged anyone dealing with domestic violence to contact the YWCA at 205-322-HURT.
Woodfin said he will meet with state and local health officials this week to determine whether the city's "shelter-in-place" order will be extended. The current order expires on April 30, the same day Alabama's stay-at-home order is set to end.