Birmingham Gives Tax Breaks For UAB-Area Student Apartment Project, Commission Expected To Follow Suit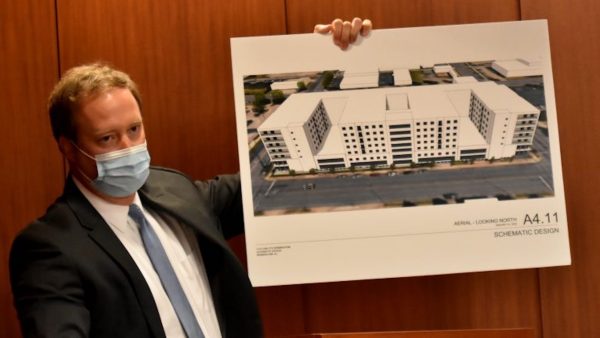 By Sam Prickett and Solomon Crenshaw Jr.
The Birmingham City Council voted Tuesday to approve economic incentives for a new student housing development near the UAB campus, and Jefferson County commissioners indicated they would do the same Thursday.
The seven-story development, which is expected to house up to 400 residents, will be built atop a brownfield site bordered by 13th and 14th Streets South and Fourth and Fifth Avenues South.
Next Chapter Properties, the Chicago-based real estate developer spearheading the project, asked the city, county and state to abate non-education property taxes and some sales taxes for the project.
Representatives of the company said these tax breaks would offset $1.5 million in environmental cleanup and mitigation costs, which will include the removal of four feet of contaminated soil from the property.
The state of Alabama has exempted the project from $269,171 in sales/use taxes and $370,541 in brownfield property taxes. The city Tuesday authorized tax exemptions of more than $600,000. The Jefferson County Commission, meeting as committee of the whole, agreed to put the request on Thursday's consent agenda. If it approves the tax breaks then, it would abate $67,293 in sale/use taxes and $578,139 in brownfield property taxes.
Developers also hope to save an additional $135,000 by lobbying the Downtown Redevelopment Authority to reduce sales taxes on construction materials.
The project's estimated total cost is about $55 million.
Development attorney Trey Hill said Next Chapter wants to build a seven-story residential student housing complex. "It will deliver 169 apartment units, and it's set to house 400 residents. It will have a host of related amenities — sunroom, bicycle parking, fitness center, courtyard, pool, rooftop terrace," Hill said.
Councilors were enthusiastic about the project, which is expected to be open by the start of UAB's fall 2022 semester. "You don't have to be a rocket scientist to see that this is going to be good for the city," said District 3 Councilor Valerie Abbott, who described the property as a "dump" in its current state. "I'm actually thrilled that these folks still want to move ahead with all that's going on in society right now. It's encouraging that people still have faith."
District 9 Councilor John Hilliard presented the development as an opportunity to bring construction jobs to Birmingham. "Of course, you know we're in the middle of pandemic, but we still have people who want to build, create jobs and give opportunity," he said. "The job market is at an all-time high across the nation. People are really hurting, so any opportunity we give to help our city make money … . I think we should strongly consider that."
While commissioners also supported the project, Commissioner Lashunda Scales said that this is yet another project that involves UAB and that other colleges and universities in Jefferson County should also receive aid.
Scales cited Lawson State Community College, Jefferson State Community College, Miles College and Birmingham-Southern College.
"We are one county that has many parts and if you starve out the other parts, eventually they will die," she said.
Commissioner Steve Ammons said a lot of projects come to the county because developers target specific sites.
"We don't always select (projects)," he said. "I would love to talk to Lawson or Miles or Jeff State. If they have something that they want to do, I would absolutely, I think all of us, would appreciate that."