Birmingham Council Balks At Mayor's Plan To Bring Back Some Workers, Wants More Information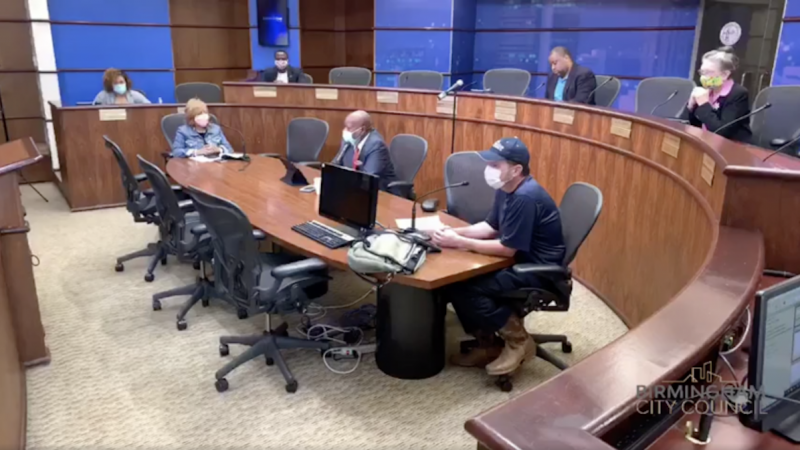 The Birmingham City Council is mulling a proposal from Mayor Randall Woodfin to bring back up to 132 furloughed city employees by taking $7 million from the city's reserve fund.
The proposal also would reinstate two paid holidays and reverse some salary reductions to appointed staff, both of which, like the furloughs, had been cut due to a city budget shortfall caused by COVID-19.
Although Finance Director Lester Smith assured councilors he was confident the money would be reimbursed with Cares Act funding that is awaiting action by the Jefferson County Commission, the proposal was met with deep skepticism from councilors, who criticized the proposal's lack of detail and argued that it could damage the city's financial standing.
Woodfin had hoped that the council would consider the proposal for approval during Tuesday's regular meeting, but it was left off the agenda while councilors compiled a list of questions for Woodfin's office.
Woodfin wasn't present at the special committee of the whole meeting Monday night that was called to discuss the proposal, instead sending three members of his administration — Deputy Chief of Operations Chaz Mitchell and External Government Affairs Director Kelvin Datcher, along with Smith — to field the council's questions.
Smith told councilors that the new proposal was made possible by recent changes to the Cares Act that allowed public safety payroll and benefits between March 1 and Dec 30 to be reimbursable under the act. This means that the city would receive $9.029 million from Cares Act funding, which in Woodfin's proposal would offset the $7 million being taken from the reserve.
But councilors were concerned that, despite the likelihood of reimbursement, the proposal would leave the reserve fund too depleted. City policy calls for the city to keep two months' worth of expenses in the reserve fund, which would be $69 million based on the FY 2021 budget. Currently, the reserve fund has $64 million; Woodfin's proposal would take it down to $57 million, with the county's likely reimbursement bringing the balance back up to $66 million.
"You guys are putting the council in some jeopardy here," District 5 Councilor Darrell O'Quinn told Mitchell, Datcher and Smith. "On one hand, you're saying, 'Give us the capacity to bring employees back.' On the other hand, you're saying, 'Let's go outside of our policies and potentially risk our reputation with credit rating agencies.' On one hand, you have a public who is very concerned about these furloughed employees. On the other hand, we have the city's financial reputation."
Smith responded that he could not predict how credit agencies would react to the reserve fund dipping below the two-month threshold.
District 3 Councilor Valerie Abbott said she was concerned about a lack of input from the library and park boards, which oversee many of the furloughed employees that Woodfin's proposal would bring back. Before the furlough, she said, "We were told that (those employees) were sitting at home, not doing anything but being paid" because COVID-19 had caused the closure of the facilities where they worked. Without a detailed plan of which employees would be returning to which facilities, she said, "it just seems to be that the cart is before the horse."
Mitchell responded that the city "will rely heavily on those boards and agencies to give us a plan of action."
District 2 Councilor Hunter Williams added that the council was being asked to approve the funding with very few concrete details.
"As you said, there's been a fluid situation of revolving data, and I haven't gotten any of it until tonight, the night before I'm supposed to vote on spending $7 million of taxpayer dollars … . How in good faith can I do that?" he asked. "We don't know if (these boards and agencies) have applied for their own Cares Act funding, we don't know if they plan to open, or if we're going to pay these employees not to work. We don't know! I'm having a really hard time swallowing this seven-million-dollar pill."
District 8 Councilor Steven Hoyt flatly declared that he would not vote in favor of the proposal, saying there had been "no concrete process" behind it.
"We don't understand the processes by which these employees are going to be brought back. We're just saying, 'We're going to bring them back.' … We're up here being asked to make an informed decision uninformed … . This is so convoluted. It looks like we don't know what the hell we're doing," Hoyt said.
District 9 Councilor John Hilliard was the only councilor to speak positively about the proposal. "While I hear and agree with my colleagues … at the core of it, we do have people that are unemployed and out of a job," he said. "That bothers me. We have Thanksgiving coming up, we have Christmas coming up."
Council President William Parker said he would gather councilors' questions for the mayor about the proposal before close of business on Tuesday.