Birmingham City Schools Superintendent Has Lifelong Passion For Education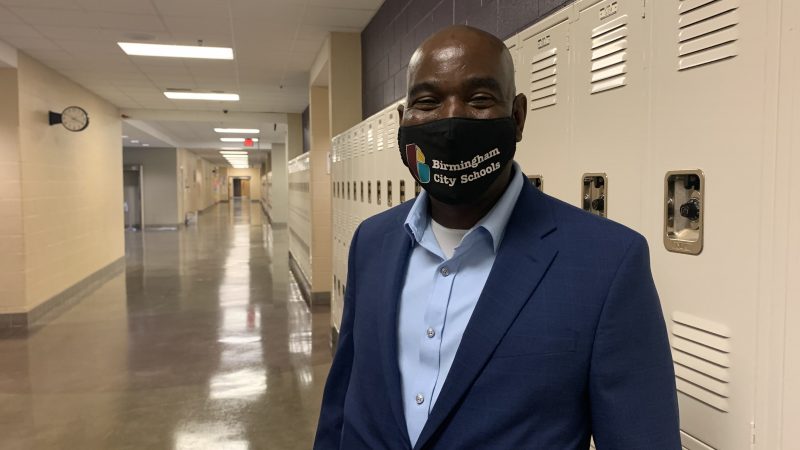 Birmingham city schools have a new superintendent this fall.  Longtime educator Mark Sullivan officially took over the role last month. He's the district's fourth superintendent in the past decade but Sullivan is no stranger to the system.  Many hope that will keep him on the job longer than his predecessors.
Taking on a leadership role in the middle of a pandemic requires some adjustments. Students and teachers continue virtual learning, but that hasn't prevented Sullivan from making school visits.
On a recent day, he walked down a hallway at  Birmingham's Phillips Academy. Sullivan is here to check in with school administrators. These are halls he knows well. "I used to be principal here … it's hard to believe," he said. "These hallways used to be filled with students."  
Sullivan attended Birmingham schools as a kid. After years as a Navy corpsman, he began his teaching career with Birmingham City Schools more than 25 years ago. He started as a substitute teacher, then taught 5th grade full-time at Dupuy Elementary School.
"I was a teacher, a principal, I supervised schools, I was an academic officer, chief of staff, assistant superintendent," he said. "So, I think those positions gave me an opportunity to see how the school system runs inside and out."
Sullivan is well-respected among administrators and students. He and his principals make classroom visits virtually through Zoom. Sullivan's face lights up as he greets students.
But the 54-year-old is taking over a system that's experienced a decline in enrollment. Birmingham City Schools lost more than 400 students going into the 2019-2020 academic year. Numbers from the state board of education are not available yet for the current school year.
Sullivan said his priority is to make sure students stay in the city's school system — instead of moving to private or charter schools. He wants to offer different elective courses while improving math and reading scores.
He acknowledges that schools need to support students beyond just academics.
"Many of our kids come from some challenging environments so we really need to focus more heavily on our socio-emotional support for students," he said. "It's important that teachers understand that students come to school with issues that have nothing to do with the school, but they impact the school; therefore we need to recognize that and support students."
Sullivan admits it's a tough time. The pandemic has exacerbated socio-economic issues in the district. He said many students face other challenges, like internet access or access to electronic devices.
"That has been shown just blatantly clear that there's a difference between those students who have and those who have not," he said. "That's why we're just very proud that we invested heavily in ensuring that our kids had devices, that they had access to the internet and that they had meals when they needed them."
Sullivan said while the challenges this year are unique, Birmingham City Schools' students and staff are resilient.
"Nobody can be prepared for a pandemic and where we are now," he said. "But I think that we have some really good people who work in this school district and who are able to manage in this crisis situation. And so, I have leaned on their guidance and expertise as we move through this."
Sullivan said despite the pandemic, a laser focus on student achievement will be crucial as he and the district move forward.