As Nursing Homes' Stocks Of PPE Get Too Low For Comfort, Ivey Grants Them $50 Million In COVID Aid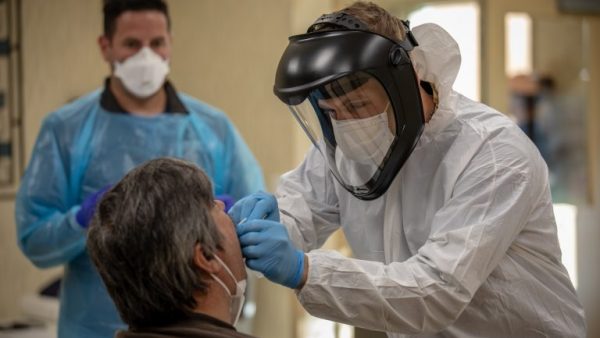 Alabama Gov. Kay Ivey on Friday announced that up to $50 million in federal grants will be allocated to the state's nursing homes to help respond to COVID-19. That's welcome news for the state's long-term care centers, as researchers recently found that one fourth of such facilities have less than a week's worth of the kind of masks needed to protect workers from contracting coronavirus.
"On behalf of Alabama's nursing homes, I thank Governor Ivey for her continued commitment to assisting the residents and staff in our facilities," Brandon Farmer, president and CEO of the Alabama Nursing Home Association, said in a press release. "Our nursing homes continue to provide high-quality, compassionate care despite the challenges posed by COVID-19. These funds will help cover the unexpected and ongoing costs we incur during this pandemic and allow us to focus on caring for those most vulnerable to this virus."
The governor's announcement Friday also included a $50 million allocation to help the state's hospitals with COVID-19-related operational costs.
People 65 and older represent 78% of COVID deaths in Alabama, despite accounting for 16% of the state's total cases, according to numbers from the state health department.
The governor's announcement follows a call by a national nursing home association for the country's leaders to help long-term care centers deal with a shortage of personal protective equipment, or PPE, as COVID cases increase in many areas.
Using data from Johns Hopkins University, The American Health Care Association and National Center for Assisted Living compiled a state-by-state analysis of the availability of PPE in nursing homes. The data also included positivity test rates — the percentage of positive results among all the tests processed — for COVID among the general public. The group says those two factors are key indicators in determining which nursing homes are at risk of a spike in coronavirus cases.
Saying 33 states have reported a positivity rate above 5% since July 26, the group has urged the country's governors to help secure PPE for nursing homes, expedite COVID testing and work with long-term care facilities to ensure they have enough staff to reopen for visitations safely.
According to data from the Alabama Department of Public Health, the daily positivity rate for COVID tests reached a peak earlier in the week of more than 20%, but since then the 7-day average has dropped to 17.44%.
The national nursing home group put Alabama at No. 4 on a list of states with the highest 7-day positivity rate.
Dwindling Supplies
The national association's analysis also shows that 26% of Alabama's nursing homes have less than a week's supply of N95 masks. Only four other states had nursing homes with higher rates.
The data also showed that 15% of Alabama's long-term care centers had only a week's worth of surgical gowns needed for workers. New Mexico had the highest rate in terms of gowns, at 46%. Arkansas and Washington, D.C., had the lowest, with no long-term care facilities having a week's worth of surgical gowns on hand.
John Matson, director of communications for the Alabama Nursing Home Association, said that though the state's nursing home administrators have managed to get the PPE they need, the equipment comes at much higher prices, and it's obvious "the supply chain has not caught up with demand."
"This money will go a long way in helping us pay for the PPE we're using to treat our patients and protect our employees," Matson said of the $50 million allocation.
According to state health department data, long-term care workers accounted for about 2,300 of Alabama's 94,827 confirmed COVID cases.
Matson added that the Alabama Department of Public Health also provides an online portal for the state's health care providers, which they can use to request PPE from the department. Matson said he had not used the portal himself and didn't know how quickly providers could get equipment through it. Efforts to reach the health department officials with knowledge of the portal were unsuccessful.
Asked when he expected the grant money to get to the state's nursing homes, Matson declined to give a specific date but said it "should be very soon."
The $50 million grant is part of the nearly $2 billion federal Coronavirus Aid, Relief, and Economic Security Act passed in response to the COVID-19 pandemic. Alabama's lawmakers designated up to $250 million of the Coronavirus Relief Fund to be used to support the delivery of health care and related services.