Childersburg Principal Busts A Move In Back-To-School Parody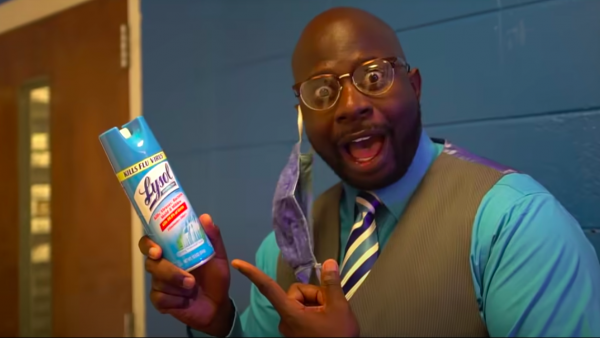 An Alabama principal's parody of MC Hammer's "U Can't Touch This" now has more than five million views on YouTube. Quentin Lee, principal of Childersburg High School, posted the video last week, putting a spin on the serious precautions students and staff have to take as COVID-19 threatens the start of the school year. Lee said his goal wasn't to go viral; it was simply a way to welcome students back.
How did this parody come about?
I wanted to do something fun and engaging, not to make light of the situation that's going on because we definitely know it's extremely serious. But to just try to help spread some joy and cheer. As you know, with everything that's going on with the pandemic and then all the social injustices that are happening in the world, I just wanted to try to see if we can do something that would allow people to come together and smile in unity just to experience joy together. And thankfully, this video was able to do just that.
Dr. Lee presents Can't Touch This Covid Parody https://t.co/n8LEhuLItC via @YouTube #share #KickingIt

— Dr. Quentin Jerome Lee (@DrQuentinJLee) July 29, 2020
What's the reopening plan for Childersburg High School?
We are a part of Talladega County Schools and we have two options where the students can either pick to be all virtual or they can come to school with face-to-face instruction. Under the current model, we'll be returning to a blended model, which means that 50 percent capacity will be used at all times with students on campus. So students will come either two to three days per week based upon the group they're in and that's going to give us an opportunity to help ensure their safety with the physical distancing and provide small group instruction to really try to close many of the gaps that may have been formed.
Did you have a "ghost writer" for this parody?
I came up with the lyrics myself. I can remember having a student that was rapping one time on his computer and it sent up an alert. And so I sent him a rap back and he started laughing. But yeah, I'm just being creative and just really the opportunity to share with kids. And I have several students that have made rap videos and rap and I talk to them all the time. I'm not a "rapper" but I do like to write music. I do like to write and just help inspire others.
What was your intent with this video?
It was to show parents that, hey, school is definitely still a safe place for your child. We're doing everything that we can. There's no way to be 100% sure on anything, especially with this pandemic and how things are changing so rapidly. However, we are putting those parameters in place to try to help ensure their safety the best way that we possibly can. But we can't forget about the social emotional side of this piece for the students that are in these schools.
How long have you mimicked MC Hammer's dance moves?
I've been doing the running man since the 90s. That is my go to dance! But watching the video, of course, they dance completely different these days. And with my students, I wanted to do some of the choreography. There's three students in the video. And I told the young guy, I said, 'hey, I need you to dance.' And he told me there was zero percent chance of him dancing. So he did not dance. But then two young ladies, Aniah and Jaden, were all in 100%. I taught them the routine. They weren't going to do the entire routine but just enough to make it look like we're doing a routine. But it was fun. Dancing is just a part of life. I think that it makes everyone feel better. Even if you can't dance, at least get out there and move something. It's just another way to express ourselves and to help bring joy to others.
This interview has been condensed and edited for clarity.