Alabama Moves One Step Closer To Removing Racist Language From State Constitution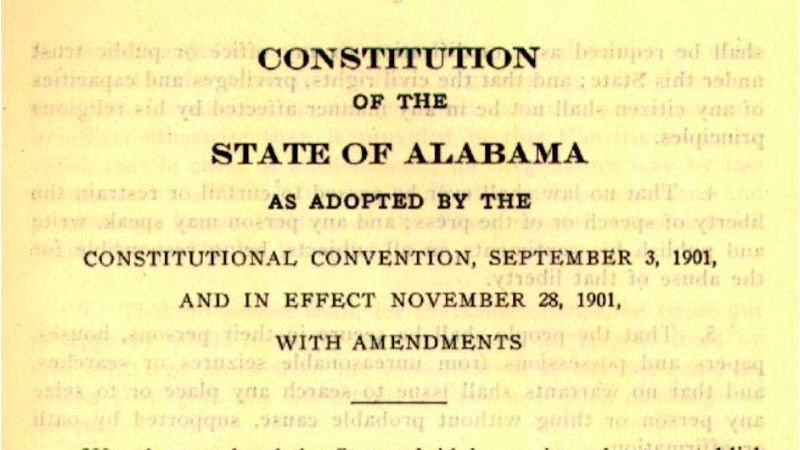 The passage of a statewide ballot measure to purge racist language from the Alabama Constitution marks an important step in what could be a long process. 
Amendment 4 passed with almost 67% of the vote in Tuesday's election. One of six constitutional amendments on the state ballot this November, the measure authorizes lawmakers to recompile the Alabama Constitution and submit it during the 2022 legislative session.
Alabama's Constitution is the longest in the world. Most of the original language has never been removed — it's simply been nullified by later amendments or federal court orders. The state constitution still includes language that segregates schools and bans interracial marraige. 
Amendment 4 was sponsored by Democratic state Rep. Merika Coleman and co-sponsored by Republican House Speaker Mac McCutcheon. It passed both houses of the Alabama State Legislature unanimously.
Similar amendments in 2004 and 2012 failed to win majority support from Alabama voters. The primary disagreement was over constitutional Amendment 111, which declares that the state does not guarantee "any right to education or training at public expense." For years, Democratic lawmakers have wanted this language removed, but Republicans feared that such a move would disrupt private education. This year, legislators decided to leave this issue alone, a choice that boosted the amendment's chances of passage.
"The support of a variety of progressive and even conservative groups on both sides of the spectrum provided some comfort to voters who may have been concerned about changing the state's constitution," said Randolph Horn, a Samford political science professor.
It will take years to revise the Alabama Constitution. Amendment 4's passage was just an initial step in what will be a cumbersome process. The Legislative Reference Service will now draft changes to the state constitution. Those changes will go before the Legislature in 2022. If the legislature approves the proposed changes, voters will then have to vote on the new constitution, perhaps in the 2022 general election.