A Visit With Santa? It's Still Happening Despite The Pandemic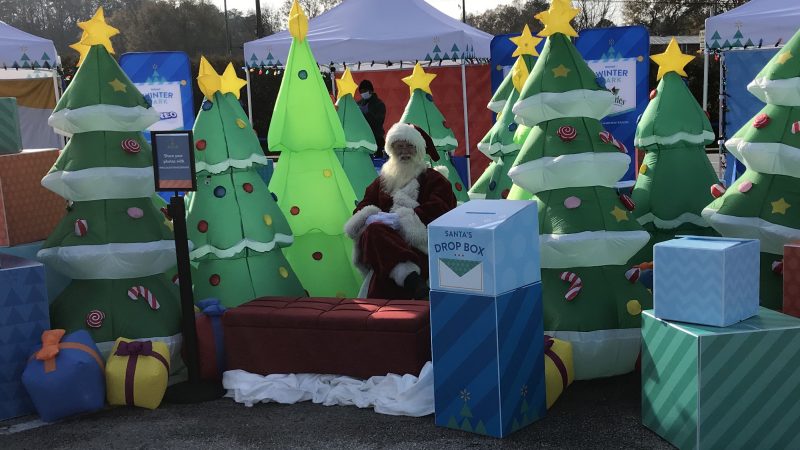 Liz Paredes may be a full-grown adult, but she practically squealed when seeing Santa Claus earlier this month. It was a welcome moment of joy during the coronavirus pandemic she could share with her 12-year-old daughter who has autism.
"I'm really glad that we were able to do that because I want to keep that spirit alive for her and because of the pandemic we just haven't ventured out," Paredes said.
Due to the COVID-19 outbreak, the setting for that visit was unlike any other year. Santa stood among inflatable Christmas trees in the parking lot of a Walmart in Pelham. Kids sat on a bench a few feet in front of him while parents snapped pictures. Paredes happened to spot the event while shopping.
Her daughter was really excited, Paredes said. "We are definitely going to print these [pictures] and put them under the tree."
It's just one way retailers, families and Santa have adapted to keep those traditional holiday appearances alive during the pandemic.
Of course, there's been no climbing onto Santa's lap in a crowded mall. Instead, the visit with Santa has been governed by the ubiquitous safety procedures which includes face masks and social distancing. Some stores have kept Santa behind Plexiglas or are by appointment only.
But for those still uneasy there's another option that seems very appropriate this year: hop on a Zoom for a virtual visit.
Ed Taylor has portrayed jolly old St. Nick for 17 years including on TV and in commercials. He founded the Worldwide Santa Claus Network, a group for professional performers. Taylor has done recorded messages or video chats for more than a decade, but the pandemic sent demand skyrocketing. This year he's up to 200 virtual visits and counting.
Taylor has trained Santas across the country on how to share the Christmas spirit through a screen which can be more demanding than seeing kids in a store. Experiencing it in-person can take a few minutes. On Zoom, Santas often have to find ways to interact with kids for much longer.
"I was just on a call and we were making duck sounds and sheep sounds with a two-year-old," Taylor said.
The virtual interaction offers safety to the performers too. According to Taylor, the vast majority are older, overweight, and likely have preexisting medical conditions. Those factors put them at higher risk of complications if they caught COVID-19. Taylor said in a normal year many Santas come down with a cold or the flu after interacting with so many kids.
The requests he has heard from children aren't that different from non-pandemic years with one exception: better Wi-Fi.
"It seems like a lot of youngsters are very aware of Wi-Fi speeds or internet speeds at their homes," Taylor said. "It's sometimes for gaming. Other times for school work."
A number of companies offer virtual Santa visits, including JingleRing, co-founded this spring by Atlanta entrepreneur Walt Geer with his wife. He hired more than 350 Claus performers and earlier this month took the first call.
"It happened at 6 o'clock in the morning, Eastern Standard Time, and it was a family in Singapore," Geer said.
The company hosts calls around the world, around the clock. Virtual visits also allow more options for families. Parents can choose a Santa of color, a religious-themed conversation or one in American Sign Language.
"I watched one where we had a deaf child on with one of our ASL Santas and it brought me to tears," Geer said. "Her mom sent me a note afterward and said 'I just want you to know my daughter has never signed with a Santa. You literally made her year."
Birmingham mom Carmen Michael has pictures of her three kids going back to when her oldest, who is now eight, was just an infant sleeping in Santa's lap. But this year her family decided to forgo the trip to see Santa. After having to quarantine. It didn't seem to be worth the risk.
"It was helpful when they weren't upset about it," Michael said. "If they were upset, it would be harder for us. But they really didn't care, luckily."
Instead, Michael said her kids will write letters to Santa. Perhaps the original way to practice social distancing with the jolly old man.
This story was produced by the Gulf States Newsroom, a collaboration between Mississippi Public Broadcasting, WBHM in Birmingham, Alabama, WWNO in New Orleans and NPR.