2020 Program Change FAQs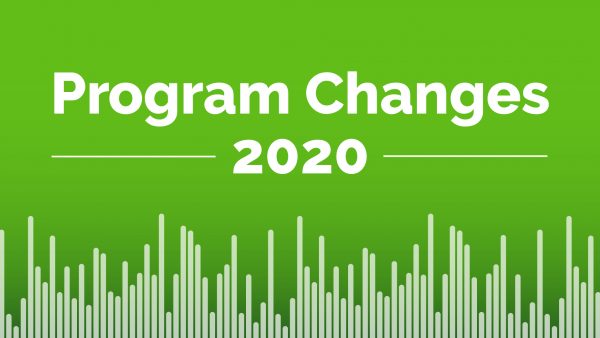 As valued listener, we want you to know about some new and exciting changes to our program schedule.
Beginning Saturday March 7, 2020, nine new programs are coming to WBHM! Weeknights will now include Marketplace and more classical music. Weekends will include It's Been a Minute with Sam Sanders, Sound Opinions, Bluegrass Breakdown, Highway 61, Ask Me Another, The Splendid Table, Travel with Rick Steves, and On Being. Learn more about each show in the FAQs below. These new programs represent some of the best that public radio has to offer.
Aside from the new programs, classical music will now begin at 8 p.m. on weekdays and at 10 p.m. on Saturdays. The rebroadcast of Fresh Air, which airs Monday through Thursday from 7-8 p.m., will now include Fridays, and some other programs have been shifted to accommodate this new schedule.
We encourage you to listen to these new programs, and we are confident that you will find the programming to be substantive, enlightening, and entertaining – exactly the sort of quality public radio programming you have come to expect from WBHM.
FAQs
Q: What are you adding?
A: Marketplace (weekdays from 6 – 6:30 p.m.) is public radio's daily magazine on business and economics news "for the rest of us." The 30-minute program — with an irreverent reporting style all its own — boasts the largest audience for any business program in the United States on radio, cable, or network television. In conjunction with Marketplace Morning Report, this package of financial programming covers listeners from wallet to Wall Street.
Sound Opinions (Saturday 5 – 6 p.m.) is where people who love music can come together. You can make discoveries, debate, learn about pop culture, engage, have fun, and find new ways to further enrich your lives through music. Whether you're an expert, or just a casual fan, Sound Opinions is your source for smart and engaging music criticism and conversation. Each week on the show, nationally respected rock critics Greg Kot and Jim DeRogatis interview artists, talk about pop culture and music industry news, review new record releases, and give trends a historical context. And, because on Sound Opinions,"everyone's a critic," listeners are invited to join in the debate.
Bluegrass Breakdown (Saturday from 8 – 9 p.m.), is … well … maybe we'd better let them describe themselves. Produced by WPLN in Nashville and hosted by Dave Higgs, the show is "an emotionally-charged, heart-rending, paint-peeling, splinter-kicking one-hour bluegrass show. Thematically, we're all over the bluegrassical map, boldly covering such hot topics as broken things in Bluegrassland, gospel train songs, and 'ain't' tunes. We also make frequent trips to the seldom seen new bluegrass CD bins, where the latest discs in bluegrassdom are examined."
Highway 61 (Saturday from 9 – 10 p.m.) is an award-winning, one-hour blues program from Mississippi Public Broadcasting hosted by Scott Baretta at the Center for the Study of Southern Culture at Ole Miss. Baretta is a writer and researcher for the Mississippi Blues Trail, former editor of Living Blues magazine and author of Mississippi: State of the Blues. Each week, Highway 61 delivers the best in blues music and culture: past, present and future.
If you are exhausted by the news but can't seem to focus on anything else, this weekly show with former NPR political reporter Sam Sanders will help. It's Been a Minute (Saturday and Sunday 9 – 10 a.m.) is an irreverent, casual space to process the pace of current events and get introduced to new favorites in music, TV, and more. It's a wrap of the week paired with deep dive interviews with musicians, actors, and newsmakers. As Sam says,"The world is complicated; let's talk it out."
Ask Me Another (Sunday 11 a.m. – noon) brings the lively spirit and healthy competition of your favorite trivia night right to your ears. With a rotating cast of funny people, puzzle writers, and VIP guests, it features the wit of host Ophira Eisenberg, the music of house musician Jonathan Coulton, and rambunctious trivia games, all played in front of a live audience.
The Splendid Table (Sunday noon – 1 p.m.), is hosted by award-winning food writer Francis Lam. A culinary, culture and lifestyle program, it has hosted our nation's conversations about cooking, sustainability and food culture and has introduced us to generations of food dignitaries. With Francis, you can expect a modern, multicultural weekly snapshot of the food world — exploring different cultures, cuisines, and ideas, as well as the small personal stories that come out of the expansive world of the table. As a former restaurant cook and culinary school graduate, Francis can handle virtually any food query and loves taking listener's calls. He is keenly interested in people and their stories and believes that one of the keys to understanding people better is to learn what they cook and how they eat. The Splendid Table frequently visits with the test cooks at America's Test Kitchen to discuss a wide range of topics including recipes, ingredients, techniques and kitchen equipment.
Travel with Rick Steves (Sunday 1 – 2 p.m.) showcases America's most respected authority on European travel, Rick Steves. He empowers Americans to have European trips that are fun, affordable, and culturally broadening. In 1976, he started his business, Rick Steves' Europe, headquartered near Seattle. There he produces a best-selling guidebook series, a popular public television show, a weekly public radio show, a syndicated travel column, and free travel information available through his travel center and ricksteves.com. Rick Steves' Europe also runs a successful small-group tour program taking 30,000 travelers to Europe annually.
On Being (Sunday 6 – 7 p.m.) is the only program in American media dedicated to the large questions at the center of human existence and how these questions of meaning find practical resonance in our lives. Each week the show takes up the big questions with scientists and theologians, artists and teachers — some you know and others you'll love to meet. Host/executive producer Krista Tippett was awarded the 2013 National Humanities Medal by President Obama for "thoughtfully delving into the mysteries of human existence."
Q: When will this change take place?
A:The new schedule will launch Saturday and Sunday, March 7-8 for weekend programming and Monday, March 9 for weekday programming.
Q: What are you expanding?
A: Classical music will now begin at 8 p.m. on weekdays and at 10 p.m. on Saturdays.  The rebroadcast of Fresh Air, weeknights from 7-8 p.m., will now include Fridays.
Q: What's moving to a different time?
A: The Moth Radio Hour will be broadcast on Saturdays from noon to 1 p.m. and on Sundays from 5 to 6 p.m. Listen to Radiolab Saturdays from 1 to 2 p.m.  followed by Snap Judgment from 2 to 3 p.m. And to kick off a Saturday night of music, Mountain Stage will now begin at 6:00 p.m. and be followed by Bluegrass Breakdown, Highway 61, and classical music which will now start at 10:00 p.m.
Q: What programs are you no longer carrying and why?
A: After 20 years of production, Studio 360 is being canceled by PRX, the program's distributor. The cancellation comes a year after Public Radio International, which co-produced Studio 360 with WNYC in New York City for the majority of its run, merged with PRX. The show's archive will remain online, according to PRX. The final episode will air Saturday, February 29,  at 1 p.m. and again Sunday, March 1, at noon.
We will no longer broadcast jazz. In 2018, The Alabama Jazz Hall of Fame acquired WAJH-FM, (formerly WVSU-FM from Samford University) and changed the format to be Birmingham's only dedicated jazz-exclusive radio station. WAJH station reaches central Alabama on 91.1 FM and a worldwide audience online at jazzhall.com. Jazz Hall Radio plays both classic recordings and new releases, with a focus on Alabama artists. Enhancing the Jazz Hall of Fame's mission, WAJH plans to showcase the work of student musicians and share the stories of Alabama's jazz visionaries.
Q: Why have you moved the programs around on Saturday and Sunday?
A: Part of the programming secret sauce is to create a cohesive appeal not only for the station as a whole, but even as one show ends and another begins. For example, it would be a harsh transition to move from listening to a hard news program to something like Hearts of Space. That's why Saturday evenings will now be music and music-related programs, Sunday mid-days will be entertainment, and Sunday nights will be a time for relaxation, reflection, and winding down before the week starts.
Q: How can I support the station and this new programming?
A: Individual and corporate support makes up more than 80% of our annual budget, and for that, we thank you! If you are not a member and would like to become one, you can do so here. If you would like to become a business or corporate sponsor, email [email protected], and someone will contact you.
Q: What if I have questions that haven't been answered?
A: You can contact Michael Krall, WBHM's Program Director. His email is [email protected] and his phone number is 205-934-2211. He'll be happy to answer your questions!